Lily Collins Has A Strong Message For Emily In Paris Haters
"You're probably bingeing it."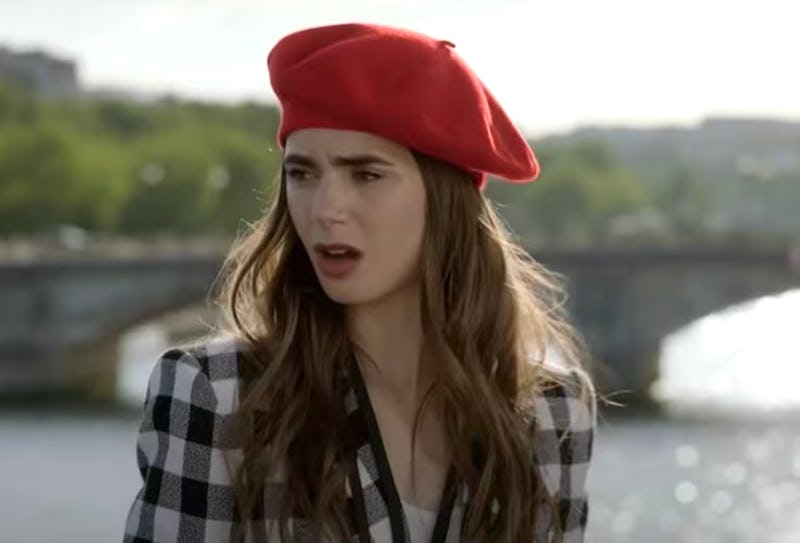 Netflix
Far be it from us to dissuade people from having their own opinions, but the internet often encourages us to be divisive. When faced with a phenomenally successful series featuring attention-grabbing fashion moments and Parisian stereotypes, some critics really start foaming at the mouth. The Netflix series Emily In Paris has seen its fair share of hate, and Lily Collins, who plays the titular Emily Cooper, has now addressed those who mock the show.
Speaking to Harper's Bazaar, Collins talked about how Emily In Paris seems to have even won over French people, who were initially unsure about the first season's portrayal of Parisians. "When we went back to film the second season, people would just come up to us on the street and say, 'Thank you for the show — thank you for making us smile.'" Talking about her upbeat, fashion-forward character, Collins added, "I get called 'Emily' all the time, especially when I'm out on the street in Paris. I'll hear her name screamed at me — it's wild.
Part of Emily In Paris' meteoric rise in popularity may be attributed to its lockdown release. We were all languishing at home in week-old pyjamas, and the series became a collective form of escapism for viewers. "It came out during a time when travel wasn't possible, so we craved that escapism even more. The city is a character in itself — Paris is just so beautiful to look at," Collins said.
As for the people who still maintain that they hate Emily and whatever she gets up to in Paris, Collins mused: "Oh gosh, I mean, I think the fact it's gone on for three seasons means enough people are loving it to binge on it… and even if you want not to like it, you're probably bingeing it too!"