Everything To Know About A Potential Lockwood & Co. Season 2
More supernatural adventure awaits.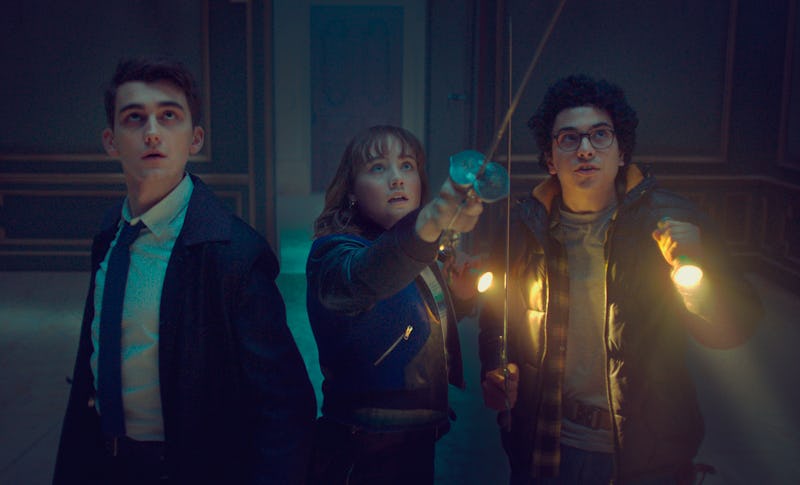 Netflix
The creator behind Attack the Block and The Kid Who Would Be King is back with another tale about kids facing down larger-than-life odds. Lockwood & Co. follows three kids who battle against supernatural entities, separate from the established corporations — and their adult supervision — that were created to do just that. Their company is run by the rebellious Anthony Lockwood (Cameron Chapman) and his eccentric sidekick George (Ali Hadji-Heshmati). They're joined by the psychic Lucy (Ruby Stokes), and together the trio works to unravel a mystery that could change the world.
While Netflix has not announced if there will be a Lockwood & Co. Season 2, there's definitely enough material for more. The show is based on a YA series by Jonathan Stroud, which ran for five books from 2013 to 2017.
Stroud confirmed to The Bookseller magazine that the show stays pretty true to the books. "There are various inevitable changes here and there — some things compressed, other things teased out a little. But the essential points — the main plot, the mechanics of the world and, crucially, the characters — are lovingly transcribed to the screen," he said. "Ruby Stokes, Cameron Chapman, and Ali Hadji-Heshmati are perfect as my three heroes: It's been a beautiful thing to watch."
Showrunner Joe Cornish explained to Slashfilm, "I used to read novels as a kid and then see adaptations of them, and I would always be like, 'Why did they change that? Why did they need to change that? Just film this.'" He added that they had to put some of the books' details in dialogue as the series was so dense. "I remember when I read Stephen King books, I'd be like, 'Man, this is a screenplay. Just film all of this.' We tried to do that, but obviously, you can't. It would be a 50-hour show if you filmed everything, so you have to figure out ways to compress."
But he said that "by and large, we just tried to put everything in that we could" from the books.
Here's everything else to know about the series.
Lockwood & Co. Potential Premiere Date
Netflix hasn't renewed the series yet, but dramas tend to take about a year in between seasons. If Season 2 is greenlit soon, we could be looking at a spring 2024 premiere date.
Lockwood & Co. Season 2 Cast
While we don't yet know if every character survives until the Season 1 credits, we can be assured that the main cast will return: Ruby Stokes (from Bridgerton) as Lucy Carlyle, Cameron Chapman in his debut role as Anthony Lockwood, and Ali Hadji-Heshmati (from Alex Rider) as George Cubbins. There's also Ivanno Jeremiah as Inspector Barnes, Luke Treadaway as The Golden Blade, Morven Christie as Penelope Fittes, and Ben Crompton as Julius Winkman.
This post will be updated as more information about Lockwood & Co. Season 2 becomes available.