Everything To Know About Loki Season 2
A familiar sci-fi actor just joined the cast.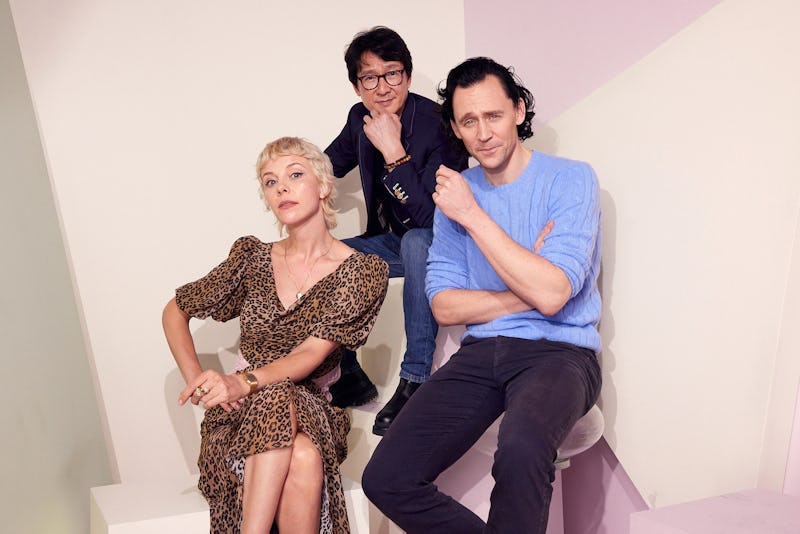 Corey Nickols/Getty Images Entertainment/Getty Images
As was first revealed in that mid-credits surprise last July, Loki Season 2 is officially on its way — and good thing, too, because our God of Mischief is not doing too well right now. From Loki and Sylvie's big blow-up and betrayal to Mobius forgetting his mischievous bestie altogether due to some terrifying timeline hijinks, Loki has never seemed more alone than he is at the end of Season 1. And that's not the only damage: Sylvie's killing of He Who Remains apparently unleashed the Multiverse, opening the door to untold chaos for both Loki Season 2 and the Marvel Cinematic Universe as a whole.
Even after the season finale clarified some of the biggest mysteries at hand — like who's behind the Time Variance Authority and the suspicious menace Miss Minutes — there are plenty of new questions to tackle, too. For starters, how did a high school vice principal named Rebecca Tourminet go on to become Ravonna Renslayer? And what does life look like back on the Avengers' Earth after the Multiversal War has ostensibly broken out? Spider-Man: No Way Home and What If...? both explored the Multiverse even further, confirming that this concept is sticking around in the MCU.
As you ponder it all, here is everything you should know about Loki Season 2 so far.
Loki Season 2 Release Date
Though it will likely be a while before a release date for Loki Season 2 is announced, we do finally have a rough idea of when to expect it. As was revealed at San Diego Comic-Con, Loki Season 2 will arrive in summer 2023.
Loki Season 2 Trailer
With that release window in mind, you probably shouldn't expect a trailer before late 2022, at the earliest. But fans at the 2022 D23 Fan Expo did get a brief first look at the season. According to Collider, the first footage saw Loki and Mobius back together — and Sylvie could be seen on her own, too. The outlet also reported that there would be more variants, and described the trailer as having horror elements.
Loki Season 2 Cast
Hopping from one Multiverse project to another, Everything Everywhere All at Once's Ke Huy Quan will be joining the Loki Season 2 cast, the show announced at D23. According to that trailer footage described by Collider, he appears to play a member of the TVA.
Based on the expo, you can expect all of your original faves to return as well: Tom Hiddleston as Loki, Sophia Di Martino as Sylvie, Owen Wilson as Mobius, Wunmi Mosaku as Hunter B-15, Gugu Mbatha-Raw as Renslayer, and Eugene Cordero as Casey.
Loki Season 2 Plot & Theories
Based on the heartbreaking twist of the finale, Loki Season 2 could deal with the ramifications of Multiversal War at the TVA and beyond. Of course, a lot will go down in the MCU between now and then, so the next entry is pretty unlimited in its potential reach — but Mobius remembering Loki is sure to be at the top of many fans' wish lists.
Just like the Season 1 finale briefly explored Renslayer's apparent origins as a high school vice principal, Season 2 could offer a glimpse at the backstories of other variants like Mobius and Hunter B-15, who said she looked happy in her real life.
This post will be updated with the trailer, release date, and additional plot details as more information on Loki Season 2 becomes available.
Don't have Disney+ yet? Sign up to watch Loki here.
This article was originally published on