Lydia & Uche Marked A Major First For The Love Is Blind Franchise
This was bound to happen sometime, right?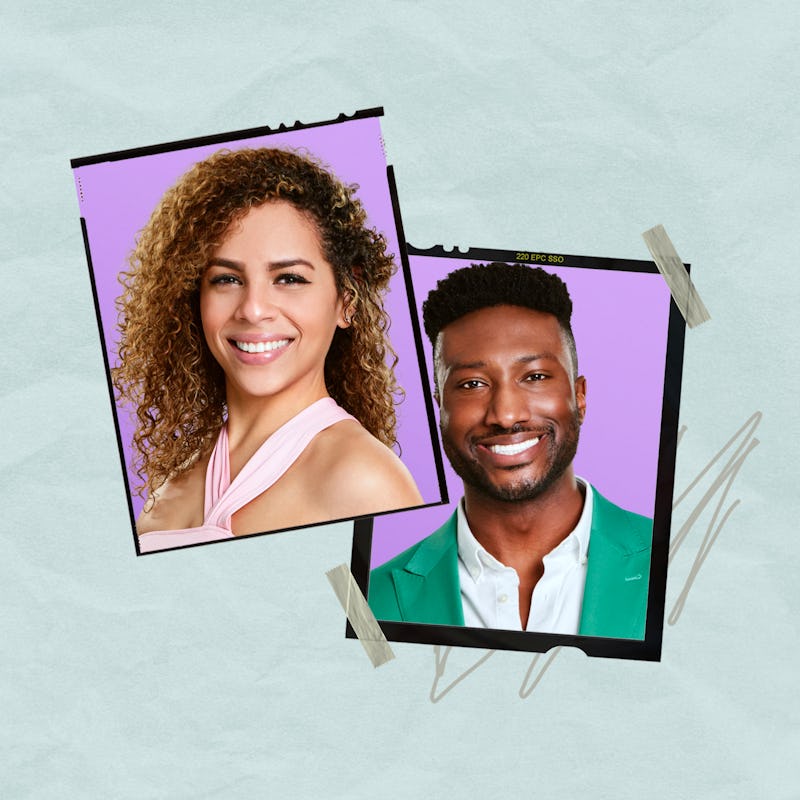 Monty Brinton/Netflix
Spoilers ahead for Episodes 1-4 of Love Is Blind Season 5. Unlike other dating shows that assemble contestants from across the country, Love Is Blind has always employed a uniquely local model: bringing together singles from a specific city or metropolitan area. Theoretically, this makes it easier for new couples to ease into the practical reality of building a life together — but it also means there's a chance some of the singles have, well, mingled before.
It's a risk Love Is Blind has managed to avoid in its first four seasons. But in Season 5, which premiered on Sept. 22, it was revealed that contestants Lydia Velez Gonzalez and Uche Okoroha dated before the show. On Day 1 of the experiment, Lydia responded with a rattled "F*ck!" when she heard Uche introduce himself in the opposite pod. It took Uche a little longer to recognize Lydia's voice, but the realization dawned on him moments later.
Lydia wondered if it was a sign that they should resume things and "start at zero," but Uche resisted: "It ruins the experiment ... I don't think it's, like, genuine from the experience. Because we already know what each other looks like."
As Uche explained to his budding pod connection, Aaliyah Cosby, he dated Lydia for a few months back at home in Houston. "I just didn't think that we were that compatible. So I ended things," he said. "It hurt me so much because she deserves an amazing person who is completely sure about her. And I really hope she finds that."
Uche also told Aaliyah that Lydia had blocked him on Instagram, suggesting it was a difficult split. "If she opened up her social media and she saw my pictures, I think, those memories might have been too much for her," he said.
As of writing, Lydia and Uche don't follow each other. Neither of their Instagram pages seem to give away hints of their time together — but in February 2022 (which would have been after Lydia and Uche's last meeting in January and before filming began), she posted a selfie with the caption, "I ain't too much, I am the right amount of ME." As Lydia told Aaliyah, she believed Uche "felt that he would have to take up too much" when they started dating. It's not clear if the post is actually about the breakup, of course, but tags like #loveyourselfmore and #walkawayfrombadvibes seem to make sense for a post-split, pre-Love Is Blind mindset.
Back in the Love Is Blind lounge, Aaliyah and Lydia acknowledged it was a weird situation to be in — and Aaliyah expressed concerns, specifically, that she'd have to "look over [her] shoulder" if Lydia stayed in her life. Lydia also kept sharing things she knew about Uche's life, which Aaliyah didn't appreciate. "I really didn't want to know too much," the ICU travel nurse said.
Aaliyah also told Uche she was uncomfortable with how recently he'd been with Lydia, just a few months before the pods. They were seemingly able to overcome things — until the final moments of Episode 4, of course, in which a Love Is Blind producer had to tell Uche that Aaliyah left the experiment.