6 Quality Love Island Group Chat Names To Level-Up Your Post-Match Analysis
Because, let's be honest, it's the best part about watching.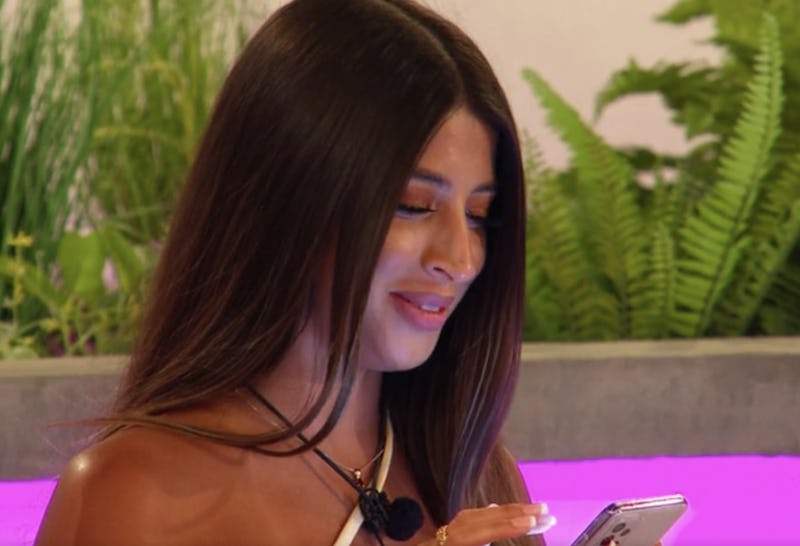 ITV
The best thing about Love Island isn't really the villa, the drama, or the coupling up, it's the commentary between you and your pals while watching it. Right? Agreeing or disagreeing about who you'd all like to couple up with IRL, debating over which side of the argument you land on, and trying out all the new Love Island lingo over Whatsapp group chat is what it's all about.
So, now that another summer of love is (finally) in full swing with — thank goodness — the latest season of Love Island after a 15 month hiatus, it's time to resurrect the group chat. It has been a while though, so you'd be forgiven for feeling a little lost when it comes to what to call you Love Island group chat. But we've got you covered. Here are a few suggestions for some of the best Whatsapp group names for your Love Island gang.
I'VE GOT A TEXT!!
Because, what better than a "I've Got A Text" notification on your phone every time you have a text? In caps, of course, because really that's the only way it's ever screamed in the villa. Synonymous with Love Island from "day dot", it is uttered at least once an episode, so there's no chance of this WhatsApp group name going old too quickly.
Where's Your Head At?
No, not the 2001 Basement Jaxx hit. The question that every contestant has uttered at least once throughout every Love Island season. Whether to a friend around the fire pit about who's turning their head, or a love interest when going "for a chat" by the pool, what better way to get your mates opinion on the latest shenanigans than asking them the same?
Is It 9 p.m. Yet?
Let's face it. Right now, from the moment you wake up, all you're thinking is, "Is it 9 p.m. yet?" The sweet, sweet bliss of 9-10 p.m. is dedicated to Love Island and Love Island only. Forget a social life. COVID-19 already did away with that anyway. For the next two months, staying is is the new going out.
Great Chat Only
To quote season five's Anton, if you haven't got great chat, it's just a waste isn't it? Make sure you hold those same high standards for your Love Island Whatsapp group or it could sink into boring drivel quicker than you can say "I've got a text". Great chat only, guys, or you'll be left standing by the fire pit.
It Is What It Is
"It is what it is" became the 2019 Love Island motto almost immediately, and is firmly part of Love Island vernacular forevermore. Not doubt we'll be hearing a lot of it this season so why not dedicate your group chat to this illustrious proverb?
Do Bits Society (DBS)
First coined by 2018 contestant Wes to talk about Islanders who had, err, done bits; in other words, the members of the "do bits society" had taken things to the next level in the bedroom. Accurate, if slightly crass, the phrase became associated with the show from the fourth season onwards, and is up there for naming your Whatsapp group. I mean, "society" makes it feel offish, and who says it needs to be sexual?
This article was originally published on