At 28, Mo'Nique Believed She'd Be Famous — But Still Had To Prove It
The comedian was nailing her stand-up routine, but still hadn't landed her star-making role on The Parkers.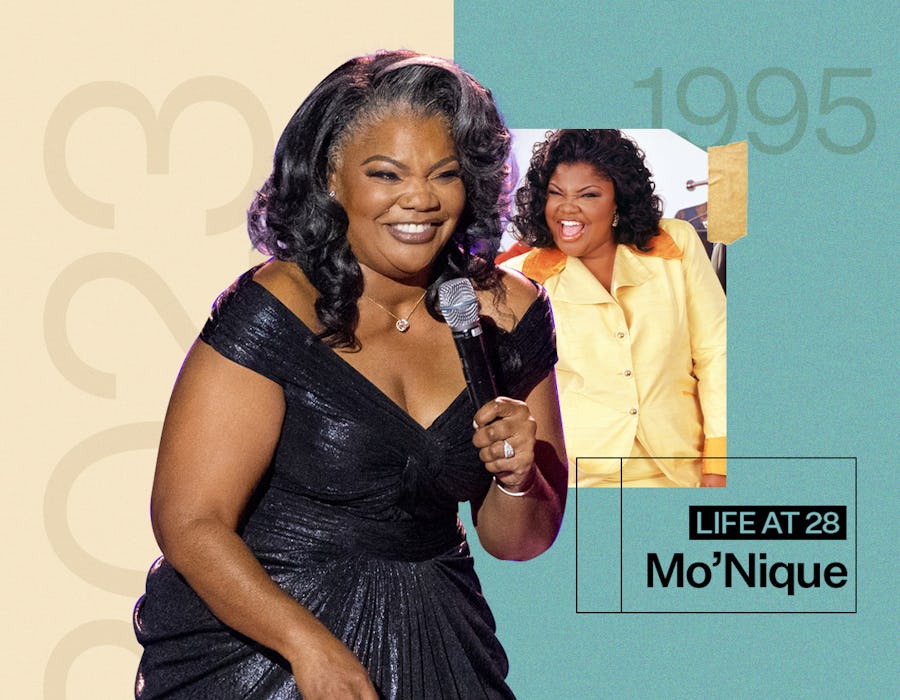 Caroline Wurtzel/Bustle; John Washington Jr./Netflix; Ron Davis/Getty Images
In 1995, Mo'Nique knew she'd nailed her stand-up set when she got something special from the audience: hugs. "If they would squeeze me really tight — oh, baby," she tells Bustle. "We knew it was one of those nights where we all needed that."
At that time, the then 28-year-old was a few years away from booking the role of Nikki Parker on The Parkers, for which she'd earn several NAACP Image Awards; she was still a hard-working single mom, cultivating her comedy career on the road. But Mo'Nique knew she'd be a star — even when others didn't quite agree, like the crew of the HBO comedy special Snaps. "When we were doing rehearsal, they wanted to know who invited me," she says. "Because I don't do good in rehearsal. I do good [in the moment]. So in rehearsal, the producers were running around, like, 'Who invited her ass to do this? She's horrible!'"
She didn't let their criticism shake her. As Mo'Nique puts it, she's always been "unwilling to flinch" — a trait she showed once again in 2019, when she sued Netflix. The actor claimed the streamer refused to negotiate after offering her a "discriminatory" rate for her stand-up special, which she alleged "perpetuated the pay gap suffered by Black women," per filing documents. The dispute has since been settled, allowing for Mo'Nique's latest (and perhaps most personal) special to arrive on Netflix.
My Name Is Mo'Nique begins with a promise: "Tonight, when y'all walk away from me, y'all will understand who the f*ck I am." Now 55, she's finally ready to pull back the curtain, discussing everything from her adolescence, to the early days of The Parkers, to details about herself and her family she's never before shared. Some of the revelations might even surprise a 28-year-old Mo'Nique — back then, she was still trying to figure out who she was.
Below, Mo'Nique talks short skirts, rooming with future husband Sidney Hicks, and why she no longer worries about being funny.
Take me back to 1995, when you turned 28.
I was on the road in my Ford Festiva, going from city to city, getting on stages at bars — wherever I could get on a stage. Making $25. I was believing that I was going to be famous.
This was the year you went on Snaps, the insult comedy battle. What did you take away from that experience?
I've always been able to follow my instincts. And I've always been a huge ad-libber. So even though [my turn] may have been [over], I'm gonna [stay on] stage because the crowd's still going. I learned from a guy named Rickey Shackleford in Baltimore when I first started doing comedy. He said, "Use your face. Use your body. Use your expression. You have to say nothing." So a lot of [the time] I wasn't saying anything. But I was using all of my body.
What did your favorite outfit look like?
The man I'm married to now, at the time he was my roommate. And I had this super short, orange skirt. Do you hear what I'm saying? I was wearing it like that when I was over 250! That was a sexy time for me. And when he was my roommate, he would say, "Are you trying to show your ass?" And I would say yes.
Was it totally platonic back then? Or were there some feelings on both sides?
We were like brother and sister. He knew my boyfriends. We were truly best friends from the 10th grade until we became a couple. [But] one night he did say to me, when I was going upstairs to my bedroom, "Mo'Nique, do you know I could be your best-kept secret?" Well now, he's my best kept-secret that everybody knows about.
And he knows me better than I know myself. He's paid attention to me since we were children — far more than I paid to myself, because of my insecurities. Because of my fears, and being a fat girl. There were so many things that I didn't pay attention to because I didn't want to see it. Well, he was paying attention when I wasn't. So it's been the most challenging, but the most rewarding.
Was there anything specific he helped you learn about yourself at the time, when you were still friends?
At 28, I was probably too closed to hear it. I was a boss at 28. I was a student [of] Oprah Winfrey, and [the idea that] you don't need a man. I was Magna Cum Laude at 28. I was "I'm Every Woman." [But] when you have to hear it in your 30s, 40s, [or] 50s, you appreciate it now because you're grateful that somebody has even taken out the time to say, "I see something in you that you don't see."
Do you feel like your comedic style has changed since you were 28?
[Starting out] doing comedy, you're just worried about being funny. So I told jokes. Now, at 55, I've already proven [that I'm] funny — and I say that humbly. Now I have something to say. When I watch Dick Gregory, when I watch Richard Pryor, they got to a point where they had something to say. Naturally, the gift that's been given to us, you're gonna laugh because that's our nature. But when you get to a place, and you see certain things — especially for me, as a Black woman — there are things I can say on that stage to have the platform that some people will say, "Whew, I don't believe you said that." So that's the difference. Now, I'm not worried about being funny. I'm worried about being heard.
In the new special, you open up about your sexuality. Was that a question you were dealing with in your late 20s?
They say the brain doesn't stop [developing] until 25. So you have your insecurities, you have your secrets, you have the things that [make you say], "Oh, I gotta put this away." And when you use that word sexuality — this society puts so much on it. It makes people afraid. It makes people hide. It makes people die. It's only going to be as heavy as people make it, and I choose not to make it heavy. At 28, I was trying to figure out who Mo'Nique was! I may have been with several fellows. Twenty-eight, baby, we're just trying to figure it out.
What would you tell 28-year-old Mo'Nique today?
All of it was necessary. I would tell her, "Don't skip not one turn. Not one hurdle. Not one bump." Because it got me to the 55-year-old Mo'Nique.
This interview has been edited and condensed for clarity.