Twitter Is Having A Field Day Over Mr Blobby's Costume Selling For £62k
Even King Charles III has been brought into the convo.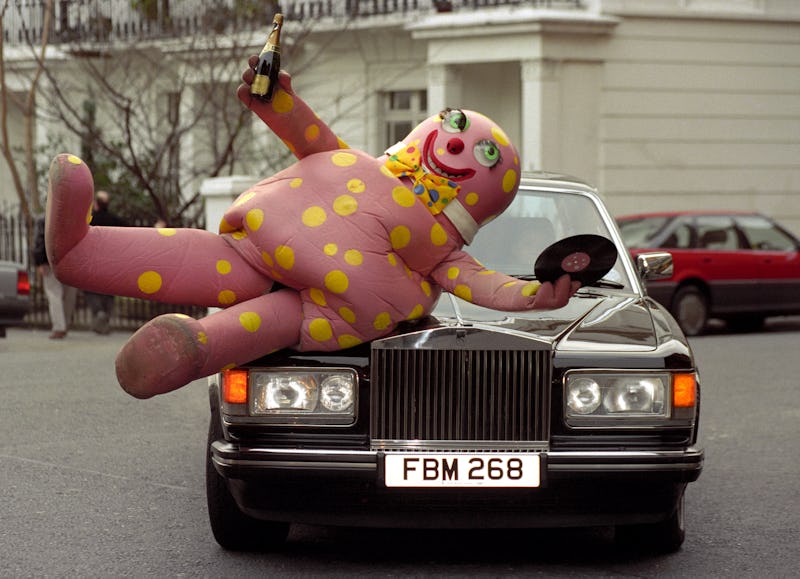 Getty Images/Fiona Hanson/PA Images
It's hard to say if millennials view the yellow-speckled, clumsy pink TV character with more fondness or terror, but Mr Blobby is undoubtedly a British '90s icon. Fans of the BBC show Noel's House Party raced to outbid each other when an eBay seller — identified only as blobby01 — listed an original Mr Blobby costume for auction last week.
The starting price was only an attractive £39, but after garnering 178 bids, the costume ended up being sold for £62,101 on Jan. 26, per the BBC. According to the listing, this Mr Blobby costume was an original from the mid-'90s, made by the BBC's costume supplier for an overseas version of Noel's House Party.
"Unfortunately before it could be delivered the overseas show was cancelled and neither the broadcaster or the BBC's production team wanted it — so it sat in my office until a move meant it came home with me some years ago," the seller wrote.
Since the giant costume has been sitting around for over 25 years, Mr Blobby is not exactly in pristine condition. The listing stated: "There is the inevitable ageing to the foam and the rubberised coating [...] In addition the two arms require re-attaching to the body, one of the plastic eye [sic] is cracked and the bow tie will need securing. "Overall it's not too bad for its age — but there is visible creasing and dust to the covering and some areas require a drop of glue to make good."
Considering the staggering final bid, however, it is clear that nostalgia and a desire to own an original piece of TV memorabilia were more important than the costume's weathered condition. But it seems the highest bidder will not even be able to show off their acquisition during Halloween, since the character is trademarked and subject to copyright.
The seller stated clearly that the costume can only be for personal home display, and the buyer will have to sign an agreement that they will not lend, hire out, publicly exhibit, or perform in Mr Blobby without authorisation.
Of course, the internet had watched in gleeful disbelief as the bids soared — though many were perturbed by the eBay listing photos. Below see some of the best Twitter reactions about Mr Blobby's costume selling.