Everything To Know About The National Treasure TV Series
Say hello to Jess Morales and co.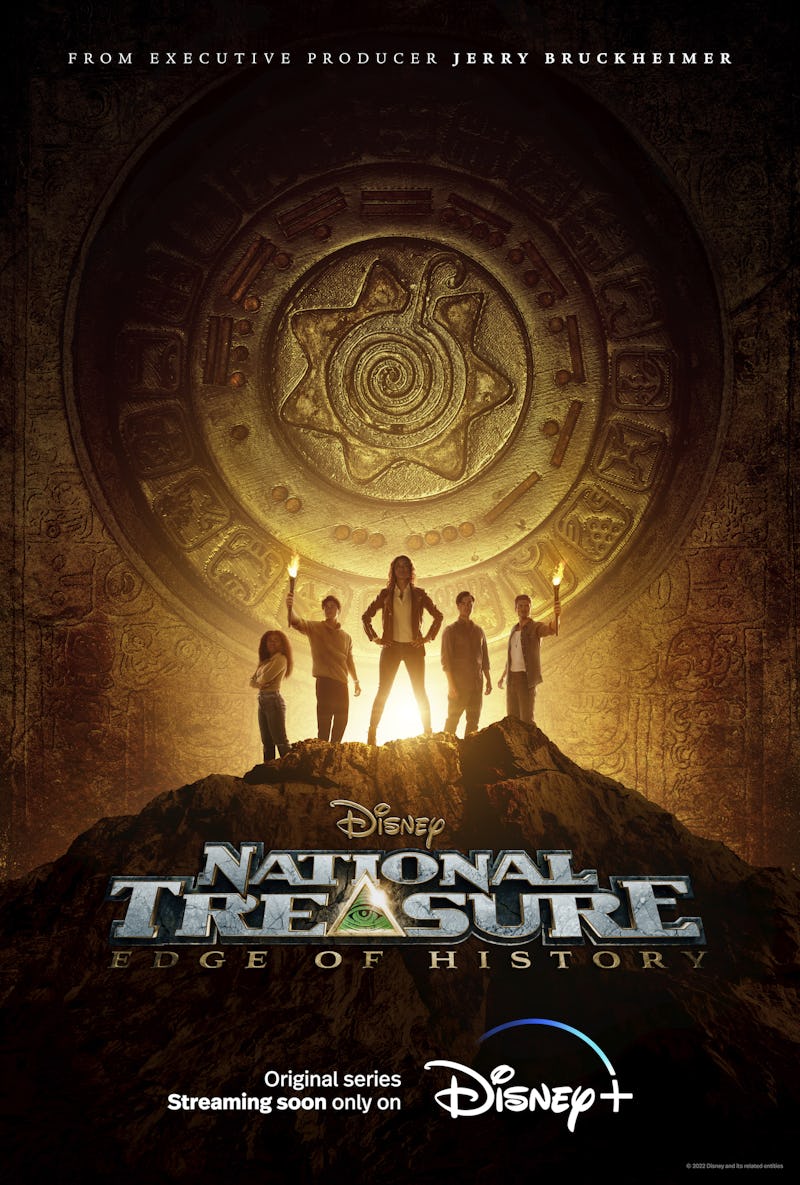 Disney
National Treasure fans, rejoice: Though it's not the third movie you have been waiting for, a new National Treasure series is coming to Disney+. As Deadline first reported last year, the series — greenlit with a 10-episode order — seems set to usher in a new era of history buffs by exploring "the timely issues of identity, community, historical authorship, and patriotism." Of course, with the exciting announcement comes a slew of questions — like, what mysteries will the new National Treasure series tackle? And will Nicolas Cage, aka Benjamin Gates, return as the fan-favorite treasure hunter? Here is everything we know about the new National Treasure series — now titled National Treasure: Edge of History — so far, including the exciting cast announcements that will delight fans of the original franchise.
The National Treasure Series Plot
According to Deadline, National Treasure: Edge of History is a "reimagining of the National Treasure franchise" and will focus on protagonist Jess Morales. Jess is described as a "20-year-old DREAMer who, with her diverse group of friends, sets off on the adventure of a lifetime to uncover her mysterious family history and recover lost treasure."
The New National Treasure Series Cast
As Deadline announced last year, Lisette Olivera will star as series protagonist Jess Morales. And if you're wondering if Cage will be back for the National Treasure series, you're not alone — but unfortunately for nostalgic fans, it looks like he will not be involved. In a March interview with GQ, Cage seemed to distance himself from Disney and even that potential third National Treasure fans have been hoping for.
"When I talk about fair-weather friends in Hollywood, I'm not talking about Jerry [Bruckheimer, producer of the franchise and upcoming series]. I'm talking about Disney," Cage told the magazine. "They're like an ocean liner. Once they go in a certain direction, you've got to get a million tugboats to try to swivel it back around."
Fortunately, several familiar faces from the franchise will be back. Harvey Keitel and Justin Bartha will return as Peter Sadusky and Riley Poole, respectively. Catherine Zeta-Jones, Zuri Reed, Jordan Rodrigues, Antonio Cipriano, Jake Austin Walker, and Lyndon Smith will also star, per Variety.
National Treasure Series Trailer
San Diego Comic-Con, the first National Treasure series teaser trailer was released — introducing viewers to Jess herself. A behind-the-scenes featurette also featured brief interviews with the new and returning cast, including Bartha. "What sets the television show apart — it's a different world now," he says. "Exploring American history was a lot different 20 years ago, and I was the young guy on set. Now I'm not."
Then, during September's D23 Expo, the official National Treasure series trailer debuted — teasing Jess and her friends' treasure hunt and a glimpse at Riley Poole, too.
National Treasure Series Release Date
We finally know when the new National Treasure series comes out: Dec. 14. While you wait, it never hurts to embark upon a rewatch, brush up on National Treasure's historical accuracy (spoiler alert: creative liberties were taken), or enjoy some timeless National Treasure memes.
This post will be updated with additional details as more information on National Treasure becomes available.
This article was originally published on