Everything To Know About Netflix's Never Have I Ever Season 4
Michael Cimino has joined the cast as a "smoldering bad boy."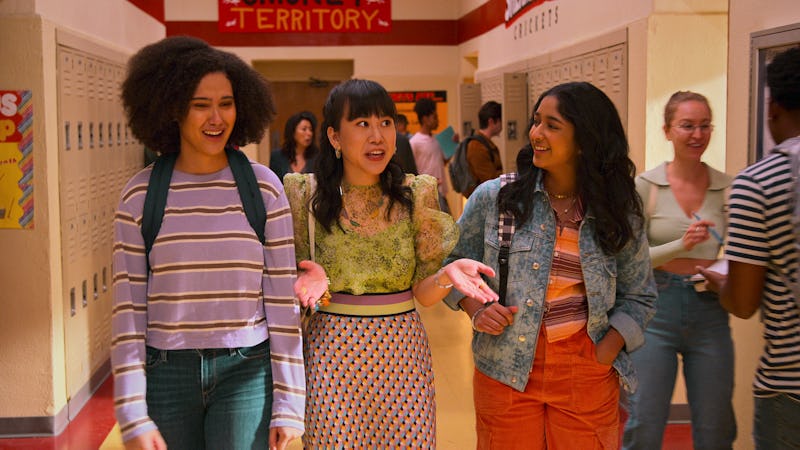 Netflix
Never Have I Ever fans, it's time to celebrate. Eight months after Season 2 of the coming-of-age dramedy aired on Netflix in July 2021, the streaming platform has officially announced Season 3 will premiere in summer 2022. But Devi Vishwakumar's roller-coaster journey through high school in the Mindy Kaling-created series won't end there. On the heels of the Season 3 release date reveal, Netflix also shared that Never Have I Ever has been renewed for Season 4, which will mark the series' final episodes.
Upon the Season 3 renewal announcement in August 2021, Kaling excitedly spoke about continuing the series in a statement. "We are so grateful to Netflix and Universal Television for letting us continue to tell this story," she said, "and to the fans around the world who clamored to see more of this badly behaved Indian teenager."
Here's everything you need to know about Never Have I Ever Season 4, including its plot, cast, and release date.
Never Have I Ever Season 4 Plot
The series began in 2020 with Devi entering her sophomore year of high school, hoping to turn over a new leaf after her traumatic freshman year, which shortly followed her father's death. Season 2 followed Devi into her junior year and saw the character place a larger focus on her mental health, gain a bit more confidence, and find herself wrapped up in a love triangle.
Season 3 continued Devi's junior year after she and Paxton finally (and officially) became a couple. In addition to navigating new relationships, she also had to decide between transferring to a highly respected boarding school or spending her senior year with her best friends. Meanwhile, Paxton graduated from high school and is getting ready to start college in Arizona. Devi's love life seemed like it was back to nonexistent after she broke up with both Paxton and newcomer Des this season. She seemed to be all on her own until she pulled out Ben's hookup coupon and showed up at his house to cash it in during the last moments of the finale.
Whether Devi and Ben are the show's endgame couple will be a big question for Season 4 to answer, along with how Devi and her friends will end their final year in high school. As they get ready for college and make decisions that could separate them, Never Have I Ever seems to be setting up a bittersweet end for its charming cast of characters in Season 4.
Never Have I Ever Season 4 Cast
Season 4 of Never Have I Ever will see Maitreyi Ramakrishnan will return as Devi, in addition to Poorna Jagannathan as Nalini, Richa Moorjani as Kamala, Jaren Lewison as Ben, Lee Rodriguez as Fabiola, Ramona Young as Eleanor, and Megan Suri as Aneesa. Though Paxton's off to college and Devi's possibly rekindling her relationship with Ben, that doesn't mean fans should worry about missing Darren Barnet in the final season. The actor joined Ramakrishnan and Lewison as himself in a clip for Netflix's Tudum event on Sept. 24, saying, "Paxton's back, baby!"
The Tudum footage also teased yet another possible love interest for Devi. Love, Victor star Michael Cimino video-chatted the trio and announced that he's joining as "the new heartthrob at Sherman Oaks High." He added that his character is a "smoldering bad boy," which prompted Barnet to mutter to Lewison, "I'm totally the smolder guy!" Apparently, senior year's not going to be easy for Devi.
Based on where Season 3 concluded, Utkarsh Ambudkar's role as Mr. Kulkarni will probably increase next season. Additional actors who could return include Niecy Nash as therapist Dr. Jamie Ryan and Sendhil Ramamurthy as Devi's father, Mohan (in flashbacks).
Never Have I Ever Season 4 Release Date
Netflix announced Never Have I Ever was renewed for its concluding Season 4 on March 8 with a statement from Kaling and co-creator Lang Fisher on social media. "Hey Crickets! We've got some morning announcements for you: Season 3 of Never Have I Ever is gonna drop this summer! Plus we've just been renewed for a fourth and final season, which we are absolutely thrilled about," they wrote.
"We can't wait to reveal all the steamy romance and hilarious adventures we have in store for you," continued the statement. "Thanks to all our fans for your support — especially you #Bevi and #Daxton stans."
While Never Have I Ever typically drops in the summer, there may be some hints that Season 4 could be coming earlier in 2023. On Sept. 13, the show's social media accounts shared footage from the end of Season 3, adding that the final chapter is "coming soon!!" The Tudum video reiterated that but stopped short of giving fans an official premiere date.
This post will be updated with additional plot and cast details as more information on Never Have I Ever Season 4 becomes available.
This article was originally published on