Olivia Jade Is Facing Backlash For Saying That She Was "Publicly Shamed"
"Publicly shamed or held accountable?" one TikTok user asked.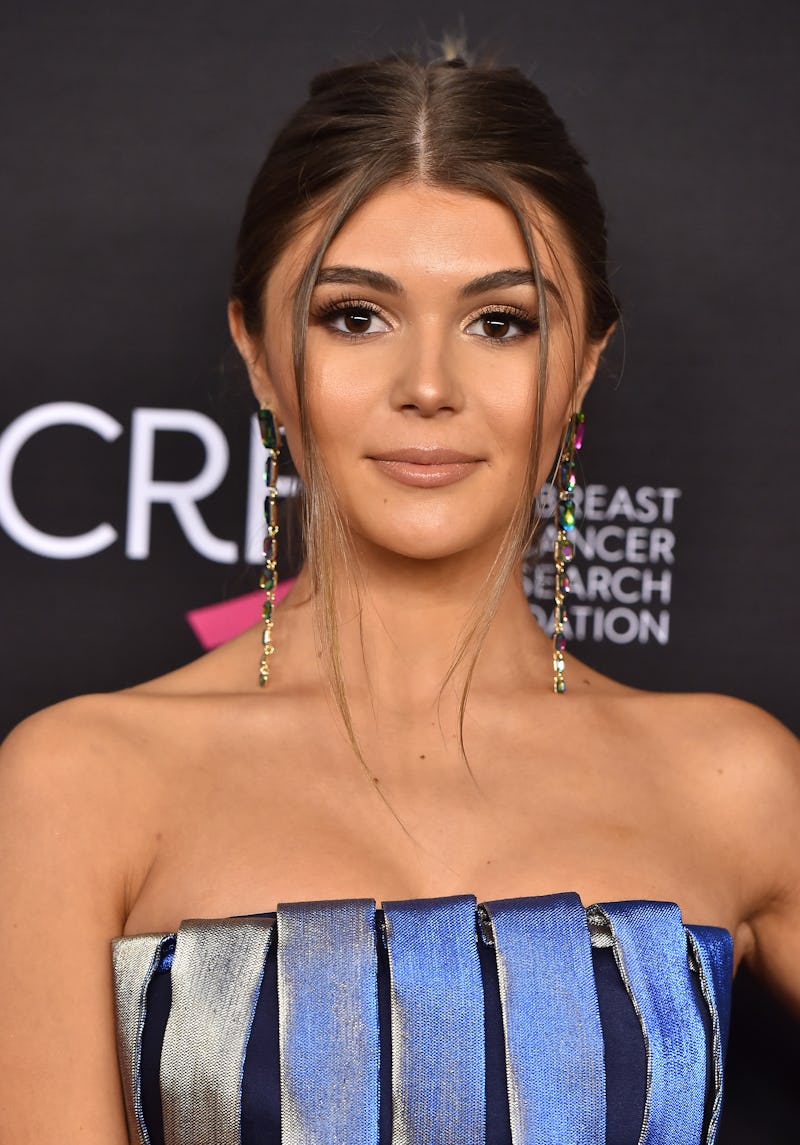 Axelle/Bauer-Griffin/FilmMagic/Getty Images
It's been roughly two years since Lori Loughlin and her husband, Mossimo Giannulli, came under fire for their involvement in the college admissions scandal, but the drama isn't over yet. On March 17, Netflix released a documentary about the scandal called Operation Varsity Blues, and in the wake of its release, social media star Olivia Jade Giannulli took to TikTok with a message that she thought was relatable. But alas, it backfired.
Recalling something that a "very inspirational woman" once told her, Giannulli said, "We were talking about being in the public, and being publicly shamed, and I was like, 'Well, my situation doesn't even compare, I'm not even going to start to compare it to yours. And she looked at me, and she said, 'Olivia, it doesn't matter if I'm drowning in 60 feet of water, and you're drowning in 30. We're both still drowning.'"
In 2019, the news broke that the influencer's parents paid scandal ringleader William "Rick Singer" $500,000 to help get their daughters admitted into the University of Southern California. The sisters were later accepted to the school as recruits for the crew team, despite never having participated in the sport. Loughlin and Giannulli both pleaded guilty to one count of conspiracy to commit wire fraud and mail fraud and were sentenced to time in prison.
After the scandal, Olivia took a break from the spotlight. However, she appeared on an episode of Red Table Talk in December 2020 to speak openly about her parents' crimes and what life has been like since. "It's been hard," she told hosts Jada Pinkett-Smith, Adrienne Banfield-Norris, and Willow Smith. "I think for anybody no matter what the situation is, you don't want to see your parents go to prison. But also I think it's necessary for us to move on and move forward."
Part of moving forward, it seems, has been trying not to judge others as harshly as she feels she's been judged herself. "I think we're all very quick to put people down. And I just want people to remember, like, if your feelings are hurting, or they're valid to you, they're valid," she continued on TikTok. "It doesn't matter if somebody's going through worse. You're allowed to have a hard time in this world. But that doesn't take away from somebody else, and that shouldn't take away from you."
Unfortunately, the 21-year-old's message didn't quite land the way she thought it would. "OK but ur drowning in money and I am not," one person wrote. "It's more like you're floating on water with a life vest and the other person who faces systemic racism and 1000 barriers is drowning," someone else commented. Another one of Olivia's followers questioned if she was really "publicly shamed" or simply "held accountable," while someone else slipped in a rowing joke. "Shouldn't you know how to swim if you're on the rowing team?" they asked.
Despite the backlash, there were still many people in the comments who came to the social media star's defense. "She is trying to heal from a mistake; we all make mistakes," someone commented. "Her and her parents both have to live with what happened. Be a nice person and move along." So far, Olivia has not responded to the criticism over her latest TikTok, but if she does, we will update this story accordingly.