Matt James' Mom, Patty, Will Look For Love On The Golden Bachelor
Fans predicted her rosy future years ago.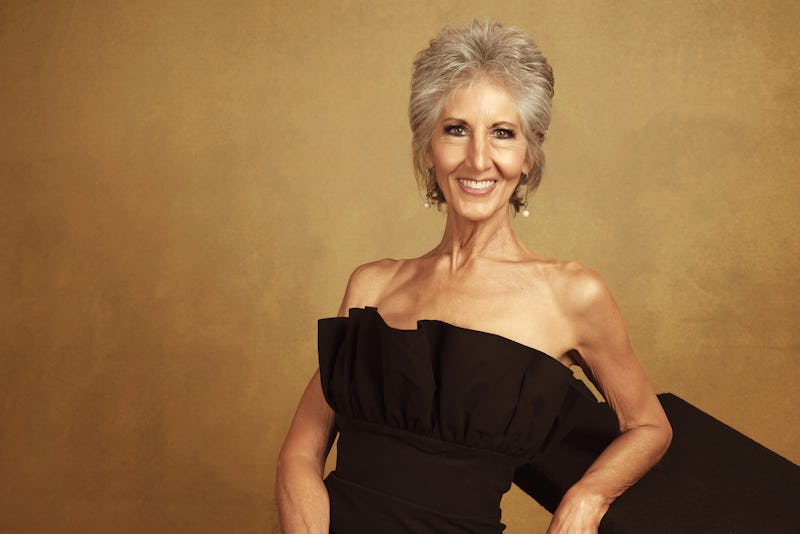 ABC/Ricky Middlesworth
When viewers first met Matt James' mom, Patty Cuculo James, on The Bachelor back in 2021, several called for the single parent to become the next Bachelorette — or, as one person suggested, helm a spinoff for Bachelor Nation parents. Now that Patty is appearing on Gerry Turner's inaugural Golden Bachelor season, their wishes are (sort of) coming true. As the only family member of a Bachelor Nation star to get cast as a contestant, Patty marks a franchise first.
The 70-year-old retiree and mom of two was inspired by Matt's Bachelor run, which resulted in one of the show's few intact couples. "I want to meet someone who loves and cherishes me that I can live out my golden years with," Patty says in her official Golden Bachelor bio, adding, "her heart is open, and she hopes to share positivity and zest for life with a partner."
So, are Patty and Gerry a match? As fans wait to see how Gerry's season pans out (and yes, there are spoilers if you want them), here's everything to know about Patty.
Patty's Job
According to Patty's bio, she is a retired real estate professional in Durham, North Carolina — it's easy to see where Matt got his broker skills from — who likes to play ping pong and read by the pool in her free time.
Patty's Family
If you're a Bachelor fan, you probably already know Patty's family, including sons Matt and John. Patty seems very close with them and their partners — Matt's, of course, being his final rose recipient, Rachael Kirkconnell. During Matt's run on the show, he said his dad had been unfaithful to Patty and would only visit "every now and then." On her bio, Patty states that she's been single for nearly 30 years.
"After seeing the process work for her son, Patty is hoping to meet a kind, funny, smart, and confident man for herself," per her bio.
She also hopes to add "grandma" to her resume soon, according to Matt, who once revealed in a Bachelor Nation interview that she'd love a "basketball team" of little ones to spoil. Since Gerry is a grandpa himself, the two are aligned on that front.
Patty's Instagram
In addition to sharing snaps of her kids, Patty uses Instagram to document her world travels, local outings, and share about her faith. She'll likely document more of her journey as The Golden Bachelor releases new episodes, starting Sept. 28.
Naturally, Patty received lots of love on her Golden Bachelor cast announcement post, from people like Bachelor Nation alums Hannah Brown, Susie Evans, and Rachael, who praised Patty for being "ready to find love ♥️♥️."