Pete Davidson & Chase Sui Wonders' Relationship Is Martha Stewart-Approved
The couple took home a puppy from New York City's Citipups.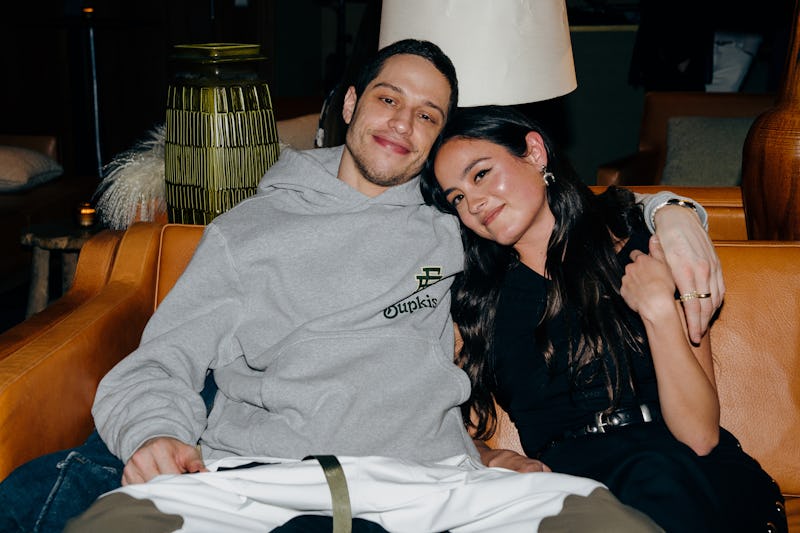 Peacock/NBCUniversal/Getty Images
Martha Stewarts approves of Pete Davidson's girlfriend, calling actor Chase Sui Wonders "lovely" and describing them together as "a very cute couple." The Saturday Night Live alum met Wonders while filming Bodies Bodies Bodies in 2021, and the pair hit it off, but they didn't pursue a romantic relationship for another two years. Their relationship timeline is short but sweet, and it features Rangers games, a PDA-packed vacation in Hawaii, and even co-starring again in Davidson's 2023 comedy series Bupkis. They also appear to keep things on the quiet side.
Davidson, however, has been vocal about the fascination with his dating life. During an episode of the REAL ONES podcast with Jon Bernthal, Davidson mused about his relationships. "I'm in my 20s, and I've dated people — and for some reason, that's very crazy and interesting to people," he said during the April 2023 episode. "I don't think it's interesting."
The King Of Staten Island star continued: "In 12 years I've dated 10 people. I don't think that's crazy, but to some people, that's very interesting. That became all anyone would talk about." Even Stewart has weighed in on Davidson's love life in the past. "He's dated so many women. I'm not saying that's bad. I think that's good," she said during an appearance on The Drew Barrymore Show in October 2022. "He's sort of cute. I know everybody loves him."
The couple appeared to take things to the next level in May by taking home a cava-poo puppy together from a New York City pet shop. Read on to learn more about Davidson and Wonders' relationship timeline.
2021: Bodies Bodies Bodies
Davidson and Wonders met while filming the horror comedy movie Bodies Bodies Bodies. Retrospectively, an insider told Us Weekly that "Pete and Chase had insane chemistry on set, as well as when the cameras weren't rolling." Davidson was reportedly dating Phoebe Dynevor at that point. The movie was released in March 2022. Davidson and Kim Kardashian, who started dating in October 2021, broke up a few months after.
December 2022: Dating Rumors Swirl
Sparks appeared to fly between Davidson and Wonders starting in late 2022. The co-stars were spotted together at New York Rangers game at Madison Square Garden. Though they weren't alone — Bodies Bodies Bodies star Rachel Sennott was seated with them — they appeared rather cozy. Davidson and Emily Ratajkowski had recently broken up after a brief fling.
January 2023: Pete & Chase Take Hawaii
The couple was photographed getting cozy in Hawaii in late January, reportedly holding hands, walking on the beach together, and kissing.
February 2023: Pete Meets Chase's Family
During an outing to the Daytona 500, the couple took things to the next level when Davidson met Wonders' family.
March 2023: Involved In A Car Crash
In early March, the actors were reportedly involved in a car crash in the Flats neighborhood of Beverly Hills. They were driving in his Mercedes on March 4 when Davidson allegedly "hopped the curb and destroyed a fire hydrant before crashing into the side of a nearby house." Though Davidson's car was damaged, no one was hurt.
April 2023: Chase Appears In Bupkis Trailer
Fans got their first look at Bupkis in April, along with a glimpse at Wonders' appearance in the show. In one scene, the pair sit in a car and chat. Wonders' character bluntly tells Davidson, "You run away from people who love you." They also appear to dance together and spend time at an amusement park in the show.
April 9, 2023: Easter With Martha
Davidson and Wonders celebrated Easter with Stewart, stopping by her farm in upstate New York. "They were out looking at our beautiful town of Bedford," the entrepreneur captioned her Instagram post of them. "I showed them around the farm and inside the winter house where the Easter Bunnies were getting ready for Sunday. Very cute couple !!!!"
April 27, 2023: Pete Gushes Over Chase
Ahead of the premiere of Bupkis at the Apollo Theater in New York City, Davidson gushed about his new girlfriend. "I mean, she's the best. She's the best actress," Davidson told Entertainment Tonight about Wonders. "She's gonna crush. She's got a lot of cool stuff going so... I had a blast." At the after-party, Davidson and Wonders appeared to show a little more PDA. An insider for Page Six claimed that "she was googly-eyed at him."
April 27, 2023: Martha Loves Pete's New GF
Stewart was asked about Davidson and Wonders during the reopening of the Tiffany & Co. Fifth Avenue store. "He was just visiting at my house with his new girlfriend," she told Entertainment Tonight on April 27, adding that Wonders is "lovely." It's safe to say that Martha Stewart definitely approves.
May 9, 2023: Chase Opens Up About Dating Pete
In an interview with NYLON, Wonders revealed what it's like working with her famous beau. "[Pete and I] became fast friends on Bodies, and it was just clear that we could work together super well. He's such a pro, and acting with him is my favorite thing," she explained. "As soon as I got onto Bupkis, it felt like we were flowing again. The relationship's a lot less toxic in Bupkis than it is in Bodies, which is a lot more fun to play. But even in Bodies, we would do all those dark scenes and then we'd be like, 'This sh*t's crazy! This is so dark.'"
She also referred to her relationship as "very sacred," when speaking about how it took off at the same time as her acting career. "We talk about everything, and we are very open with each other about everything," Wonders noted.
May 21, 2023: Puppy Parents
The couple is apparently taking things to the next level in their relationship by becoming puppy parents. Page Six reported that Wonders and Davidson were seen purchasing a dog at Citipups in New York. The actors, who visited the store on May 21, picked up a cava-poo puppy that was only 10 weeks old.
This article was originally published on