Why Pete Davidson Thinks Hollywood Is "The Worst Place" For Him To Grow
"Hollywood's like high school."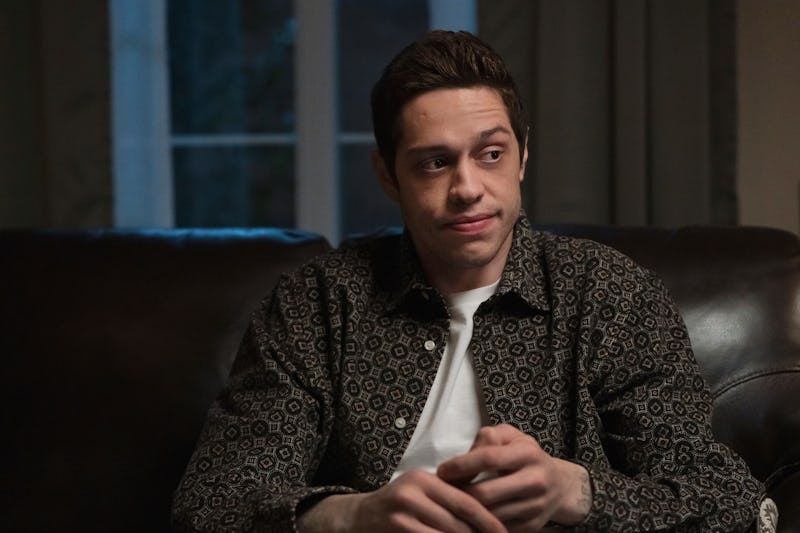 Peacock/NBCUniversal/Getty Images
There have been a lot of headlines about Pete Davidson in recent years, and the Saturday Night Live vet doesn't always appreciate how people perceive him. He took the chance to set the record straight on the Real Ones with Jon Bernthal podcast on March 30, and their conversation delved into numerous topics, from his career to, of course, his dating life. However, he got even more personal when he opened up about his mental health, the growth he's trying to do, and why Hollywood makes that uniquely challenging.
The comedian was candid about always having the feeling that "the walls are going to close in or something's going to be ripped out," and how he's been doing "a lot of therapy," specifically to cope with trauma. Losing his father, a firefighter, during the 9/11 rescue efforts, contributed to his borderline personality disorder (BPD) diagnosis, which he first opened up about in 2017. "You know, dad says he's coming to pick you up and doesn't; for life, I'm just like, I don't believe anyone," he told Bernthal.
Davidson said he is working on "trying to learn how to believe people," but, well, "Hollywood isn't exactly the greatest place to learn that skill." He elaborated on the issue, namely that he finds Hollywood to be "like high school" with "the cool kids and the dicks and ... the cool people are actually the quiet people."
"It's the worst place for me to grow," he added, "but I love this sh*t and I'm going to do my best I can and just keep doing that."
BPD is "a type of personality disorder in which a person has difficulty processing or managing their emotions," according to Healthline. "It often involves self-image issues, varying moods, and behavioral changes. In addition, it can cause a sense of instability and insecurity."
Davidson shared some of the other ways BPD affects his mental health, beyond just not trusting people, such as black-and-white thinking (where things feel either great or terrible) and the urge to self-harm. Previously, he told Marc Maron on the WTF podcast that he was initially misdiagnosed with bipolar disorder and had a mental breakdown. Getting into therapy, though, started helping.
"It is working, slowly but surely," he said in 2017, per Time. "I've been having a lot of problems. This whole year has been a f*cking nightmare. This has been the worst year of my life, getting diagnosed with this and trying to figure out how to learn with this and live with this."
Adding more fame to the mix has been hard, too, it seems. Davidson also told Bernthal about feeling like people in Hollywood see him as "a big idiot with a dick that smokes weed," and it's "humiliating." His strategy moving forward is to "just act, be an actor in something and not just be what people think is me" and that, at least, is something Hollywood should be an excellent place for.
If you or someone you know is seeking help for mental health concerns, visit the National Alliance on Mental Illness (NAMI) website, or call 1-800-950-NAMI (6264). For confidential treatment referrals, visit the Substance Abuse and Mental Health Services Administration (SAMHSA) website, or call the National Helpline at 1-800-662-HELP (4357). In an emergency, contact the 988 Suicide & Crisis Lifeline by calling or texting 988, or call 911.
If you or someone you know is considering self-harm or experiencing suicidal thoughts, call or text 988 to contact the 988 Suicide & Crisis Lifeline, which provides free 24/7 support.