Prince Harry Incorrectly Recites Christina Aguilera's "Genie In A Bottle" Lyrics
The Duke of Sussex omitted "baby" and "honey."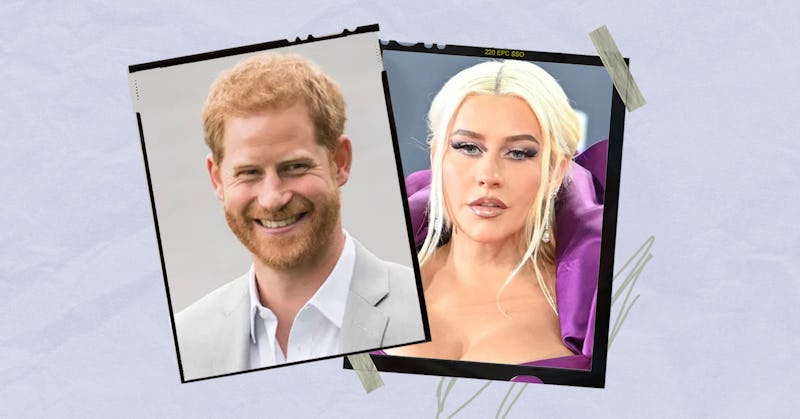 Samir Hussein/WireImage/Getty Images; Manny Hernandez/WireImage/Getty Images
Prince Harry is rubbing listeners some type of way. In the audiobook for his new memoir Spare, the Duke of Sussex recites lyrics from Christina Aguilera's debut single "Genie in a Bottle," and just like his rendition of Spice Girls' "Wannabe," it's both a gift and a curse. The 1999 song came up at a house party in Los Angeles — not too long after he did mushrooms with Courteney Cox — when he thought he was about to be introduced to the popstar, likely due to the "joint" he had just hit.
"Someone tapped me on the shoulder, said they wanted me to meet Christina Aguilera," he said. "Oh, hello, Christina. She looked rather mannish. No, apparently I'd misheard, it wasn't Christina Aguilera, it was the guy who co-wrote one of her songs. Did I know the lyrics? Did he tell me the lyrics?" Harry then went on to recite the main hook, "I'm a genie in a bottle, you gotta rub me the right way," as if it were Shakespearian writing. However, he omitted the seductive "baby" and "honey" at the end of each line. "Anyway, he'd made a boatload from those lyrics, and now lived in high style," he concluded about the songwriter. "Good for you, mate."
Harry did not clarify which songwriter he spoke with, but "Genie in a Bottle" was co-written by David Frank, Steve Kipner, and Pamela Sheyne. Given how Harry described the subject as a man, readers can narrow it down to two suspects: Frank and Kipner. While the memoir contains several bombshells about the royal family and revelations from his childhood, perhaps the most interesting part of Spare is the reveal that Harry is a low-key pop music stan, between his audiobook renditions of both "Genie in a Bottle" and "Wannabe."
In a separate chapter, Harry wrote about his experience of meeting the Spice Girls on the red carpet before their South Africa concert in 1999, recalling how Emma Bunton "kept pinching" his cheeks and Victoria Beckham "surged forward and clutched my hand." Apparently, he got his Spice fandom from his father King Charles III, who he was shocked to see getting down to "Wannabe" during the show. "Concert? Pa? Impossible to believe," he wrote. "Even more impossible while it was actually happening. But I saw it with my own eyes, Pa gamely nodding to the beat and tapping his foot."
Clearly, the royal family likes to Spice up their lives.