Rachel McAdams Is Worth Waiting For
The selective star returns for the long-awaited, totally adorable adaptation of Are You There God? It's Me, Margaret.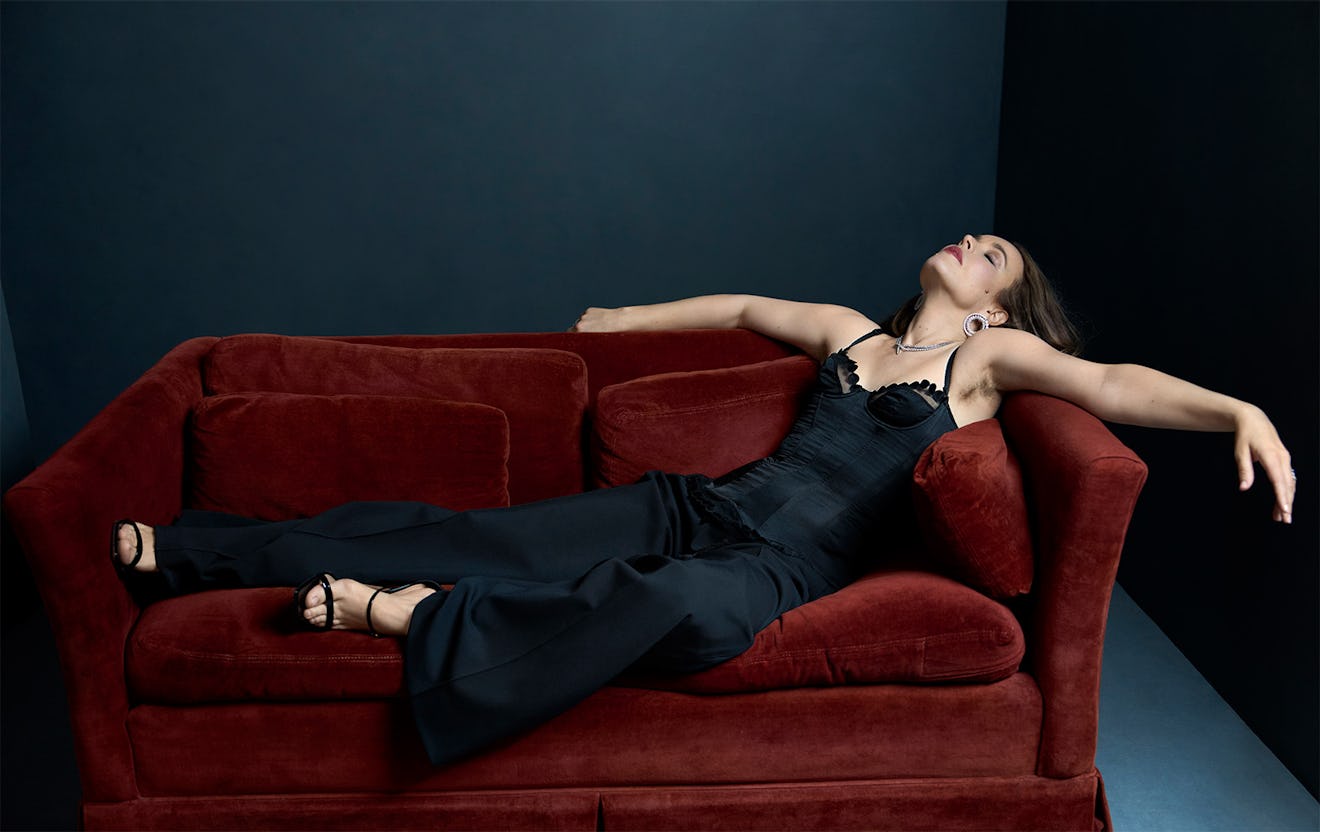 Are You There God? It's Me, Margaret, the puberty bible and icon of YA literature, is, among other things, the story of an 11-year-old's desperation to grow breasts. "We must, we must, we must increase our bust!" goes its most famous line. Rachel McAdams' time on the set of the book's new film adaptation is a testament to the fact that you don't stop feeling weird about your boobs once they come in. Surprise! It's a lifelong affliction.
"I felt like a milking machine," McAdams says. She'd given birth to her daughter just five months before filming started and was pumping between shots. Then the costume designer threw her a curveball. "Why don't we just try this without a bra?" McAdams, who plays Margaret's mother, Barb, recalls her asking. "The great irony is Margaret just can't wait to get into a bra. But I'm playing a kind of wild child, hippie artist mom [who] doesn't wear a bra throughout the whole film." Going braless while breastfeeding is no joke — the leaks, the size changes — but McAdams was drawn to the creative potential. "[We] really wanted Barb to feel like a real person who's still figuring herself out, to put Margaret and her on similar trajectories."
If you grew up with Judy Blume, Mean Girls, and The Notebook, 1) join the club, and 2) McAdams' appearance in Are You There God? is guaranteed to put you in your feelings. While Blume's books have taught generations of teenage girls about menstruation, masturbation, and premature ejaculation, this release is only the second time in 50 years that a Blume book has been made into a film. After the movie's director, The Edge of Seventeen's Kelly Fremon Craig, finally persuaded Blume to take the leap — after decades of vehement opposition to seeing Margaret, in particular, on screen — there was just one other person she needed to convince. "Kelly knew that Rachel McAdams was the one, and she was willing to wait [for her]," says Blume, who served as a producer on the film. The adaptation gives more space to Barb, makes her someone who is achingly relatable as a grown woman who's still in touch with her inner adolescent. "Not only is McAdams adorable [in it], as she always is, but she is funny, sexy, warm, and loving," Blume says.
McAdams has taken periodic breaks from Hollywood, and it has been a decade since she starred in the kind of multigenerational, feel-good movie she once gravitated toward (Richard Curtis' About Time, the cult classic The Family Stone, even Wedding Crashers). As a result, her nuanced and nostalgic performance in Are You There God? seems destined to make fans add "-aissance" to the end of her last name. It also marks the comet-like return of a star whose engagement with the public is sporadic and exciting. The last time McAdams was doing photoshoots, to support 2017's Disobedience, she single-handedly made lactation glamorous by posing for Girls. Girls. Girls. magazine in a breast pump, a bondage-style Fleur du Mal bra, and Versace jacket. "I love that juxtaposition of beauty, glam, fantasy, and then truth," McAdams, 44, says of her aesthetic sensibilities. For Bustle's photo shoot, she requested the images be edited as minimally as possible.
"I knew I was in such a lucky spot. But I also knew it wasn't quite jiving with my personality and what I needed to stay sane."
"With this shoot, I'm wearing latex underwear. But I've had two children. This is my body, and I think that's so important to reflect back out to the world," McAdams tells me. We've met in Key West, Florida, where Judy Blume primarily lives and owns a bookstore, and which is ground zero for Are You There God?'s promotion. Sitting at a dockside restaurant overlooking the Gulf of Mexico, Jet Skis circle nearby, and the Grease soundtrack loudly emanates from the speakers above us. McAdams is quick to laugh, and when she does, her whole face moves. Smile lines linger. She does not look like a product of the industry's dermatological regimen; she looks like herself. "It's OK to look your best and work at it and be healthy, but that's different for everyone," she says.
Lanvin jacket and skirt, La Perla bodysuit, Chanel earrings, On right hand: Khiry ring, On left hand: Third Crown ring , Lady Grey ring
That philosophy might come more easily if you look like Rachel McAdams, but it probably helps that she has a life away from Hollywood, in the South, with her partner, screenwriter Jamie Linden; their two children; and their two dogs. McAdams tells me that her terrier mixes are half sisters, and so close that she hopes they die at the exact same time, The Notebook style (my reference, not hers). Her favorite thing to do is to ride around town with one of her kids strapped to the back of her bike. "All my bikes have baby seats," she says. One gets the sense that her years not working have kept her in close touch with normalcy.
"I guess I always had a sense that it would be OK; either it's going to work out or it's not," McAdams says of her career. The breaks from acting, she says, "really helped me feel empowered. It helped me feel like I was taking back some control. And I think it sort of allowed me to come in from a different doorway."
McAdams learned how to walk away at a young age. Growing up in small-town Ontario, she started figure skating at the age of 4. Around the time she hit her pre-teen years, it was clear she had real promise. She could do a single axel — "that was a big deal" — and had started branching out to pair skating. The rink was a weird place to go through puberty. "I remember there was an older guy who would do all the dance tests with the younger girls. We were all madly in love with him, and he was probably gay," she says. "You're already shaking because you're doing a test and you want to pass, then it's freezing cold, and you've got this 16-year-old boy sliding you around the ice."
Like Margaret's greatest fear, she was a late bloomer. "I remember being very disappointed by my first bra. I wanted leopard print, but it was more like a bandeau top with a tiny little white bow," she says. "The boys just seemed relentless."
When McAdams' parents offered to let her drop out of school and move to Toronto to pursue figure skating, she says, "I was like, 'Actually, this sounds horrible.' I wanted to be with my friends and do it for fun." Which is exactly what she did, balancing time on the ice with parts in school plays and a job at McDonald's alongside her siblings.
McAdams jokes that she stopped pursuing skating at the highest level because she detested waking up at 5:30 a.m., but she has an instinctual ability to prioritize her own wants and needs. "[Rachel is] very confident in what she believes and being able to align with her inner compass," says Kayleen McAdams, Rachel's sister and longtime makeup artist. "There can be moments when you do things that you might not be ready for. You take a job that isn't exactly right for you because you're feeling those external pressures. Rachel has such a strong internal sense of self and a really strong belief that the world will work out as it should."
"There's certainly things I wish I'd done. But I step back and go, 'That was the right person for that.'"
It didn't take long for acting to work out for McAdams. Within a year of graduation from York University's theater program, she made her Hollywood film debut, starring in the 2002 body swap comedy The Hot Chick alongside Rob Schneider and Anna Faris. What followed was a three-year stretch of films so popular their dialogue is etched in our vernacular — Mean Girls ("get in, loser, we're going shopping"), Wedding Crashers ("rule No. 76. No excuses. Play like a champion"), The Notebook ("it wasn't over, it still isn't over") — as well as a rapid ascension to Hollywood's A-list. "It did feel a little overnight," McAdams concedes. Then, as if on cue, our waiter interrupts to let her know that The Notebook is her favorite film of all time.
McAdams has these interactions often, as the interest in her early career films has never waned. Especially as Mean Girls enters production on its third iteration: a big screen adaptation of the movie's musical treatment. ("I don't see a way to shoehorn us in," she says. But "if Tina [Fey] can figure it out, I'm there, for sure.") Though McAdams is grateful and gracious — gamely posing for photos with our waiter — she has a more complicated relationship with the fame they brought her. "You don't go to theater school to learn about how to deal with that. There's no book on how to navigate that."
Miu Miu jacket, bra, and bralette, Vex briefs, De Beers earrings, Bulgari ring
Because of McAdams' firm boundaries, she is sometimes talked about in terms of what she did not do. Like when she was not on the 2006 Vanity Fair cover alongside Scarlett Johansson and Keira Knightley, shot by Annie Leibovitz. McAdams arrived at the shoot and learned that the other two women had agreed to pose nude, which she wasn't comfortable with. Ultimately, she walked off set. Soon after, she moved back to Canada and started turning down roles in films like The Devil Wears Prada, Casino Royale, Mission: Impossible III, Iron Man, and Get Smart. Instead, she spent her time biking around Toronto, spending time with her family, and recentering. Today, McAdams admits, "There's certainly things like 'I wish I'd done that.'" But the success of those projects, she says, makes her think twice about her potential casting. "I step back and go, 'That was the right person for that.'"
Of what ultimately became a two-year break, McAdams says, "I felt guilty for not capitalizing on the opportunity that I was being given, because I knew I was in such a lucky spot. But I also knew it wasn't quite jiving with my personality and what I needed to stay sane." Not that she would have articulated it that way at the time. "There were definitely some anxious moments of wondering if I was just throwing it all away, and why was I doing that? It's taken years to understand what I intuitively was doing."
On her way to lunch, McAdams stopped into the bookstore Margaret's author, Judy Blume, owns in town. She bought her kids the picture book Good Night Florida Keys, along with two copies of Margaret for Blume to sign. (One for her daughter to have when she reaches the right age, and one for her mom.) She also got another one of Blume's books for her son, who recently learned about menstruation from watching Pixar's Turning Red, though McAdams admits he didn't quite grasp the concept at 5 years old. Small details like these are all she's willing to share about her personal life.
But it is clear how proud she is of the life she's cultivated for herself, and how she's brought it with her to work. For Margaret, she hired Kayleen to be her on-set makeup artist, and the two of them rented houses next door to one another so their kids could be together. "Our [eldests] are best friends, and our two younger ones are three months apart, so they're super close as well," Kayleen says. "Then Rachel and I get to be best friends that go off to work [while] they play everyday." Kayleen was also breastfeeding during filming, so they would run off, eat a snack, and pump together. "Then she would go into this setting where she was parenting a pre-teen daughter. It's funny to live that life and also be looking into your future."
Fleshing out Barb's parenting journey was one of the biggest departures from Are You There God?'s beloved source material. The book follows the Simon family's move to the suburbs of New Jersey and the difficulties they face as an interfaith household, but it is told strictly through Margaret's perspective, as she tries to fit in with a period-obsessed group of girls and visits various houses of worship in the hopes of finding a religion all her own. The choice to make Barb a former art teacher, trying to find her footing among the PTA, reflects Blume's experience of motherhood. "That was me then, too," Blume says. "I was joining committees because I thought I was supposed to, while trying to write my book that I really wanted to do."
Dries Van Noten jacket and pants, De Beers necklace and earrings, Bulgari ring
Fifty years later, that tension was still top of mind for Fremon Craig and McAdams. "Both [Rachel] and I were dealing with a lot of the things that Barb deals with: trying to balance motherhood and career, and [wondering] am I being a good enough mother," Fremon Craig tells me. "I do think maybe [Rachel] related to that on some level, although I think she is probably finding more balance in her own life and more normalcy than maybe even I am."
They also grappled with how much of Barb's sexuality to portray. "Judy was like, 'I think Barb's a really sexy mom,'" McAdams recalls. "Kelly was like, 'She's dorky.' I'm like, 'What's dorky-sexy? Where do we find the middle?'" But it's a universal truth that your mom seems dorky to you, and it's a universal truth that your mom has sex. So McAdams leaned into the flirtation with her on-screen husband (played to equally dorky-sexy perfection by Uncut Gems co-director Benny Safdie), exchanging flirtatious glances with him at family dinner and ogling him as he does yardwork. "There's this moment that I just love when she sees her husband with the lawnmower for the first time," Blume says. "She's sashaying up there saying, 'Well, hello. Workin' the land!' She's just perfect."
To Fremon Craig, it's the lovably unaware way McAdams carries herself — striding into scenes in distractingly quirky shoes — that allows Barb's sensuality to shine through. "[Barb] has that artist's eye where it's like she's less aware of the eyeballs looking at her and more just the eyeballs looking out at the world. It's actually that ease that does make her sexier, her just being a hundred percent herself."
Not that McAdams always felt at ease while portraying Barb. Especially when it came to her bust. "I was worried some days. 'Is this too much? Is this distracting?'" she says."I hated thinking about that. Why do I even care? But it's hard not to!" She'd be doing her younger self a disservice if she pretended glamorous, grown-up movie stars never feel self-conscious anymore.
Top Image Credits: Vintage corset c/o New York Vintage, Hermès pants, Chopard earrings, Bulgari necklace and ring (left hand), De Beers tennis necklace, Ali Weiss ring (right hand), Giuseppe Zanotti shoes
Photographs by Mark Seliger
Styling by Tiffany Reid
Set Designer: Jakob Bokulich
Hair: David von Cannon
Makeup: Tyron Machhausen
Manicure: Honey
Talent Bookings: Special Projects
Video: Rebecca Halfon, Marshall Stief
Associate Creative Director, Video: Samuel Schultz
Photo Director: Alex Pollack
SVP Fashion: Tiffany Reid
SVP Creative: Karen Hibbert