Real Housewives Of Dubai Star Sara Al Madani Is A Real Business Maven
The single mom runs several companies in Season 1.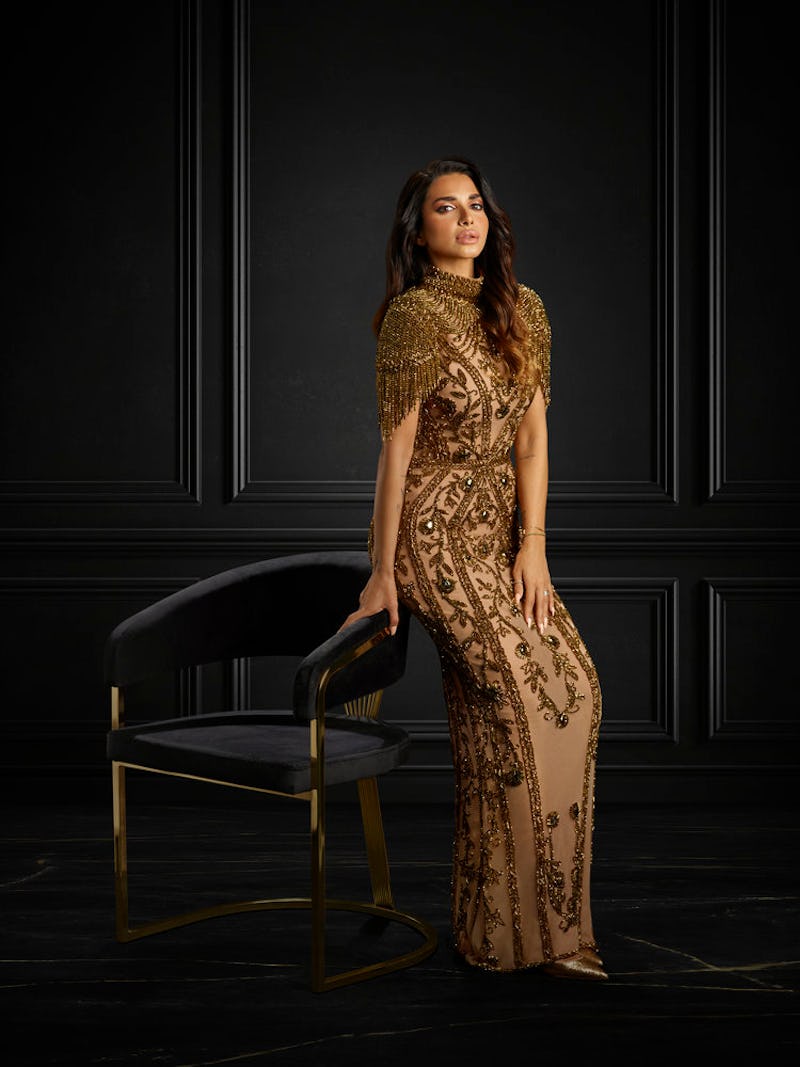 Chris Haston/Bravo
It's time to hit the sands in the Real Housewives of Dubai, the 11th locale to be featured in Bravo's popular reality TV franchise. The new show follows six business-savvy women, including star Sara Al Madani. A hardworking single mom, she is an Emirati local who is an award-winning entrepreneur know for her work in the commerce sector.
When Al Madani was first asked to be in the show, she said that starring in a reality TV show was definitely outside her comfort zone. "I was kind of worried about doing it. I've never done reality TV, and I didn't know if that's the path I wanted to take in life," she explained to Entertainment Tonight. But then she realized that there are a lot of "stereotypes in the Western world about Arab women, how they live their lives, and the Middle East," so she saw being on the show as "window for me to talk to the world about how we are and who we are so we can kill all the stereotypes."
Here's everything else to know about RHODubai's Al Madani.
Sara Al Madani's Businesses
Al Madani started her first business, a fashion brand aimed at changing how Arab women dress, at the age of 15. "I wanted to be financially independent. Every time I wanted something, my dad would tell me that I had to work hard to earn it," she said in an interview with BMW. One day she saw a shop for rent, and she decided she wanted to open her own. "I took several jobs behind my parents' back: I modeled, I sold soft drinks in the mall, I did so many things to collect the money I needed to pay for the shop."
She eventually got into the tech world with companies like Hulatek (a VR/AR company) and Social Fish, a digital marketing company. "I was at a conference once when someone said that the tech world was made for men. My immediate thought was, 'Well, I've got to get involved in this,'" she told BMW. "I want to be in tech because I want to be an ethical tech entrepreneur. I keep hearing about how tech is going to replace people. But this is removing the element of humanity. I don't want to do that."
Per Al Madani's LinkedIn page, she's also involved with a number of other companies, like the NFT-focused Acatraznft and clean beauty brand Kind & Co. She's also a partner at the construction and real estate conglomerate Cahero Holdings, co-founder and CEO of Halahi (which creates personalized shoutouts from celebrities), and the current director and partner of Social Fish.
Beyond her companies, the new Real Housewife has given over 200 keynote speeches aimed toward encouraging young women to enter the business world. She also formerly served as a board member at the Sharjah Chamber of Commerce and Industry and the UAE SME Council in the Ministry of Economy. She was the youngest member elected to the board.
"The number one thing that I've done is that I freed myself from the stereotype of what I should or shouldn't be doing as a woman: how a woman should only be working in feminine fields; how a woman should just be at home raising kids," she said. "None of that resonated with me. I believe in gender equality and I believe that you go out there and get whatever life's giving you."
Sara Al Madani's Instagram
Al Madani shares all her high-profile events on her Instagram, as well as her meetings with celebrities like Jason Derulo, the Backstreet Boys, and Floyd Mayweather. She also shares some photos of her son and dad, who feature on the show.
Sara Al Madani's Ex-Husband
Despite the title of the series, Al Madani is notably not married. In the show, she mentions she actually divorced twice, but neither ex-husband features in the series. According to Dubai Fashion News, she was once married to businessman Mustafa Khawaja, but they have since deleted their Instagram photos.
So rather than focus on a husband, the series shows Al Madani working alongside her father and taking care of her son, who she says makes her stronger every day. "Ever since becoming a mother, I've become a better leader because my empathy and sympathy switches are turned on for life," she told BMW. "When I was pregnant, a lot of people told me — many of them women — that once you become a mom you can forget your dreams and your goals ... Since giving birth to my son, I now have seven companies. Before my son, when I was alone and had nothing but myself in this world, I had one company. Motherhood inspired me to try and build a legacy for my children."