Rhaenyra's Sons On House Of The Dragon Suffer A Tragic Fate In The Book, Too
Here's everything else that happens to Rhaenyra's sons in Fire & Blood.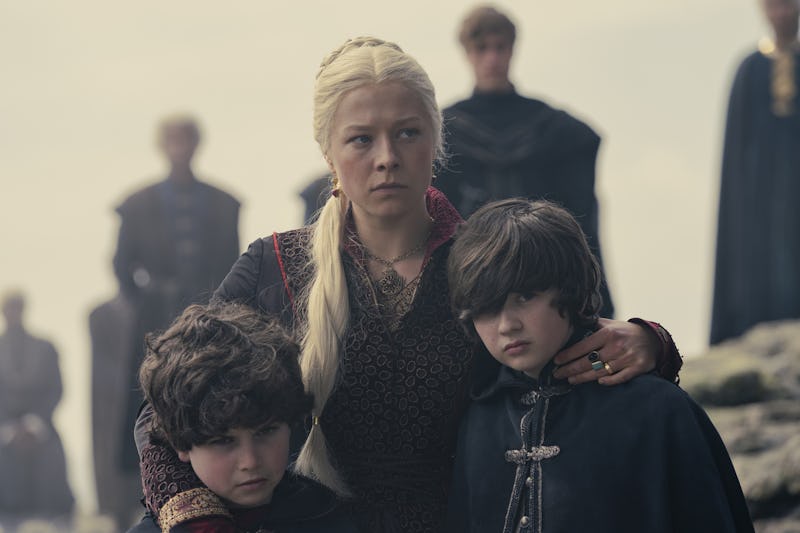 Ollie Upton/HBO
Spoilers ahead for the Fire & Blood book and House of the Dragon season finale. Ever since Rhaenyra and Daemon married on House of the Dragon, viewers have been wondering what might happen to her three original sons during the imminent Dance of the Dragons — and during the House of the Dragon season finale, they finally got their tragic answer. Here's what went down.
With the Targaryen Civil War beginning in earnest, Lucerys went on a diplomatic mission to send a message from his mother to Lord Borros. Here, Lucerys was confronted by a vengeful Aemond, who told Lucerys that he wanted to take his eye as payback. Ultimately, he took far more than that, though. During a fight, while riding dragonback, Aemond's dragon, Vhagar, chomped right into Lucerys and Arrax, apparently killing them in the process.
On-screen, Aemond seems surprised by Vhagar's actions and even a bit regretful — as if he didn't want it to go that far. "No, Vhagar, serve me," he says at one point before the final attack, suggesting Vhagar was acting against his wishes. In the book Fire & Blood, contrastingly, Aemond's actions aren't treated with the same ambiguity. While the text doesn't outline exactly how the final blows went down, the book suggests that the killing was intentional. "If he thought to receive a hero's welcome, he was disappointed," Martin writes at one point.
Regardless of what Aemond meant (or didn't mean) to do, Lucerys' fatal flight is clearly setting the Dance of the Dragons into motion in a major way. Sadly, in Fire & Blood, his siblings, Jacaerys and Joffrey, don't fare so well themselves.
As for Rhaenyra and Laenor's other two sons? Jacaerys later died as a casualty in another Dance of the Dragons conflict, the Battle of the Gullet. And ultimately, young Joffrey was killed during an attack on King's Landing the same year. Though the House of the Dragon timeline may differ, it's worth pointing out just how little time passed between Lucerys, Jacaerys, and Joffrey's deaths in the book because their violent ends will obviously have an effect on Rhaenyra.
In Fire & Blood, Rhaenyra and Daemon have two children of their own, named Aegon and Viserys. (They also had a daughter, Visenya, but she died at birth, as we saw in the House of the Dragon finale.) The boys live quite a long time — in fact, Aegon and Viserys would both go on to occupy the Iron Throne in the future. But if the show follows the book closely, it seems that Rhaenyra's remaining sons with Laenor (or maybe Harwin?) are not long for this world.
This article was originally published on