Rose Matafeo's Love Of "Meta, Self-Referential" Rom-Coms Runs Deep
And how she has carved out her own niche with Starstruck.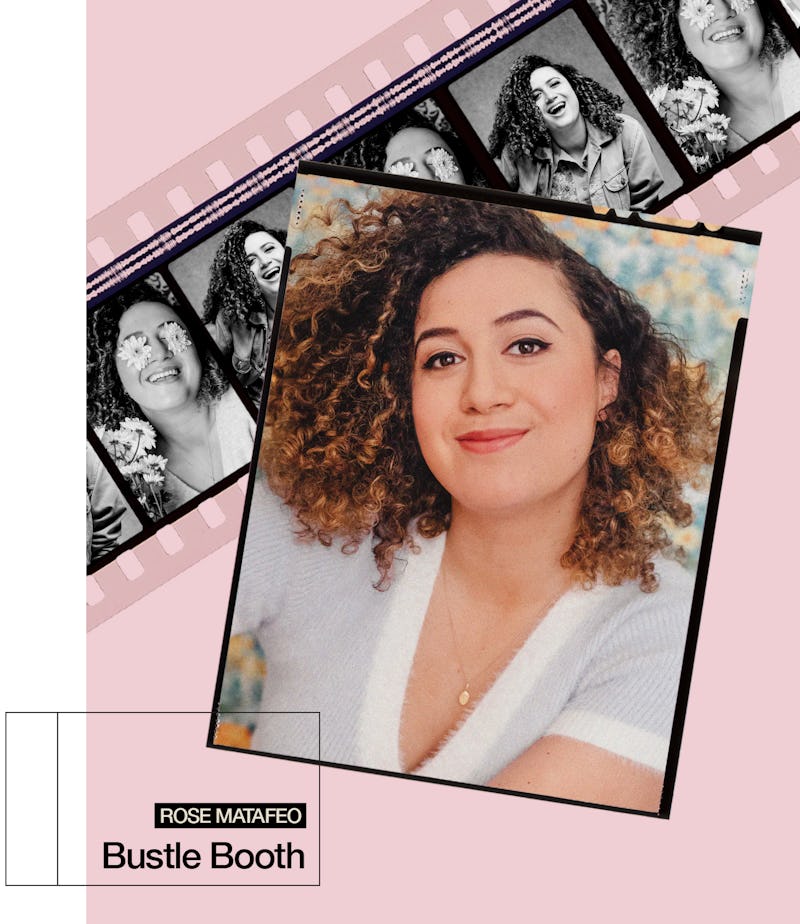 Like so many millennials who reached their teenage years in the '90s, Rose Matafeo appears to have rom-com motifs imprinted on her DNA. Her new BBC show Starstruck is a thoroughly modern take on the beloved genre, but influences from classic movies definitely creep in – some without the comedian even realising.
For starters, the premise of Starstruck calls back to a seminal Richard Curtis flick, Notting Hill. Rose plays Jessie, a twenty-something cinema steward who begins an unexpected romance with Hollywood movie star Tom Kapoor (played with charm by Nikesh Patel). Throughout the six-part series, viewers will spot other rom-coms nods in there, too: sabotage from unrequited lovers (My Best Friend's Wedding), closet lock-ins (He's Just Not That Into You), airport near-misses (Friends: The Last One (Part Two)) and more.
Then there's the opening scene of episode two, where Jessie can be seen gleefully dancing her way home after a one-night stand. Was that a shout out to 500 Days Of Summer, I ask? "Yes, but it wasn't intentional. It was truly by accident!"
Matafeo sees rom-com as a "meta, self-referential" genre. "There are only so many configurations of a love story that you can create," she laughs. "I mean, You've Got Mail is a reimagining of Shop Around the Corner, a Jimmy Stewart film from the '50s. All these movies kind of feed into one another." And she would know, as a self-confessed superfan. Matafeo loves everything from the screwball '50s rom-coms to "the sex romps" of the '60s and all the way up to the Nora Ephron years and beyond. Just recently, she bought an old-school TV with a DVD player where she can watch classics like Pillow Talk and Charade.
But despite taking influences from elsewhere, Matafeo has carved out her own niche with Stastruck, which is far more grounded than rom-coms of the past. In Jessie, she has created a loveable but flawed leading lady that viewers will easily relate to.
Speaking more about Jessie's creation, Matafeo says, "I wanted her to be funny – and actively funny. As in, she knows she's funny. Because you see so many rom-coms with amazing comic leads, like Sandra Bullock, who can do a pratfall so well, but sometimes you get into the trope of women only being funny because of things happening to them rather than things they're saying."
She adds: "And, with Tom, he's a male character who enjoys that, who actively likes the fact that the woman is funny. That's almost the most fantastical element of the show – because I often think that men are intimidated by that. Great men aren't, but lots are."
Has Matafeo ever had a Jessie moment of her own, I ask? Has she ever had the chance to meet a Hollywood crush? "Well, not so much crushes, but I've met people I've idolised and been like 'Oh my god,'" she tells me. "I mean, I watch so much TV. I love TV. So I'm actually more impressed by people like Ben Shephard. Oh, and Bradley Walsh. I watch The Chase quite a lot. I mean, Kirsty Allsopp as well. I've never met her but, if I did, I'd be a bit stunned."
Get to know more about Matafeo's TV favourites and what's inspiring her lately in her Bustle Booth below.
In The Bustle Booth
What's your coffee order?
Oat milk flat white.
What are your saved weather locations on your phone?
London, Auckland, London again, Melbourne, Palm Springs, Silver Lake, Seattle, weirdly. I've no idea why ... What? Why is Seattle in there? Sydney, Kilkenny, Glastonbury, Šibenik, in Croatia, Edinburgh – it's a lovely 13 degrees in Edinburgh right now. Paris, Christchurch, Kampala.
What's your sign?
Pisces.
Favourite overused movie quote?
I don't really quote movies so much, but there is a quote in Star Wars where when Luke finds out that Leia's his sister, and then Obi-Wan says, "It was true from a certain point of view." And then Luke's like, "A certain point of view?" And I feel like I quoted that a lot with my brothers when I was a kid. But yeah, maybe that. I don't know. I actually quote Arrested Development most of the time.
What was your favourite cartoon as a kid?
Dragon Ball Z.
What's one movie or TV show you're currently obsessed with?
Dawson's Creek. Deeply obsessed.
Who is your celeb idol?
Fran Lebowitz.
If you had to be on a reality TV show, which one would it be?
I would love to pop up in Made in Chelsea. I think that would be so funny. I think a New Zealand accent in Made in Chelsea would be very funny.
Go-to karaoke song?
"True" by Spandau Ballet.
What is something that's inspiring you lately?
My VHS-DVD combo television. I'm deeply inspired by it because I've been watching all these DVDs of all my favourite films that I haven't watched in ages. And I love the fact that, to put it on, I just have to watch it. I can't skip ahead and, since it's not on my computer, I'm not doing other things on other tabs. I just sit there and watch a thing, and the screen is tiny, and it strains my eyes, but I love it.
What is something you would want people to say about you?
I have a real complex about people not thinking that I'm actually at all intelligent, so "she's so brainy" would be good. Oh, and "she's good at escape rooms." If anyone said that I was good at escape rooms, I would be so, so stoked.
The interview has been edited and condensed for clarity.