At 28, Rosie Perez Risked Her Career To Stop Playing Stereotypes
The actor also recalls her unique friendship with Tupac.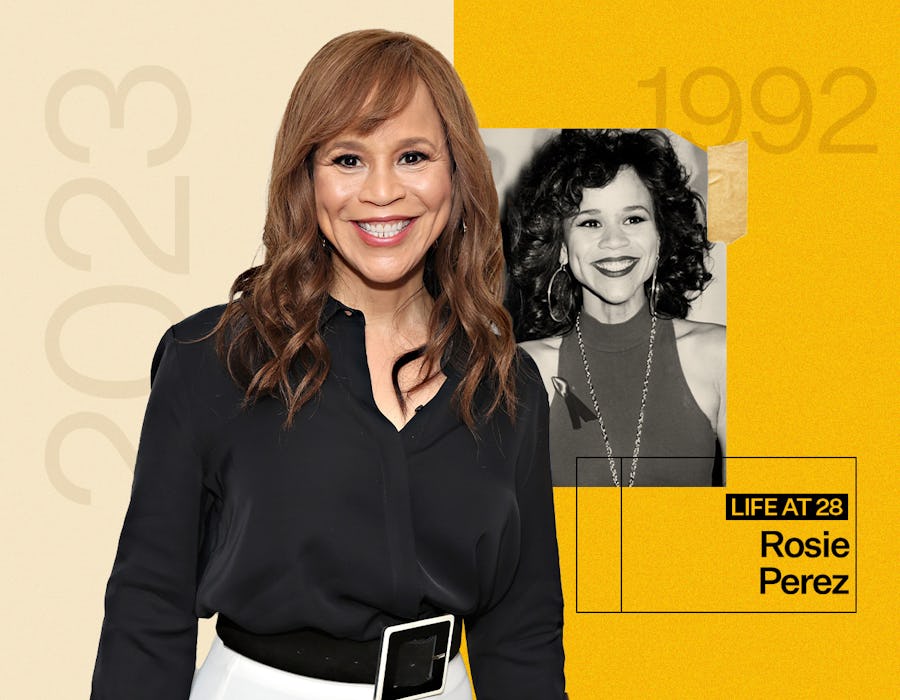 Cindy Ord, Barry King/Getty Images
In 1992, Rosie Perez was trying to do it all. The then-28-year-old was spending 14 to 16 hours a day on set in LA as the choreographer of the renowned sketch series In Living Color while her burgeoning acting career required traveling back and forth between movie sets. Between takes on the set of the Peter Weir drama Fearless, Perez would be on her "brick" cell phone, reviewing dance moves with In Living Color's assistant choreographer Arthur Rainer, until her Fearless co-star Jeff Bridges told her that she needed to get off the phone. "That's when I knew I had to make a choice between the two," Perez recalls. "I felt that with a movie like Fearless, I had to give it my all."
Perez let Rainer take over as choreographer, and ultimately left In Living Color in 1994. Though the choice to focus on acting paid off — Perez went on to earn an Oscar nomination for her performance as plane crash survivor Carla Rodrigo in Fearless — making it wasn't easy. Despite a widely acclaimed debut in Spike Lee's Do The Right Thing in 1989 and a scene-stealing turn as the Jeopardy-obsessed Gloria Clemente in White Men Can't Jump in 1992, Perez still struggled to land roles in Hollywood as a young Puerto Rican actor, describing the bigotry she faced as immense. "With Fearless, they didn't want me. I had to audition four times for that role," she says. "I could have easily given up, and I didn't, because part of me was like, how dare you? I'm going to show you."
It was Perez's competitive spirit, plus some much-needed support from her family, that motivated her to fight for the career she wanted and call people in the industry out on "their BS." She turned down roles that perpetuated stereotypes and even fired agents who suggested she dye her hair blonde or get a nose job. "At that time, my representation would say, 'This is hurting you.' OK, so be it. Hopefully, it'll make it easier for the person behind me," Perez says. "That's honestly how I felt. It was hard. I could have done so much more. I could have said yes to so many other projects, but I refused." While saying no was tough, Perez credits her sister Carmen with telling her not to give up, otherwise she'd let the powers that be win. "I'll never forget her saying that. And then she was like, 'And eff them!'"
Perez's now decades-spanning career has taken her from movies and Broadway to a co-hosting stint on The View, and recently, an Emmy-nominated turn in The Flight Attendant. In her latest role on Showtime's crime drama Your Honor, she plays assistant U.S. Attorney Olivia Delmont opposite Bryan Cranston. Perez, now 58, admits that she still feels nervous on set like she did at 28, but it's different this time. "It's not so much filled with this intense anxiety. I would breathe and just push through my fears."
Below, Perez recalls her major career crossroads, her "corny" friendship with Tupac Shakur, and the time she fangirled over meeting Jeopardy host Alex Trebek.
Take me back to 1992-93. Where were you living?
I had a house in Los Angeles, near Hancock Park. It wasn't huge or whatever, but it was very nice. In '92, I still had an apartment [in Brooklyn] — it was a year before I bought my house in Brooklyn.
So you were living a bicoastal life at the time?
Yes, and it suited me well. It was a crazy time in my life because I'm shooting movies, then I'm choreographing In Living Color, and I'm going to the clubs to see the leaders of the new school. At that time, Busta Rhymes was part of it. It was just a crazy time, but it was fabulous at the same time.
Since you were at this crossroads in your career, what were your goals at 28?
My goals were to do great work. Honestly, I still wanted to choreograph; I was getting into directing. I had directed a couple of music videos, Keenen Ivory Wayans allowed me to direct the dance segments [on In Living Color]. I thought I was going to move forward and into that realm more. But I always had a dream of being on Broadway, so that was where my focus was. Also giving back, I had a charity at that time. I'd been with that charity for 20 years. I just stepped down as the artistic chair and co-founder. So my plate was pretty full. I was just striving for excellence. Not striving for perfection, but striving for excellence.
What was your work-life balance like at 28?
It was hard. If I had to do it all over again, I would have devoted more time to my family life, to my personal life. As I matured, I started to figure out it doesn't mean anything if you don't have love and stability and a home life and good friends and good relationships with your family. As an actor, it doesn't serve you well because you're imitating life. If you're not participating in life, it affects your work.
How would you describe your relationships at the time?
I had a few really great relationships, especially my best friend, Julie Shannon — she's still my best friend, my BFF. With my sister, Carmen, we've always been close, but it used to annoy her that I was always on the run. I wish I would have spent more time with my dad. I would only go down to Puerto Rico maybe three times a year versus maybe like 20 times a year. I just think about [if] I would have devoted more time, but then, if I did, I wouldn't be where I am now.
You were also friends with Tupac at the time.
He was a complex person. I'm a complex person. We were both two people who used to hide a lot of our emotions. We didn't trust a lot of people, and when we were together, we were able to let our guards down. He had a turbulent childhood. I did too, so we got each other immediately.
I remember one day, he says, "It's crazy about you." What's so crazy about me? He says, "Nobody knows you're corny. You're a cornball, you're really sensitive, and you're goofy." And I was like, "So are you!" He was great, and he was a really deep, deep person. But he was funny. I hate when people talk about him. They never really talked about how funny and enjoyable he was.
We were talking a little bit about your struggles at the time. But was there anything that was easy about life at 28?
Yeah, there were a lot of things that were easy. My body was in excellent shape. My knees were going, my feet were going, the hips were going, but I was still pretty healthy. The other thing that was easy for me was sliding into a character. I used to get nervous to the point where I would prohibit the character from coming through with ease. But I was able to let that go as I got older, even at 28.
Was there a moment when you felt your nerves were stopping you from fully engaging in a performance?
Yeah, I remember I was on Fearless. Peter Weir was like, "What's wrong with you?" because I just started crying. And I said, "We're doing so many takes, I feel like I'm faking it." And he goes, "You are!" And I went, "What?" And he goes, "You have such great technique." And I go, "I do?" It was crazy because I never studied acting. I was discovered by Spike Lee. So it was kind of like I was learning the trade on the job.
Then I met George C. Wolfe, the film director and playwright, and at that time, he was the head of the Public Theater. I was doing my first play at the Public, and I was terrified. I remember our first night of previews, he came backstage, and he was so supportive and wonderful. He looked at me and said, "Breathe," and I started breathing. And he goes, "Now push through your fears and step into your greatness. It's right in front of you. And only you can do it. And you know you can do it. That's why you're here." I went, "Oh, snap." And we both kind of laughed. I took a deep breath, and I pushed through.
That's when I started to get it. The nerves are part of the process. Everyone would say it, but it didn't really click until that moment. The fear is, oh my God, I'm scared. I'm scared. I'm scared. It's gonna mess me up. As opposed to, I'm terrified. It's part of the process. Everyone's scared. They're just fronting. The nerves are there for a reason. And I remember him saying, if you're not nervous, I would be worried.
What advice would you give your 28-year-old self?
My advice is to calm down. I was pretty confident back then, but I would have said to lean into that confidence even more. I would also have said to protect yourself a lot more. The pitfalls of this business and the trust factor of this business are tough. I would get my feelings hurt a lot. Like Tupac said, I'm very sensitive. I think I would have toughened up in a different way; I wouldn't have had this false bravado of being tough. I would have told myself, you're tough. Be careful, be cautious, and just be more aware.
The release of White Men Can't Jump was also a big moment for you in '92.
Every single day it felt like summer camp. Ron Shelton, the director, was just going crazy with us. It's the most fun I've ever had on the set to date. There's been one that comes on a close second, but nothing has ever matched that experience. It was just so much fun, especially during lunchtime — just jokes one right after the other. Now that I'm older, I would never do that. You gotta reserve your energy, and it's tough. It's okay to go to your trailer and just chill out. But back then, I was like, "What are you going to do for lunch?"
The Jeopardy scene is one of the most famous moments from that film, because your character defies everyone's expectations by winning the game.
That was one of the main reasons why I was so attracted to this role, not only because it was such a well-rounded character to play, but the fact that she goes on Jeopardy. I still watch Jeopardy to this day, followed by Wheel of Fortune. When Alex Trebek walked out on the set, I fanned out. Everyone was looking at me. I did the cornball thing, and I was like, "I watch you every night. Oh, my gosh!" And he was like, "Very nice to meet you."
I was so nervous; that's why I messed up that infamous line. I forgot how I said it, but I think I said Mount 'Suvius, and it wasn't scripted. Alex Trebek goes, "Let's see if the judges will accept that answer." And they did. Judges will accept that answer. It's so funny. When I was smiling, that was a real smile. That was a real moment for me.
This interview was edited and condensed for clarity.