The Story Behind Rye Lane's A-List Cameo Is Everything
Like, actual rom-com royalty.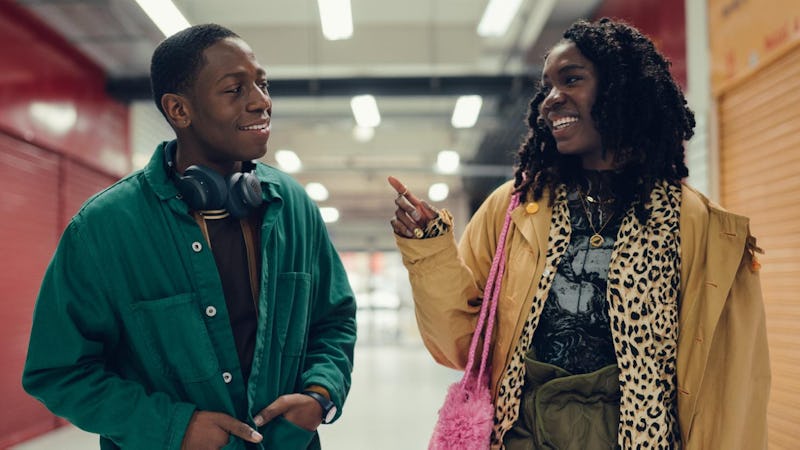 20TH CENTURY STUDIOS
There's something oddly satisfying and exhilarating about watching two fictional worlds collide, even if it's only for a brief moment. Of course that moment is made infinitely more special if the crossover features a film as iconic as Love Actually. It's nearly impossible to think of the holidays and rom-coms without picturing Hugh Grant, Kiera Knightley, Laura Linney, and Colin Firth on a gift wrapped poster with a red bow. Turns out, Raine Allen-Miller, the director behind Rye Lane literally made movie magic twice in one film, thanks to a rather special Love Actually cameo in her film.
Starring Vivian Oparah and Industry's David Jonsson as 20-something characters Dom and Yas, Rye Lane is being hailed as "charismatic" by the Independent and "swoon-worthy" by the Times. Set in South London, Dom and Yas strike up romance after a rather unusual meet-cute in a museum bathroom, both jilted separetyl and circling each other before inevitably falling in love. Among their adventures – the couple spend the day wander through the streets of Peckham and Brixton – they come across none other than Colin Firth himself.
In a blink-and-you'll-miss-it moment, Firth appears as a server at a Mexican food stall cheekily named – wait for it – Love Guac'tually. In an interview with Radio Times, Allen-Miller explains how this legendary cameo came to be. "I decided I really want to do this thing where we have a shop that's called like, About A Burrito or something. I said it to my partner, and I was like, it has to have somebody like You Know Who in there. And my partner just suddenly came out and went, 'What about Love Guac'tually?' And I was like, 'Oh my god.' And it was like the best thing ever." I have to agree.
The director added that Rye Lane is distinct from other romantic movies set in London but might be compared to them. "Let's embrace that and just do a little wink, you know, a cheeky wink and friendly middle finger!" she explained. Oparah was a little starstruck when she found out they would be sharing screen time, albeit limited, with Firth. "I was just like 'Woah', but also I was like damn that was such an amazing baton pass – to have someone who's in the quintessential British rom-coms just being like, yeah, I want to support this movie, just for the sake of supporting it," she said in the interview.
Apparently the legacy actor also imparted some career advice to the rising stars. "I just thought it was, you know, he's absolutely incredible," said Jonsson. "And he was so humble, so kind and giving and it was like just a dream. And he gave us the best bits of advice for our career – like a real career – and hopefully we use them!" Love that, guac-tually.