Everything To Know About The Bachelor's Senior Spinoff: The Golden Bachelor
It's never too late to find love.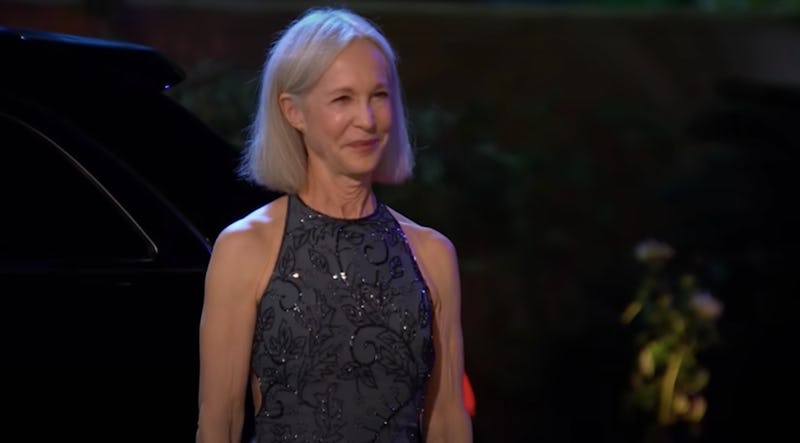 ABC
From The Bachelor to The Bachelorette, to Bachelor in Paradise, there are three running titles in the Bachelor franchise — enough year-round programming to ensure you never have to go too long without some rose ceremony drama. But for the most avid Bachelor Nation devotee, there's always room for more. Like, maybe, a senior Bachelor spinoff?
Audiences were first introduced to the idea of a senior Bachelor after several casting commercials asking for seniors over the age of 65 aired during Peter Weber's season of The Bachelor. However, it wasn't until two years later, during the premiere of Clayton's Echard's season on Jan. 3, that fans got their first taste of the spinoff. During the contestant entrances, 63-year-old retiree Holly emerged from her limo and approached an amused Clayton. "I'm Holly, I'm a mother of two, and I want to have grandchildren, and I'm so excited to be here," she said. "But I'm here for the other Bachelor, you know, the older, senior, Bachelor, so I feel like I'm in the wrong place."
She ultimately played the whole thing off as a joke before introducing contestant Rachel Recchia — but it definitely seemed like ABC was planting some seeds. More than a year later, ABC has followed up with an exciting announcement: The Golden Bachelor is officially a go, and it's coming sooner than you might think. Here's everything to know about the network's May 16 update.
What Is The Senior Bachelor About?
Rob Mills, ABC's unscripted content chief executive, first spoke about the show in a July 2020 interview with Variety. "Some of the casting interviews we got, they were just so touching," he said. "It's such a different way of doing The Bachelor because these people are just at a totally different place in their lives."
According to a new press release, The Golden Bachelor will function a lot like The Bachelor.
"On this all-new unscripted series, one hopeless romantic is given a second chance at love in the search for a partner with whom to share the sunset years of life," ABC writes. "The women arriving at the mansion have a lifetime of experience, living through love, loss and laughter, hoping for a spark that ignites a future full of endless possibilities. In the end, will our Golden man turn the page to start a new chapter with the woman of his dreams?"
The Senior Bachelor Cast
According to the ABC casting site, the network is still combing the country for contestants. "Are you entering your golden years and looking for romance? The producers of The Bachelor are looking for active and outgoing single men and women ... for a new exciting dating show!" the site reads. If you know anyone who you think may be a good fit, you can submit their application here.
Gabby Windey's Grandpa John was a fan favorite for the show, and Mills addressed the possibility of his casting with Variety last year. Though he said he'd "be crazy to say that [ABC] didn't notice all the affection and interest," Mills did point out that Grandpa John still wears his wedding ring, "so ... he might not be ready for something like this."
The Senior Bachelor Premiere Date
The Golden Bachelor will officially premiere this fall, ABC announced, with a specific premiere date to follow soon.
This article was originally published on