Everything To Know About The Bachelor's Senior Spinoff: The Golden Bachelor
Gerry's shaking up the franchise — in more ways than one.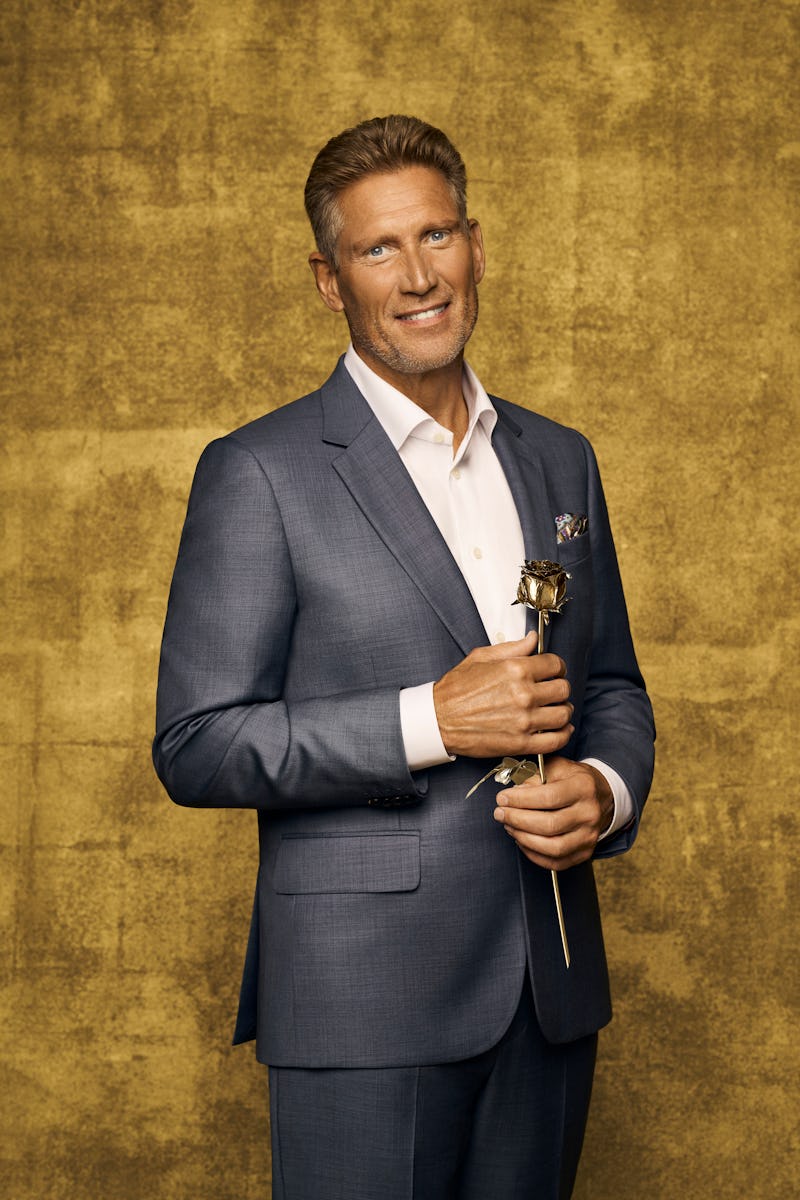 ABC/Brian Bowen Smith
From The Bachelor to The Bachelorette to Bachelor in Paradise, there are three running titles in the Bachelor franchise — enough year-round programming to ensure you never have to go too long without some rose ceremony drama. But for the most avid Bachelor Nation devotee, there's always room for more. Like, maybe, a senior Bachelor spinoff?
Audiences were first introduced to the idea of a senior Bachelor after several casting commercials asking for seniors over the age of 65 aired during Peter Weber's season of The Bachelor. However, it wasn't until two years later, during the premiere of Clayton's Echard's season on Jan. 3, that fans got their first taste of the spinoff. During the contestant entrances, 63-year-old retiree Holly emerged from her limo and approached an amused Clayton. "I'm Holly, I'm a mother of two, and I want to have grandchildren, and I'm so excited to be here," she said. "But I'm here for the other Bachelor, you know, the older, senior, Bachelor, so I feel like I'm in the wrong place."
She ultimately played the whole thing off as a joke before introducing contestant Rachel Recchia, but it definitely seemed like ABC was planting some seeds. More than a year later, ABC followed up with an exciting announcement: The Golden Bachelor is officially a go, and it's coming sooner than you might think. Here's everything to know — including your first look at the leading man himself, and the women competing for his final rose.
What Is The Senior Bachelor About?
Rob Mills, ABC's unscripted content chief executive, first spoke about the show in a July 2020 interview with Variety. "Some of the casting interviews we got, they were just so touching," he said. "It's such a different way of doing The Bachelor because these people are just at a totally different place in their lives."
According to a new press release, The Golden Bachelor will function a lot like The Bachelor.
"On this all-new unscripted series, one hopeless romantic is given a second chance at love in the search for a partner with whom to share the sunset years of life," ABC writes. "The women arriving at the mansion have a lifetime of experience, living through love, loss and laughter, hoping for a spark that ignites a future full of endless possibilities. In the end, will our Golden man turn the page to start a new chapter with the woman of his dreams?"
The Senior Bachelor Cast
On July 17, 71-year-old Gerry Turner was announced as the Golden Bachelor on Good Morning America. He shared his story about being married to his wife, Toni, for 43 years before she passed away in 2017. "I have her picture on a dresser in my closet," he said. "Every morning I give her the nod, 'So what do you think about this?' For a while it was like I was having a hard time figuring out if she would be OK. But we always told each other, when one of us goes, we want the other one to be happy."
Gerry — whose daughters encouraged this new journey for love — said he would love to find a "fairly competitive" partner who's down to golf or play pickleball with him.
Fortunately, several of Gerry's suitors said they are, indeed, pickleball fans during the Aug. 30 cast announcement. Former Bachelor Matt James' mom, Patty, is among them!
Joining her are:
Anna, 61, a retired nutritionist
April, 65, a therapist
Christina, 73, a retired purchasing manager
Edith, 60, a retired realtor
Ellen, 71, a retired teacher
Faith, 60, a high school teacher
Jeanie, 65, a retired project manager
Joan, 60, a private school administrator
Kathy, 70, a retired educational consultant
Leslie, 64, a fitness instructor
Maria, 60, a health and wellness director
Marina, 60, an educator
Nancy, 60, a retired interior designer
Natascha, 60, a pro-aging coach and midlife speaker
Pamela, 75, a retired salon owner
Peggy, 69, a dental hygienist
Renee, 67, a former Chicago Honey Bears cheerleader
Sandra, 75, a retired executive assistant
Susan, 66, a wedding officiant
Sylvia, 64, a public affairs consultant
Theresa, 69, a financial services professional
The Senior Bachelor Premiere Date & Trailer
The Golden Bachelor will officially premiere on Thursday, Sept. 28 at 8 p.m. ET — followed by Bachelor in Paradise an hour later.
The network shared its first teaser on July 13 — featuring animation of a red rose turning gold, aptly set to an old classic: "This Magic Moment" by The Drifters.
Gerry's official reveal came days later:
"He posts his thirst traps in a leather-bound album," the new teaser says. "His DMS have postage. He gets the early bird special any time he wants. If you call him, he'll answer the phone. He doesn't have gray hair — he has wisdom highlights. Florida wants to retire and move to him."
The cast teaser arrived on Aug. 30, introducing fans to the lineup of ladies who will be vying for Gerry's heart.
Patty, Matt James' mom, said she's "looking for someone that cares about family like [she does.]"
This article was originally published on