These Succession Finale Theories Actually Make A Lot Of Sense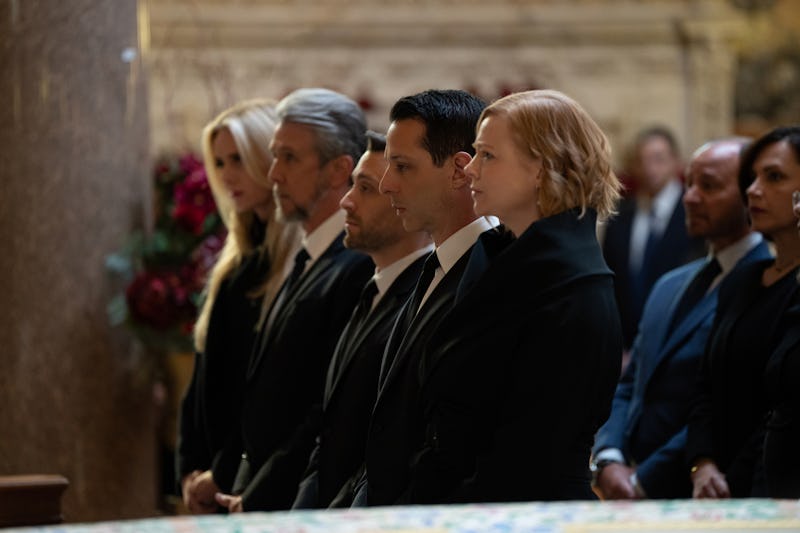 Macall Polay/HBO
Logan Roy's funeral episode was devastating, even by Succession standards. But somehow, the show still has 90 more minutes of screen time to wreck us with — and many observant viewers have started to form their Succession finale theories. But, as Sarah Snook recently told Marie Claire, the conclusion might not be so straightforward. "We knew it would be the final series [while filming]," she told the magazine. "However, the way the series ends, a number of the cast felt it was left somewhat ambiguous."
So, what's going to happen to the Roys and their empire? Here are some of the best guesses ahead of the May 28 finale.
Tom's On Top
Between his fight with Shiv, the Election Day decision, and working right through Logan's funeral, Tom has been acting the part of a hardened Waystar CEO. So, what if the top job actually does go to him? In a recent theory post, Redditor u/macademia455 raised an interesting point about Tom's sleep habits. "Matsson tells Kendall that he can't respect anybody who sleeps well, and Tom has had a repeated mention of his inability to sleep for the past couple of episodes," the user wrote, adding that Tom could be the "U.S. CEO" Matsson teases at the end of Episode 9.
In a comment, u/misterteejj added that Tom's decision to forgo the funeral echoed the pilot episode: "He stayed at work to handle business, like Logan told Kendall to do."
And on Twitter, @SATYRICON pointed out that every Succession season finale so far has had a "surprise slay" moment for Tom — including his Season 3 betrayal, in which he made a strategic move and won Logan's favor.
Or Is It Greg The Egg?
Some viewers have put forth a different, even twistier theory: that Greg the Egg could ascend the Waystar throne when this is all over. Yes, it's ridiculous — but for those who love chaos, what could be more fun than seeing a man who started the series puking through a Doderick costume's eye holes take the top job?
Redditor u/AskMeAboutEverFlame laid out the theory, saying it "holds an uncomfortable amount of water." The user said Greg has stuck around this long because he knows where the power lies — and at this point in Succession, that's definitely with the (pending) new owner of the company. Greg and the Swedish CEO did have a wild pre-Election Day outing, after Greg made it clear he'd be happy to help Matsson fire people. "He needs a lackey," u/AskMeAboutEverFlame pointed out. "A lackey who does everything as he says. A person that will even fire anyone without question, including family."
So logically, Greg makes more sense than viewers might think! He also works from a literary perspective. Over on TikTok, @samueljamesgray suggested that Greg and Tom could take on the Edgar and Albany roles from Shakespeare's King Lear — "to scrape up the pieces of the kingdom, Waystar Royco, and carry it on into the new era." Not only has Succession been compared to Shakespeare's works, but the stars themselves frequently make the connection too.
Shiv Will... Shiv
Shiv shares her nickname with a type of handcrafted knife, so the idea that she might betray (i.e., backstab) her siblings has always floated around her Succession arc. And, well, she's lived up to it a few times now! But as several viewers suggested, the finale could see her carry out her biggest betrayal yet: leaking the story about Kendall and the dead waiter.
It would be a very low move. But after the election, Shiv can't be feeling too much love for her brothers right now. Plus, it wouldn't be the first time she escalated a battle to the point of no return. Remember in Season 3, when she published that letter exposing Kendall's very personal struggles with his family and substance use?
Kendall Will Continue A Heartbreaking Cycle
On the other hand, let's say no one else ever finds out about Kendall's role in the waiter tragedy. Several viewers think Kendall's guilt will perpetuate a tragic pattern that also played out in Logan's life.
Even if the Number One Boy becomes full-fledged CEO, @D88673933D pointed out on Twitter, "he'll be surrounded by people who don't care for him. Just like his father on that plane." Ouch!
The Show Will End With A Familiar Tradition
Every season of Succession has ended with a trip somewhere — Shiv's wedding, the yacht vacation, the Italy betrayal — and as Mashable points out, Season 4 won't be any different, following the mention of a "Caribbean air-clear" with their mom in Episode 9. The outlet cited a production rumor that placed the gathering in Barbados, specifically.
The official synopsis for the episode teases a final board vote and Kendall and Shiv determining "the whereabouts of a physically and emotionally bruised Roman." So, maybe that trip happens toward the end of Succession's super-sized finale?
There Will Be A Big Realization
OK, this one is kind of vague! But when the title of the series finale ("With Open Eyes") was revealed weeks ago, fans quickly realized that it — like every Succession finale before it — took its name from the John Berryman poem, "Dream Song 29."
Past finale titles came from lines that had thematic significance to what was going on in the Roys' world (Season 1's "Nobody Is Ever Missing" seems to reference the dead waiter, for example). So it makes sense that "With Open Eyes" could provide a small hint, too. As Andrew Quintana suggested in Vanity Fair, "It may be Shiv who must confront the stark reality of the role she's played in a corrupt, male-dominated family system."