Everything To Know About A Potential Sweet Tooth Season 3
Will the post-apocalyptic tale continue beyond Season 2?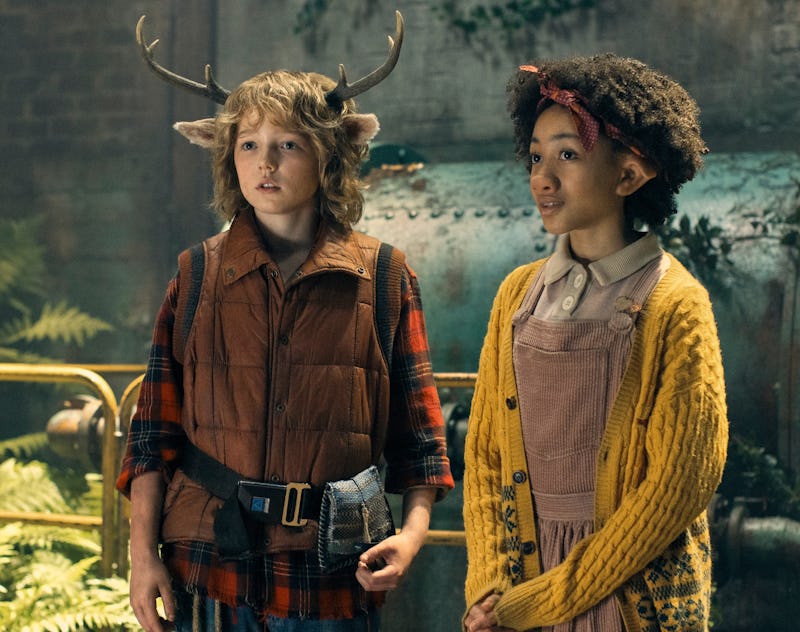 Kirsty Griffin/Netflix
Spoilers ahead for Sweet Tooth Season 2. Part-deer, part-human hybrid Gus (Christian Convery) and his friends are back in Sweet Tooth Season 2. The season kicks off with Gus and his fellow hybrids being held captive by the Last Men, a paramilitary group of humans that formed after the Great Crumble. They're led by General Abbot (Neil Sandilands), who commands Dr. Aditya Singh (Adeel Akhtar) to experiment on the children to find a cure for the infected. To break everyone free, Gus eventually teams up with Dr. Singh, while Tommy Jepperd (Nonso Anozie) and Aimee Eden (Dania Ramirez ) work together on the outside.
The show is based on the Sweet Tooth comic series by Jeff Lemire, which ran for several years until January 2013; it was later followed by a sequel series that debuted in November 2020 and introduced a new set of characters.
Netflix has not yet confirmed if there will be a Sweet Tooth Season 3, but there's certainly more of Gus' story to explore if it does get renewed. Right now, it looks like the show has caught up to the story arc titled "Unnatural Habitats," which is the 29th issue out of 40. It seems like a third season would wrap up Gus' story, so it would make sense for the series to get renewed. However, Netflix is notorious for canceling shows after just two seasons, so its renewal will heavily depend on how many people tune into Season 2. For comparison, Season 1 was the sixth most-watched series when it premiered in 2021, per Deadline.
Here's everything else we know so far.
Sweet Tooth Season 3 Premiere Date
Netflix dramas take about a year between seasons, but Sweet Tooth, in particular, took a longer break — nearly a two-year gap between Seasons 1 and 2. Given that, it's hard to tell when a new season will debut. But it's unlikely to be any earlier than spring 2024.
Sweet Tooth Season 3 Plot
In the Season 2 finale, Tommy and Aimee successfully freed the kids, but Aimee died at the end. General Abbot was defeated, but he managed to shoot Gus in the back before he dies. Gus survived, but not before he had a dream that told him he had to find Birdie, his mom.
Meanwhile, Wendy (Naledi Murray) and Becky (Stefania LaVie Owen) realized their Bambi book was really a map of Alaska, with a circle around a deer icon off the coast. They told Gus that Birdie was likely at that outpost, and they agreed to accompany him and Tommy.
Season 3 will likely feature their trek to Alaska while focusing on Dr. Singh, who arrives at the empty cabin shortly after and also sees the map of Alaska.
Sweet Tooth Season 3 Cast
The third season will follow Gus (Christian Convery), Tommy (Nonso Anozie), Wendy (Naledi Murray), and Becky (Stefania LaVie Owen) traveling to Alaska, so we can expect to see all those actors again. Dr. Singh (Adeel Akhtar) will also return, and at the end of Season 2, we see that his wife Rani (Aliza Vellani) is also alive.
Season 2 ended on the reveal of a new character played by Rosalind Chao, who has starred in the live-action Mulan, Tragedy Girls, and TV shows like The L Word: Generation Q and This Is Us. Johnny Abbot (Marlon Williams) reveals to her that General Abbot is dead and leaves her with a recorder from Abbot's doctor. The season ends with her chopping up meat and feeding it to a metal crate full of snarling beasts, musing that if she wants it done right, she'll do it herself.
This post will be updated as more information about Sweet Tooth Season 3 becomes available.