The Woman Tessa Thompson Calls Her "North Star"
The Creed actor reflects on her relationship with a fellow Hollywood creator.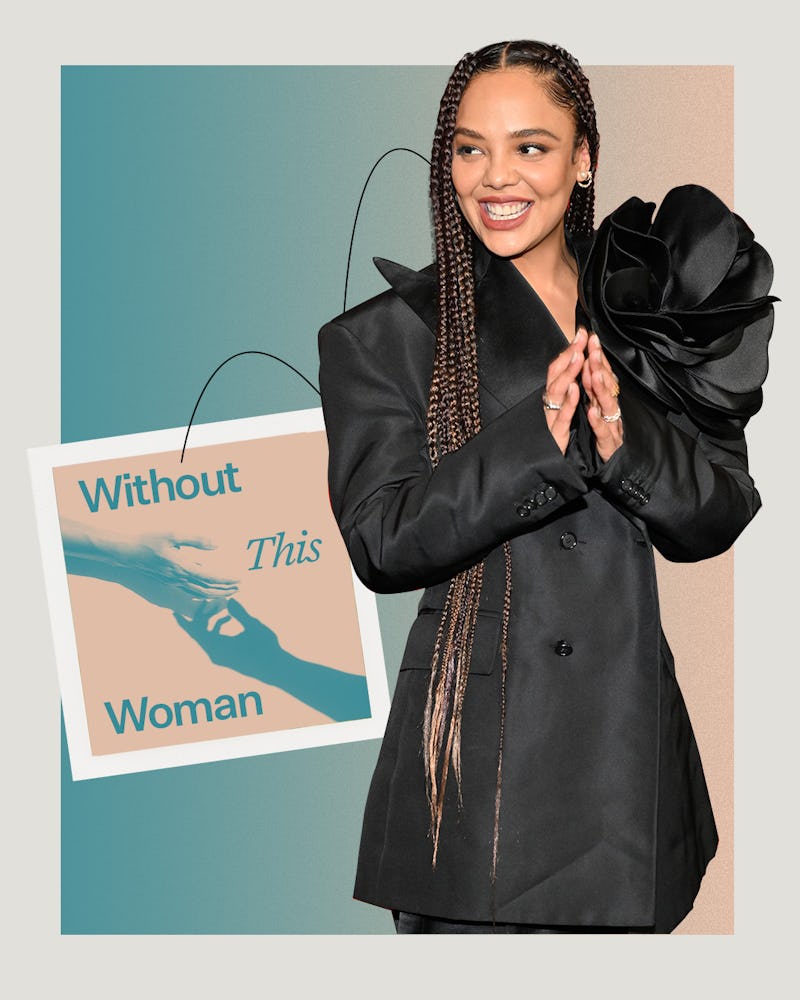 Caroline Wurtzel / Bustle; Derek White / Stringer / Getty Images
Bustle's Without This Woman is a series of essays honoring the women who change and challenge us every day. Below, Creed III actor Tessa Thompson talks about mutihyphenate Rebecca Hall, who made her feature directorial debut with the 2021 drama Passing, based on the 1929 novel of the same name by Nella Larsen.
I met Rebecca Hall while working on Passing. I had long admired her from afar as an actor. She was one of those actors in my generation who I felt was so singular — in the intensity with which she seemed to approach her work, and in the kind of women she seemed drawn to play, who were so varied and complicated. But she is also a writer, a director, and a producer.
It happened to be Thanksgiving right before we started making Passing. This is a business where you get very used to being away from family, and also one where people often say, "We are like a family." And sure, that's true, but the richness of family is that you can actually show up in all of your humanity and really be seen. I think the chances to do that in the context of work is pretty slim — and probably for good reason. If we let it all hang out at work, it might not be the most productive.
Sometimes the process of working as an actor can be, by necessity, a very lonely one. You're sort of going inside yourself, and your process is kind of secretive. There's a certain level of it that's shrouded in mystery. With Rebecca, there was a kind of intimacy to that process that I hadn't experienced before. Our process was so intertwined. I sort of felt like a canvas in a way that I hadn't with a director. Which is not to say that I wasn't painting myself — of course I was — but it felt like the biggest trust fall.
"She's become a North Star for me in a lot of ways."
As someone who has aspirations to write and direct, I'm not sure I could have seen what was possible for me. I'm not sure I could have imagined it with the clarity I do now, had I not been able to witness Rebecca doing that. And then to witness her doing it while having a family, while raising a child, and while having a relationship with her husband. It was so unique and aspirational. It's been really impactful for me. She's become a North Star for me in a lot of ways.
There are people you meet and you're just like, I get you. Like, I understand what you are. What you are makes sense to me. I don't know how to explain that. It's like a chemistry thing. I think we have that for each other.
We both take a tremendous amount of pleasure in hearing what the other is thinking about, writing, or working on. We talk about what it is to be a woman inside of an industry that is getting better, but has not historically been very kind to women as they age. I feel very, very lucky to have that with her.
We have a relatively short amount of time on the planet. There's a tremendous amount of joy in working with a real sense of vigor, and that's something I'm really attracted to. Rebecca is that way. Without Rebecca, I wouldn't have been able to see as clearly what might be.
As told to Leila Barghouty. This interview has been condensed and edited for clarity.