The Diplomat Season 2 Will Officially Address That "Jaw-Dropping Cliffhanger"
Here's what to expect from the next installment.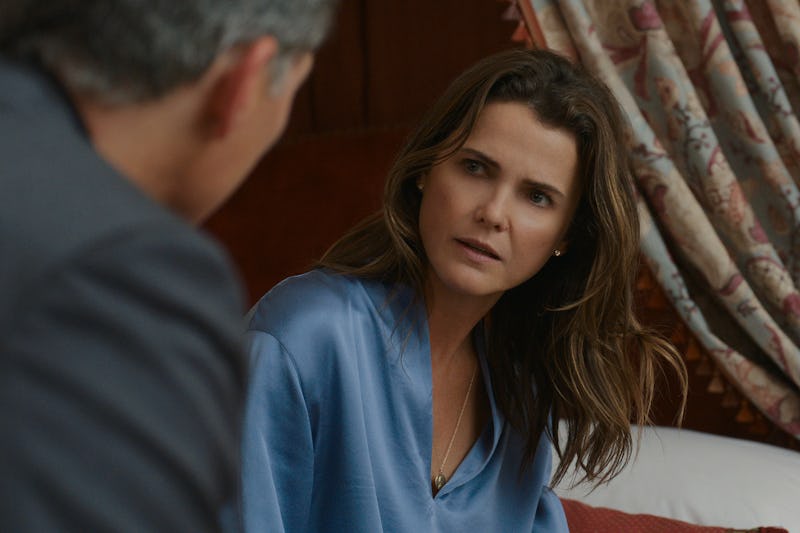 Netflix
The West Wing and Homeland writer Debora Cahn is back with another political thriller. Netflix's The Diplomat stars Keri Russell as a career diplomat who lands a high-profile job she's pretty unsuited for in the middle of an international crisis. Kate Wyler (Russell) was supposed to be assigned to Afghanistan, but instead, she finds herself as the new US ambassador to the United Kingdom, where she's tasked with forging strategic alliances in London and dealing with brewing international conflicts — all while trying to survive her marriage to fellow diplomat and politician Hal (Rufus Sewell).
According to Deadline, the series was given an eight-episode order, so it was initially unclear if there would be a The Diplomat Season 2. But Cahn did recently sign a multi-year overall deal with Netflix, giving fans hope for a second season. "I've seen firsthand Deb's incredible work on shows including The West Wing," said Jinny Howe, vice president of drama development at Netflix. "She knows how to tell an amazing story, with character depth, stakes, and surprises, all of which she'll bring to The Diplomat. We're thrilled to welcome Deb to Netflix."
And Cahn has plenty of material to draw from for future seasons. She told Vanity Fair that she first came up with the premise for the Netflix show while working on Homeland, where she met real-life female ambassadors. "They're quiet and unassuming. Like, this woman who looks like my Aunt Ruthie — she was in the middle of a crisis involving nuclear waste and a truck driving off an icy Siberian road and bombs dropping," she explained. "Nobody knows what these people do. It's such front-lines-y kind of activity, and nobody ever knows about it."
Fortunately, Netflix announced on May 1 that The Diplomat Season 2 is officially on the way. "After that jaw-dropping cliffhanger, we can't wait for them to see what the amazing visionary team of Debora Cahn, Janice Williams and Keri Russell have in store for Season 2," Howe said in a release.
Here's everything else we know about Season 2.
The Diplomat Season 2 Potential Premiere Date
Netflix dramas tend to take at least a year in between seasons. Given that, we can assume a second season would debut in spring or summer 2024.
The Diplomat Season 2 Plot
The Diplomat stars Keri Russell, Rufus Sewell, David Gyasi, Ali Ahn, Rory Kinnear, and Ato Essandoh. It also guest stars Celia Imrie, Michael McKean, Nana Mensah, T'Nia Miller, and Miguel Sandoval.
Russell admitted to Vanity Fair that she initially wasn't looking to take on another TV show after doing six seasons of FX's The Americans. "I definitely wasn't looking to do another series," Russell said. "[But] I just couldn't stop thinking about it. So I was like, 'This is impossible — and I'm going to do it.'"
And today, Russell seems to be all in. She even moved her whole family from New York to across the pond before the Season 2 announcement. "Whenever a show starts, I'm always like, 'Give it a few episodes!' That's what I felt with The Americans too — those first episodes, we were like, 'What is this?' Then you figure it out. So I hope people stick around for a few episodes because it gets better."
This post will be updated as more information about The Diplomat Season 2 becomes available.
This article was originally published on