Mimi Webb's IRL Situationship Inspired "Red Flags"
"It is definitely my revenge song."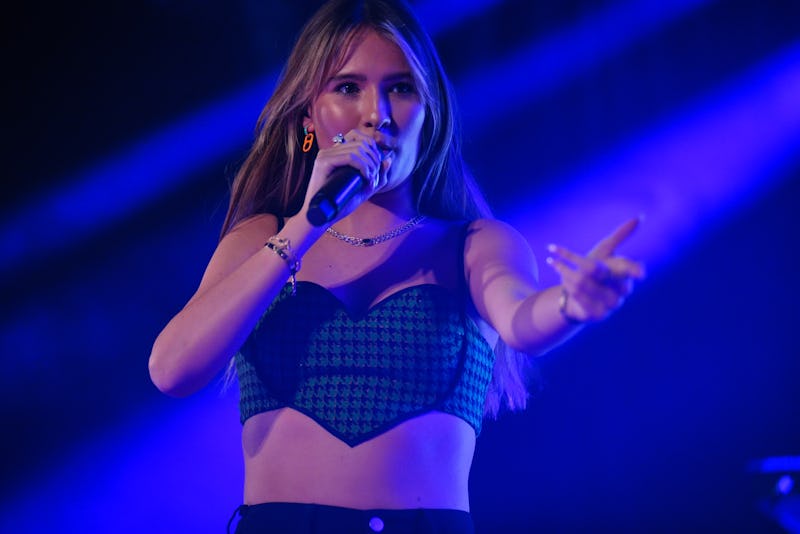 Gonzalo Marroquin/Getty Images Entertainment/Getty Images
TikTok fame has certainly taken British singer Mimi Webb to high places. The young pop sensation has her debut studio album coming out in March, and was just recently nominated for a BRIT Award in the Best New Artist category, which she told Metro.co.uk that she had manifested for herself.
Webb is now the first British female artist since Dua Lipa to chart two singles in the UK Top 15 before her debut album. As things gear up for the release of her eponymous album Amelia, Webb is also promoting her latest pop anthem "Red Flags", making its debut TV performance in January on The Late Show With Stephen Colbert.
At the heart of the synth beats lies a cautionary tale against returning to men who are not worth the time. In "Red Flags", Webb is with a man who is not interested in a serious relationship with her — a situationship, if you will. As the video depicts, she is well aware of how toxic this situationship is, singing, "A million reasons, should be leaving / I need more hands to count all the issues". But despite that knowledge, she ignores the warning signs and repeatedly falls back into the trap of trying to make things work.
From "Good Without", "Ghost Of You", and "House On Fire" to this new track, it's no wonder that Webb is considered the UK's queen of the break up bop. Speaking to Official Charts, she agreed that her latest song fits the theme. "I think 'Red Flags' is definitely my revenge song [...] No one would want it to be written about them, you know?"
She also shared that the inspiration for the track came from real life. "I wrote it around the time I was actually getting back with someone. Deep down, it felt weird. Like, why do I seem so much more into it than him? It wasn't like that when it started! But I was still so in love, even though I knew it wasn't it… I was just running through those red flags. Looking back at it though, you connect the dots. I was very in love, I think sometimes you want what you can't have. It can be really challenging and you have to have such a discipline to walk away. For me, I look back at our old conversations and, honestly, that person was really trying to get me to break up with them. I didn't even see it! I thought it was all green flags."
Listen to the song and read the lyrics for "Red Flags" in full, below:
Well, the first time we went out
You said you'd never settle down
Without a doubt (Doubt)
You said your ex still comes around
I found her things around your house
What's that about? ('Bout)
Don't take a genius, yeah, I'll see it
Even my friends hate that I'm with you (Hate that I'm with you)
A million reasons, should be leaving
I need more hands to count all the issues
But I keep on runnin' through these red flags
I'll blame myself 'cause I'll know it's bad
But I keep on runnin' through these red flags
I'll see the signs, but I'll still come back
I keep on runnin' through them, when ya
Touching my body, I listen to nobody and
Nobody can stop me
I keep on runnin' through these red flags
I'll see the signs, but I'll still come back
So I keep on runnin'
Living at your parent's place
You said you'd never move away
Guess that's okay (Okay)
The dinner bill I had to pay
'Cause with you, I like the taste
Just keep the change (Change)
Don't take a genius, yeah, I'll see it
Even my friends hate that I'm with you (Hate that I'm with you)
A million reasons, should be leaving
I need more hands to count all the issues
But I keep on runnin' through these red flags
I'll blame myself 'cause I'll know it's bad
But I keep on runnin' through these red flags
I'll see the signs, but I'll still come back
I keep on runnin' through them, when ya
Touching my body, I listen to nobody and
Nobody can stop me
I keep on runnin' through these red flags
I'll see the signs, but I'll still come back
So I keep on runnin'
Mm (Red flags)
So I keep on runnin' through these red flags
Mm (Red flags)
So I keep on runnin'