Maya Rudolph's Return To SNL Was Filled With Chaotic Cameos
The "second gentleman" was a pleasant surprise.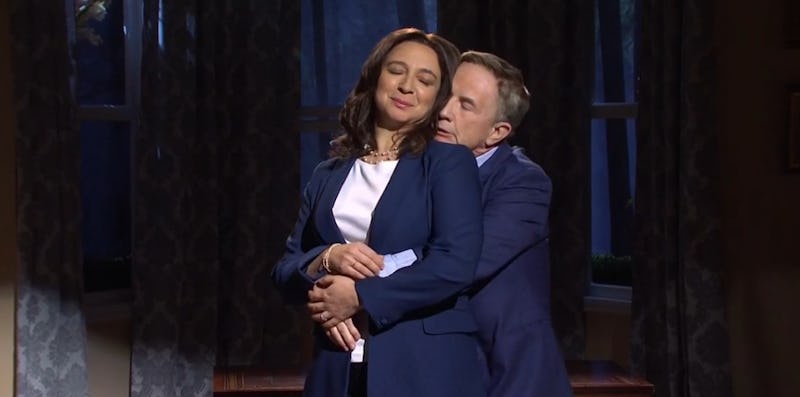 From her time as a cast member to her recent role as Vice President Kamala Harris, Maya Rudolph is a permanent, beloved fixture on Saturday Night Live... so it wouldn't be a true hosting gig if some of her equally funny friends didn't show up and join in on the fun. Fortunately, they didn't let her (or us) down. If you lost count of all the surprise appearances — after all, there were people playing public figures, people playing themselves, dogs playing other dogs — here's a quick refresher of everyone who stopped in for the delightfully chaotic show on March 27.
During a sketch in which Harris (aka Rudolph) hosted a unity Seder, she was joined by her husband, Doug Emhoff (the first Jewish spouse of a president or vice president), played by her friend and collaborator Martin Short. In Short's surprise cameo appearance, the couple shared some major PDA before welcoming a varied lineup of guests, from Ted Cruz to Ella Emhoff (an iconic style moment), and even Alex Moffat as President Joe Biden himself, who brought his dog Major. Unfortunately, Major didn't get the "unity" memo, it seems, and pounced on Short's Emhoff right away.
Even Adam Levine showed up for the star-studded night, practically sneaking on stage to join Jack Harlow for a performance of "Same Guy." Later in the show, during a Shining spoof called "The Maya-ing," Rudolph strolled the halls of Studio 8H, reminiscing on her SNL days, before stumbling upon a creepy bar and Tina Fey pretending to be the ghost of an early writer on the show. "I was the first one to have the idea that maybe the women could talk," she said, in character as Gloria Zelwig. Next, Rudolph saw a glimpse of Kristen Wiig as creepy twins, and approached old castmate Rachel Dratch taking a bath — but it's not a ghost this time. Just Dratch doing her thing.
The varied medley of appearances felt just right for Rudolph, an SNL alum whose humor so effortlessly teeters between the subtle and the absurd — just like all of those cameos. Viewers took to Twitter to react to the ever-growing lineup of stars.