Twitter Wants To Dance With Anne Hathaway At Paris Fashion Week
"im one anne hathaway dancing clip away from fainting"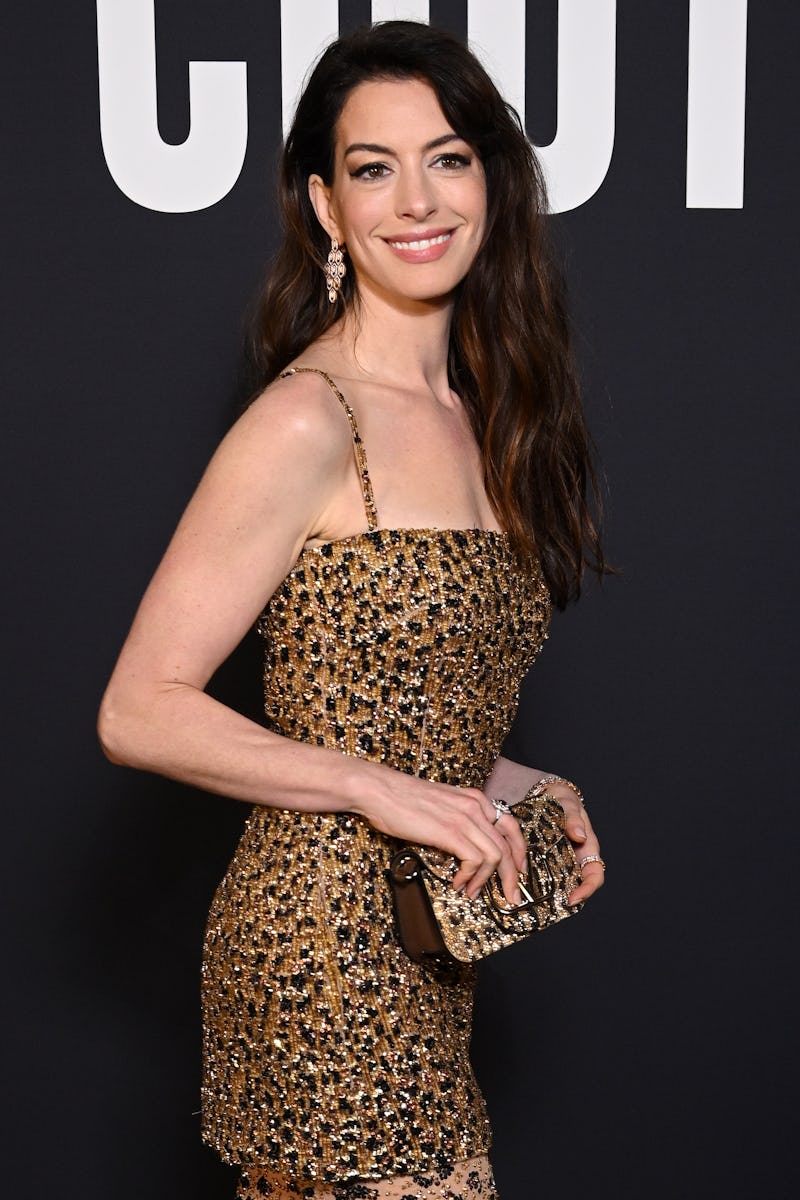 Stephane Cardinale - Corbis/Corbis Entertainment/Getty Images
From donning puffer corsets to channeling her iconic Devil Wears Prada character, Anne Hathaway has been making headlines lately for her impeccable style. Some even think it's life imitating art — Andy Sachs remains of the most stylish people on the big screen. But there is one significant difference between their characters. The last time Andy was in Paris, she was barely having any fun, leading to her ultimately quitting her job and dramatically throwing her phone in a fountain. Fortunately, IRL, the actor has way more fun in the French capital.
On Jan. 25, Hathaway attended Valentino's haute couture show in Paris decked in a head-to-toe beaded leopard print look from the label. And later that night, the 40-year-old graced the brand's after-party and danced the night away. Luckily, it was caught on video.
In a now-viral clip posted by user kerosenne on TikTok, the Princess Diaries star can be seen shimmying to "Lady Marmalade" and lip-synching the lyrics "Voulez-vous coucher avec moi, ce soir?" And Twitter is obsessed. "Sorry I can't come into work, I'm laid up in bed thinking about this 7 second clip of Anne Hathaway dancing," one user tweeted.
Naturally, many were waiting for more dancing clips — even if it was just to see her same moves in 360. So far, RuPaul's Drag Race star Symone has shared a clip on Instagram Stories while user kerosenne posted the now-viral TikTok.
Some Twitter users were imagining what it must've been like to be a fly on the wall noting the high-profile celebs in attendance at the event. "Just Anne Hathaway and Kylie Minogue dancing at the Valentino after party on Symone's Insta story," one user wrote.
Meanwhile, a user said they were "crying" knowing Hathaway was in the same room as BTS member Min Yoongi. "Crying over this video of Anne Hathaway dancing at the Valentino after party knowing Yoongi was there."
Twitter also remembered those who weren't at the event, mainly Hathaway's Devil Wears Prada co-star Emily Blunt, whose clip singing karaoke also made the internet rounds. "I just know anne hathaway and emily blunt would have the most fun in a club together," one user wrote.
It's about time for a re-Anne-aissance.