Twitter Is Panicking Over Panic! At The Disco Breaking Up
"My entire teenage years have died."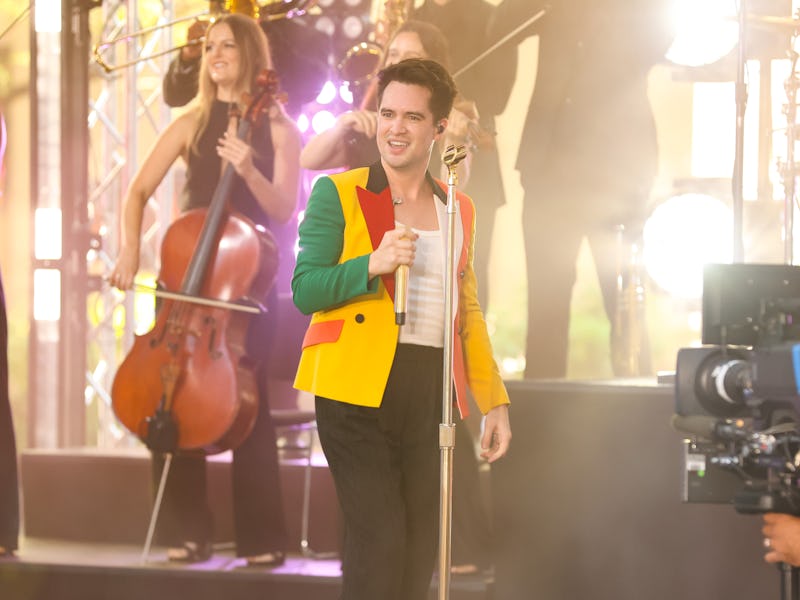 Jason Howard/Bauer-Griffin/GC Images/Getty Images
Panic! at the Disco is telling fans, "if you love me, let me go."
After 19 years, the emo-pop band from Las Vegas musician Brendon Urie announced that they'll be "no more" as Urie prepares to welcome his first child with his wife Sarah. "Sometimes a journey must end for a new one to begin ... I look forward to this next adventure. That said, I am going to bring this chapter of my life to an end and put my focus and energy on my family, and with that Panic! At The Disco will be no more," Urie shared on the band's official Instagram page on Jan. 24.
While the project was originally started by childhood friends as a four-person Blink-182 cover band, Panic! at the Disco eventually evolved into a solo project for Urie. From 2005 to 2013, the band released four albums together. Urie released an additional three as a solo act, including 2022's Viva Las Vengeance. "I am looking forward to seeing everyone in Europe and the UK for one last run together," Urie wrote, referencing the band's final leg of their "Viva Las Vengeance" tour that runs through March 2023.
A mainstay of emo and pop-punk music's heyday in the early 2000s, long-time fans were downright, dare we say, panicking about the announcement. "My entire teenage years have died," one user tweeted.
The timing of their break-up was noted, as many of Panic! at the Disco's original contemporaries have recently reunited for live shows, tours, and, new music. When We Were Young Festival, the Las Vegas music festival that features an extensive line-up of music acts from this era, chimed in by quoting one of the band's most well-known songs.
Many couldn't help but make jokes about Urie's status as the sole member of the band, making the disbanding announcement seem like a break-up with himself.
Original members Ryan Ross and Jon Walker left the band in 2009 citing creative differences with Urie. For many, that marked the end of Panic! at the Disco in their eyes.
Still, most wished Urie well on his new journey and expressed hope that he'd return to music in another capacity soon.
RIP, Panic! at the Disco.