Here's When Up Here Season 2 Could Address *That* Cliffhanger
Hulu's new musical rom-com premiered on March 24.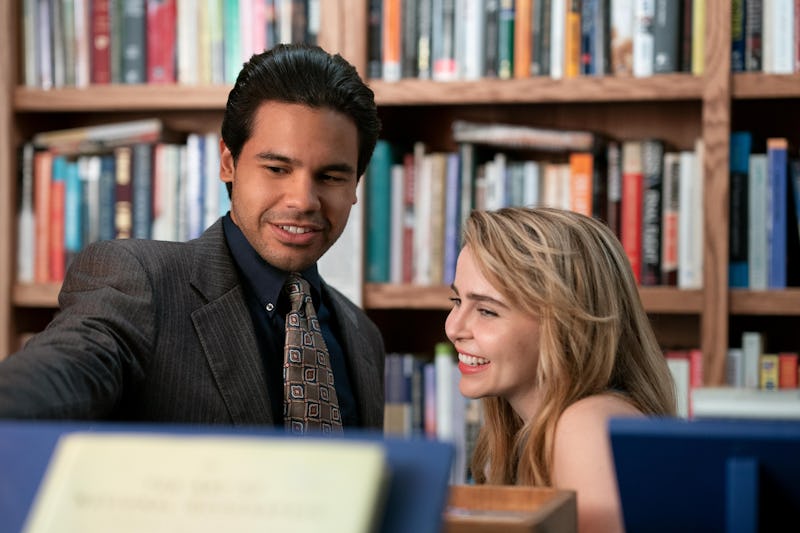 Sarah Shatz/Hulu
As co-creators Kristen Anderson-Lopez and Robert Lopez tell Bustle, their new Hulu musical rom-com is infused with Broadway sensibilities — from an abundance of original songs to guest stars who will be familiar to theatergoers. But after Up Here made its eight-episode debut March 24, has the show reached its finale or just intermission? In other words, will there be an Up Here Season 2?
Hulu has yet to renew the show. It may be some time before the streamer makes an announcement about the show's future. Last year, Hulu renewed another comedy, Amy Schumer's Life & Beth, one month after it premiered, for reference.
Up Here follows Lindsay and Miguel as they navigate a new relationship in 1999 New York — all while working to quell the critical voices in each other's heads. "There's a lot to work with," Anderson-Lopez says. "Hopefully we get to do more of it."
The award-winning songwriter also made a meaningful request on Instagram. "Not only was it a labor of love that took 17 years to come to fruition, but it allowed us to give meaningful work (and health insurance!) to hundreds of NYC artists, craftspeople and crew members," she wrote in a March 21 post. "We would love to keep this stream of local work streaming for years to come and it all hinges on you streaming this weekend!"
If you've already done that and are patiently waiting for more, here's what Up Here Season 2 might look like.
Up Here Season 2 Cast
Even though Lindsay and Miguel are working on silencing their inner critics, don't expect their musical advisers to go away anytime soon. In addition to Mae Whitman and Carlos Valdes as Lindsay and Miguel, you will likely see the full lineup return in a potential Season 2 — including Katie Finneran, John Hodgman, and Sophia Hammons in Lindsay's camp, and Andréa Burns, Emilia Suárez, and Scott Porter in Miguel's.
Up Here Season 2 Plot
Spoilers ahead for the Up Here Season 1 finale. The final few minutes of Up Here Season 1 see Lindsay and Miguel finally reunite, just in time to welcome in the new year (and new millennium). However, the happy moment ends in chaos: Lindsay says she's been experiencing nausea, heartburn, and extreme hunger over the last few weeks — and it dawns on her that she may very well be pregnant.
Miguel, Lindsay, and their respective inner voices are terrified by the prospect, which would have to be explored in a potential Up Here Season 2. The next installment could also focus on Lindsay's writing career, as Miguel shared his illustrations for her children's book in the finale.
Up Here Season 2 Potential Premiere Date
Even though Hulu hasn't renewed Up Here yet, fans can estimate when a second season may air based on the first season's schedule. The show has a quick turnaround time. Filming reportedly began last summer, per Deadline, and the finished product dropped this spring — less than a year later.
So there's reason to be hopeful that Lindsay and Miguel's musical romance will continue, perhaps as early as spring 2024.
This post will be updated with the trailer, release date, and additional plot details as more information on Up Here Season 2 becomes available.