The Vanderpump Rules Finale Trailer Teases Sandoval & Ariana's Explosive Confrontation
#Scandoval reaches its boiling point in the Season 10 finale teaser.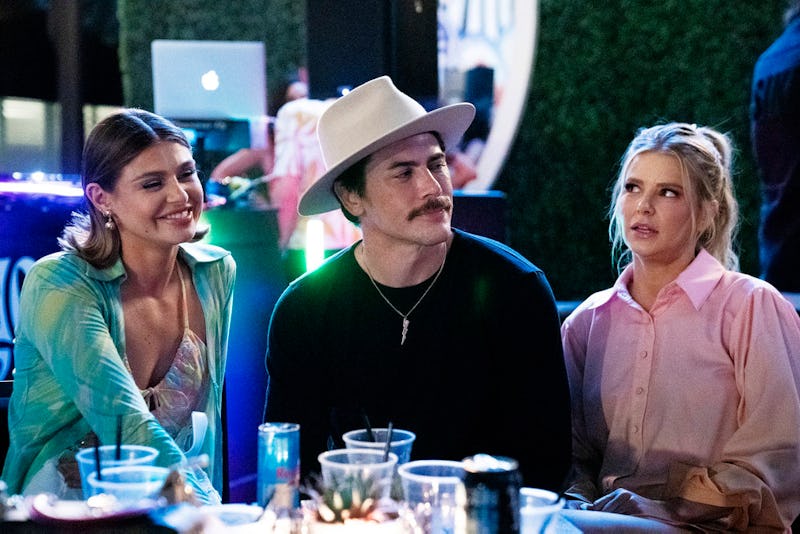 Nicole Weingart/Bravo
Tom Sandoval is about to face the consequences of his affair on TV. The Vanderpump Rules Season 10 midseason and finale trailers showed the first footage of the fallout from #Scandoval, filmed just days after Ariana Madix discovered her now ex-boyfriend's months-long affair with co-star Raquel Leviss. TMZ first reported on March 3 that Madix had broken up with Sandoval after nine years of dating due to his infidelity, but Season 10 premiered a month before, making viewers watch the Bravo series through a whole different lens.
The midseason trailer included #Scandoval in the narrative, beginning with a shot of Sandoval kissing Madix in bed before giving clues of what was to come. In one moment, Scheana Shay jokes that Leviss followed in her and Lala Kent's footsteps as the new "homewrecking whore" of the group, after she's shown kissing Tom Schwartz in the wake of his divorce from Katie Maloney, a boundary that Maloney had asked them not to break. Sandoval and Madix are then seen having an uncomfortable conversation about their sex life.
The teaser builds up to a jaw-dropping confrontation between the pair that was filmed right when Bravo picked cameras back up after the affair was outed, in which Sandoval tells Madix, "I wish we both would have tried harder." It ends with a scathing interaction that's sure to be memed and quoted for years to come. "You want anything?" Sandoval asks, to which Madix responds, "For you to die."
A source confirmed to Bustle that Bravo resumed filming on Season 10 post-#Scandoval, meaning fans will see the cheating scandal play out before next season. The Season 10 reunion, which filmed on March 23, will also be impacted in several ways. The entire cast, including Madix and Sandoval, attended, though they weren't all on stage at the same time. The reason? On March 7, Leviss' attorney filed for a restraining order against Shay, following allegations that they got into a physical altercation when Shay found out about the affair.
After a version of the Vanderpump Rules Season 10 finale trailer leaked on May 2, Bravo dropped the real video on social media. "You may think you've seen the #PumpRules finale trailer…but only we have the real thing. THIS is it," the network tweeted, also announcing the finale's May 17 air date. The sneak peek further delved into #Scandoval's aftermath, also offering the first look at Pump Rules alum (and Sandoval's ex) Kristen Doute's return, as she and the rest of the cast show up to support Madix. The clip also suggests that Sandoval cheated on Madix "one other time."
The clip shows more of Madix and Sandoval's heated post-affair conversation, which devolves into a shouting match. "I regret ever loving you," she seethes. Another scene shows Sandoval with Leviss, who tells him, "It turned out so horribly wrong."
No truer words have been spoken.
This article was originally published on