Virgin River Season 6 Has A *Lot* Of Cliffhangers To Address
Here's when Mel and Jack's story will continue.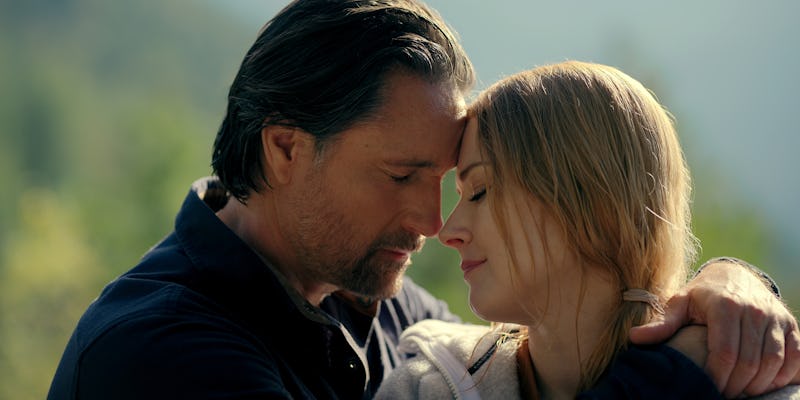 Netflix
Fall started early with the highly anticipated return of Virgin River on Sept. 7, and it was one of the show's most emotional chapters yet — following Mel and Jack's journey to parenthood and a natural disaster unlike anything the town has ever seen. But if you've already breezed through the latest 10 episodes, you're probably looking ahead toward even more drama. So, is Virgin River Season 6 happening?
Worry not: More Virgin River is on the way. The series, based on Robyn Carr's novels of the same name, was renewed for a sixth season this May. And in a Virgin River first, there will be two extra episodes released later this year (but more on that later). In the meantime, here's everything to know about Virgin River Season 6's plot, cast, and potential premiere date.
Virgin River Season 6 Plot
As viewers have come to expect at this point, Virgin River Season 5 set up the next installment with a variety of cliffhangers. Spoilers ahead for Virgin River Season 5.
You can likely count on Season 6 to follow up on Mel's mystery dad, Calvin's return, Preacher's fate after the apparent discovery of Wes' body, and, of course, Lizzie's possible pregnancy news.
Virgin River Season 6 Cast
Virgin River stars Alexandra Breckenridge as Mel, Martin Henderson as Jack, Tim Matheson as Doc, Annette O'Toole as Hope, Colin Lawrence as Preacher, Benjamin Hollingsworth as Brady, Zibby Allen as Brie, Sarah Dugdale as Lizzie, Marco Grazzini as Mike, Mark Ghanimé as Cameron, Kai Bradbury as Denny, and Kandyse McClure as Kaia.
Virgin River Season 6 Potential Premiere Date
Since its debut in 2019, Virgin River has routinely dropped one season a year — so it follows that the Virgin River Season 6 premiere date would fall sometime in 2024. However, due to the ongoing WGA and SAG-AFTRA strikes, the production timeline is unclear for now.
Breckenridge acknowledged the actors strike in a Sept. 5 Instagram story, explaining that she was "not allowed to do any promotion for the things that [she] would normally be promoting at this time." However, she expressed her hopes to talk with fans about the latest installment "on the other side of this." (And if you've watched, you know there's a lot to talk about.)
While the future timeline may be uncertain, there is some good news for Virgin River fans desperate for more after Season 5's cliffhangers: Two holiday-themed bonus episodes will be dropping on Nov. 30, just in time for the festive season.
This post will be updated with the trailer, release date, and additional plot details as more information on Virgin River Season 6 becomes available.