Steph Williams Added A New Puppy To Her Family After Queer Eye
The super sports fan goes on a journey of acceptance in Season 7.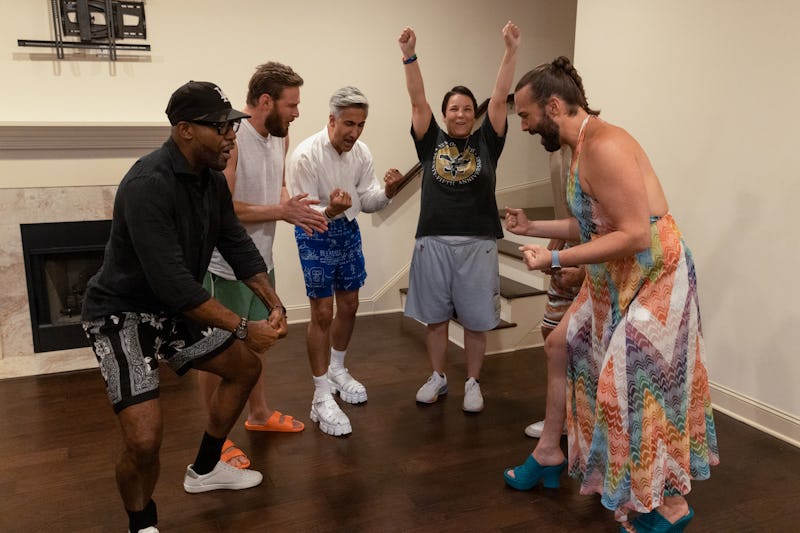 Ilana Panich-Linsman/Netflix
Though she's dubbed "New Orleans' number one sports superfan," Stephanie "Steph" Williams revealed she's more than just the football jerseys and memorabilia she collects. When she first met the Fab Five in Queer Eye Season 7, she was living with her dad and her partner of six years, Rachael.
They had finally bought their dream house together and planned to throw a housewarming party with their family and friends — marking the first time they would entertain as a couple. The problem was that Steph was struggling with being open about her queer identity. Though she admitted that she knows Rachael is "waiting on that ring," Steph said she has insecurities about their relationship. She was often too shy to hold Rachael's hand in public, for example, and said she doesn't display any photos of them at her dad's house because she worried that he would "have to explain that" to guests.
Rachael, who nominated Steph for the show, said that Steph used to be "super confident and happy," but "being gay in the South had taken its toll." It was later revealed that Steph was traumatized by an incident three years ago, where a girl at a bar said some homophobic slurs to her.
But Karamo helped Steph by allowing her to reconnect and open up about her struggles with her brother, who is also gay. They met other LGBTQ+ people in the city, too, and supported a queer-owned hair salon. After having a home makeover and going blonde, Steph and Rachael hosted a huge housewarming party, culminating in Steph proposing to Rachael in front of their whole family.
Today, Steph from Queer Eye is continuing her journey of self-acceptance — and maintaining her blond hair, to boot. In an April 28 TikTok, she posted a meme using the "Which Lesbian Are You?" filter, flexing and smiling when she got Sue Sylvester from Glee. In a March 24 Instagram post, Steph also shared that she and Rachael now display a pride flag on their lawn. "Sharing the love and positive vibes in the neighborhood!" she captioned.
Finally, they added a new member to their family. In December 2022, she posted that her and Rachael got a new puppy named Mr. Kotter. And while there are no photos of their wedding just yet, in January Stephanie shared a photo of Rachael and Mr. Kotter on the couch, writing, "I tell ya...It's evenings like this that make my heart smile."