Where Is Armie Hammer's Ex-Wife Elizabeth Chambers Now After House Of Hammer?
In a Sept. 21 story, she described the documentary about her ex as "heartbreaking" and "very painful."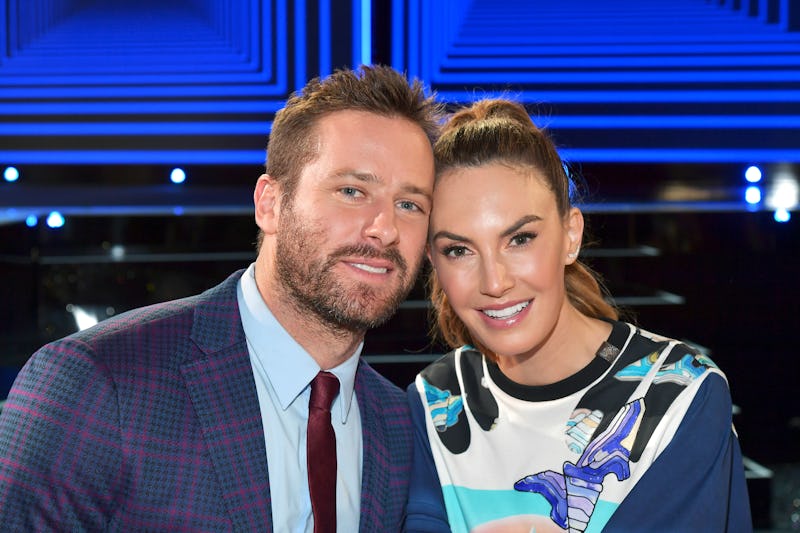 Amy Sussman/Getty Images Entertainment/Getty Images
Trigger Warning: This piece contains mentions of prior allegations of sexual assault. In the weeks following the first allegations against her ex-husband Armie Hammer, Elizabeth Chambers was quick to support the women who came forward. "Heartbreak aside, I am listening, and will continue to listen and educate myself on these delicate matters," Chambers wrote in February 2021 as claims of Hammer's abuse and sexually violent fantasies circulated online. "I didn't realize how much I didn't know. I support any victim of assault or abuse and urge anyone who has experienced this pain to seek the help she or he needs to heal."
Hammer has repeatedly denied the allegations. Bustle has reached out to Hammer's lawyer Andrew Brettler for comment about his or Hammer's reaction to House of Hammer and the ongoing investigation into the allegations, but did not get a response yet.
By the time the allegations surfaced in early 2021, Hammer and Chambers were already separated. "It has been an incredible journey, but together, we've decided to turn the page and move on from our marriage," they wrote on Instagram in July 2020. "As we enter into this next chapter, our children and relationship as co-parents and dear friends will remain our priority." She filed for divorce that month as well, People reports, due to "irreconcilable differences."
Now, in light of the Discovery+ docuseries House of Hammer — which explores Hammer's controversies and the Hammer men's reported scandals since the early 20th century — you may be wondering about people in Hammer's orbit. Specifically, where is his ex-wife today?
Chambers spoke to E! News about her ex-husband for the first time since her 2021 statement on Sept. 21, 2022, reinforcing that she and Hammer were committed to co-parenting their two children and explaining that they are in constant contact in support of that goal. Chambers also revealed she had watched the House of Hammer documentary surrounded by her "support system" and that she found the revelations surprising even though that was expected. "It was obviously heartbreaking on so many levels and very painful. But at the same time, it exists," she said. "There were definitely some surprises, and it didn't feel great, especially when you feel like you have done that work, but the moral of the story is that work is never done." Chambers was asked to appear in the documentary but declined.
Despite it all, she has continued sharing her life on social media. This summer, the BIRD Bakery founder seems to have been living in the Cayman Islands with the two children she shares with Hammer: Harper and Ford.
Earlier this year, Hammer was reportedly working in the Cayman Islands as a timeshare salesman. "The reality is he's totally broke, and is trying to fill the days and earn money to support his family," a source told Variety in July 2022.
While Chambers hasn't shared the specifics of co-parenting with Hammer, the Call Me By Your Name star did seemingly appear in an Easter Instagram story on Chambers' account, People reports. "The past year hasn't been easy, but she and Armie have always had love for each other," a source told the magazine. "They're slowly figuring things out as a couple, but being parents to their two kids will always come first."
While the Cayman Islands still seems to be her home base, Chambers has shared photos of her travels — like to Texas, where she celebrated the 10th birthday of her first BIRD Bakery location.
Most recently, according to People, the family traveled to Los Angeles in July.
In the E! News cover story, Chambers also confirmed that she is in a committed relationship with therapist Ricardas Kazinec. While marriage and more children are on the table, she's not looking to force anything. "I think if there is one thing the last few years has taught us, it's that you have be open to everything. I'm just living in the moment and happy," she said.
As far as the investigation into her ex-husband, as of Sept. 1, "a specially assigned prosecutor is working with law enforcement as they continue their investigation," Greg Risling, a spokesman for the LA County District Attorney's Office, told Page Six. "Once law enforcement has completed their investigation and submits the case to our office we will conduct an evaluation and file criminal charges that are supported by the evidence."
If you or someone you know has been sexually assaulted, you can call the National Sexual Assault Telephone Hotline at 1-800-656-HOPE (4673) or visit hotline.rainn.org. If you or someone you know is experiencing domestic abuse, call 911 or the National Domestic Violence Hotline at 1-800-799-SAFE (7233) or visit thehotline.org.
This article was originally published on