What To Know About Jeffrey Hamburg From Murder On Middle Beach
Followers of Barbara Hamburg's murder once suspected her ex-husband was responsible.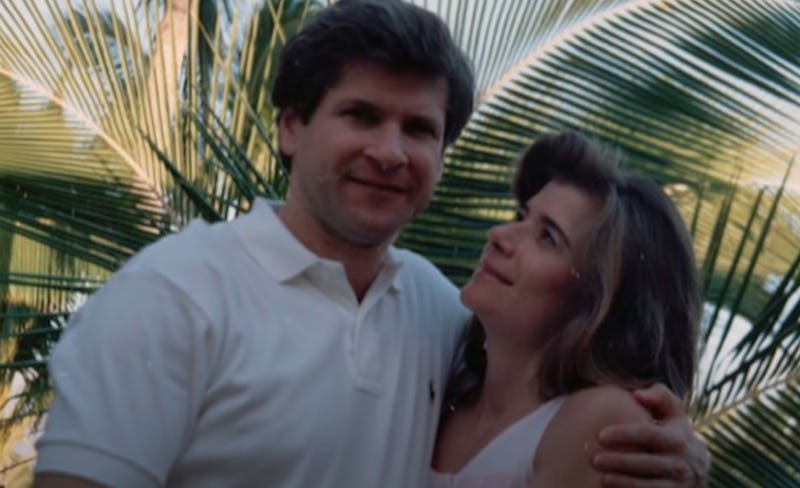 HBO
The true-crime documentary series from HBO and director Madison Hamburg, Murder on Middle Beach, chronicles one of the most puzzling crimes in recent memory. The horrific 2010 murder of 48-year-old single mom Barbara Hamburg in front of her Madison, Connecticut, home remains unsolved, but there have been plenty of theories as to who could have committed such an act. And one of the subjects of such theories is Barbara's ex.
Throughout the four-part HBO series, Barbara's ex-husband, Jeffrey Hamburg, can be seen refusing to discuss any details of Barbara's violent murder or his prior business dealings with their son Madison. This reluctance has made Jeffrey suspect number one in the eyes of many an armchair detective. It didn't help that Jeffrey and Barbara weren't on good terms at the time of her death. The two apparently went through a rough divorce in 2002 and had been embroiled in a legal battle because Jeffrey allegedly owed Barbara and her children thousands of dollars for alimony and child support. In fact, according to the doc, they were both supposed to appear in court the day of Barbara's murder. That's the reason he had never been charged with any crime relating to Barbara's death: he was already in court when she was killed, so he couldn't have committed it himself.
Still, in the decade since his ex-wife's murder, Jeffrey did spend some time in jail on unrelated charges. According to Patch.com, in 2011 he was arrested and charged with first-degree larceny after allegedly stealing from a custodial account that contained the college funds for his and Barbara's two children. He was released on bail, but was then jailed again in 2012 for allegedly failing to repay the $138,000 he still owed to Barbara's estate, per West Hartford News. Both cases were still reportedly being fought in the courts as of 2018.
As of 2011, Jeffrey was living in an apartment on Park Avenue in Manhattan. In Murder on Middle Beach, Madison travels to New York City to meet with his father, and it's presumed that the elder Hamburg still lives somewhere in the city, according to Women's Health. That was, however, the last time Madison and Jeffrey interacted. "The last time I talked to my dad was on camera," the director told Esquire, adding, "You watched the last time I talked to my dad."
Despite Jeffrey's involvement in the documentary, he was the only member of Madison's family who didn't watch the film ahead of time. In the same interview, Madison revealed he left his dad a voicemail. "I reached out to him before our promotions started because I wanted him to hear a fuller context from me instead of seeing it on television or as a commercial somewhere," he shared. Unfortunately, he couldn't be reached.
As to the rest of his family, Madison told the Shoreline Times, "It was kind of a mandatory thing for me. My family needs to see how they're portrayed before this comes out and we need to have a conversation… There's lots and lots of stories and nuance and everything had to be centric to my mom's story. They were very understanding."
Though the identity of Barbara's killer is still unknown, the documentary did help revive the hunt for her murderer. "When the documentary came out, [we received tips] on a daily basis," Madison told Awards Daily in June 2021, adding, "Now, I'd say it's multiple times a week. I have all of these case files."
These case files, however, are incomplete, and he's still fighting to get all of them from the police. In November 2020, Connecticut's Freedom of Information Commission instructed law enforcement to turn over all documents to him and the doc's producer, Anike Niemeyer. But the police didn't give him the entire set of murder case files. In fact, they gave him partial documents — only two boxes. The police reportedly reneged and appealed to the Superior Court to keep the documents instead, citing that it's still an active and open investigation. When they lost that appeal, they appealed again a month later in September 2021 at the Connecticut Appellate Court. There seems to be no ruling yet.
As to what he's already found, Madison told Esquire he can't reveal details yet, but he did say it's been "extremely illuminating."
This article was originally published on