All The Gorgeous Anne Boleyn Locations You Can Visit IRL
The new Channel 5 drama is set against a number of stunning backdrops.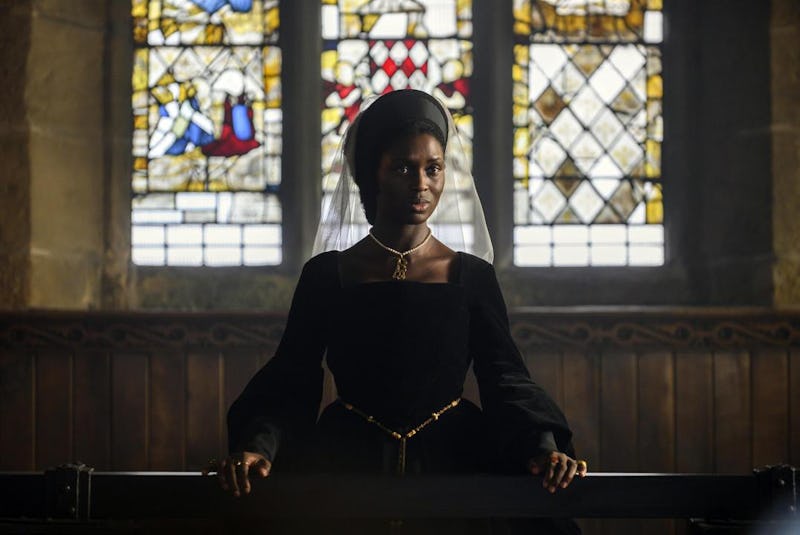 Fable Pictures Ltd/ The Falen Falcon Ltd / Sony Pictures Inc.
The life and legacy of the Tudor queen Anne Boleyn is reimagined through a feminist lens in Channel 5's latest historical drama, Anne Boleyn. The new series chronicles the queen's controversies, eventual downfall, and her execution against a stunning backdrop of Tudor-era England – but where was Channel 5's Anne Boleyn filmed?
In a statement sent to Bustle UK, it was confirmed the series was filmed on location in Yorkshire in late 2020. Per Radio Times, many of the show's filming spots were used as stand-ins for some of London's most famous Tudor landmarks, including the historic 14th-century Bolton Castle in Wensleydale, Yorkshire. Other notable Anne Boleyn filming locations include the grounds of Castle Howard close to the city of York, St Michael's Church in the village of Emley, Harewood House in West Yorkshire, Oakwell Hall, and Ripley Castle, among others.
Many of the show's picturesque filming spots — including Bolton Abbey, Castle Howard, Harewood House, and Ripley Castle — are open to visits from the public, meaning viewers can explore the stunning backdrops of the Channel 5 drama.
Commenting on the show's filming process, Anne Boleyn production designer, Lucy Spink, discussed the struggles of filming in Yorkshire during the depths of winter. "There was a lot of carrying heavy Tudor furniture up small spiral staircases! It is quite a hard environment being in a castle without heating, so we really did feel like we were part of the Tudor world, it's cold and it's hard," Spink said of the experience.
Actor Jodie Turner-Smith, who portrays the titular role of Tudor queen Anne Boleyn in the Channel 5 drama, also previously reflected on her time on-set, revealing how filming in historical locations such as Bolton Castle sparked "an energy" throughout production.
"It was freezing cold! That was a challenge, I think back then they would have the fires burning 24/7," Turner-Smith told the Radio Times. "But it was cool because we did a lot of filming in Bolton Castle and there is definitely an energy to filming in places like that, especially when a building is historical and so many spirits have passed through it," she added.
Joining Turner-Smith in the show's cast is I May Destroy You's Paapa Essiedu, White House Farm's Mark Stanley, Dating Amber's Lola Petticrew, White Lines star Barry Ward, Silent Witness' Amanda Burton, and Trigonometry's Thalissa Teixeir, among others.
Anne Boleyn begins on Tuesday, June 1, at 9 p.m. on Channel 5, and the series will be broadcast over three consecutive nights, with the season finale airing on Thursday, June 3.