Emma Corrin Is Still Trying To Figure Out Their Dating Life
They were rumored to have dated Harry Styles, but there was "nothing romantic" between the pair.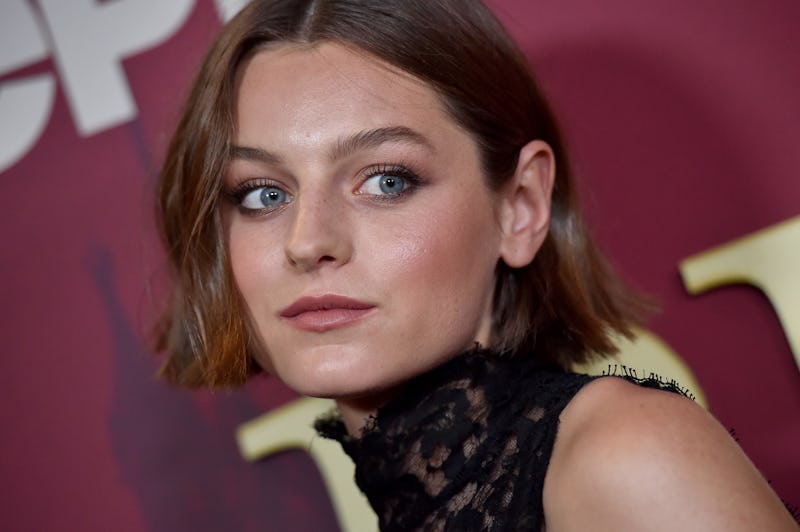 Axelle/Bauer-Griffin/FilmMagic/Getty Images
Emma Corrin has gone from being Princess Diana in The Crown Season 4 to Lady Chatterley in Netflix's new film Lady Chatterley's Lover. Naturally, the romantic drama, based on D.H. Lawrence's 1928 novel, has viewers questioning if Corrin is dating anyone in real life. Not a lot is publicly known about Corrin's life before being cast in The Crown in 2019, which won them a Golden Globe Award and Emmy nomination, but the actor is slowly opening up about their dating life — and how much it's changed in recent years.
Currently, the Crown star is not publicly dating or linked to anyone. However, they are figuring out their sexuality. In 2021, Corrin identified as queer in an Instagram post and updated the pronouns in their Instagram bio to she/they. In a July 2022 interview with Vogue, Corrin said they primarily use they/them pronouns and opened up about their dating life, saying they "like people" regardless of gender and recalling how their first date with a woman was a learning experience. "My first date with a girl, they were like, 'Oh! You're a baby queer!'" they recalled. "It was amazing. We actually didn't end up seeing each other again, but she really gave me the lowdown."
However, Corrin also stated that they still date men and even felt confused about their position within LGBTQ+ communities while doing so. "I'm working out all this complex gender and sexuality stuff," they said. "And yet, I'm seeing a guy? That feels very juxtaposed, even if I'm very happy."
Prior to coming out as queer, Corrin was linked to One Direction alum and star-in-his-own-right Harry Styles. The pair — who reportedly met at one of Styles' gigs in 2019 — share the same stylist, Harry Lambert, as well as having mutual friends, "so it's quite a nice link between them," a source told The Sun. "They're both private people so no one seems to realize they are actually mates." But the outlet also reported there was "nothing romantic" between Corrin and Styles. Instead, it seemed that rumors may have stemmed from the pair being cast as a married couple in My Policeman, which was released in October 2022.
Naturally, with all of these prestigious roles in quick succession, Corrin's star has rapidly risen, and they don't need a relationship to help them navigate it. The actor has previously said that they would rather "navigate" the changes in their life on their own. In 2020, Corrin told Stella magazine that they don't want a boyfriend because they would rather "take care" of themself at the moment.
This article was originally published on