Stranger Things' Joe Keery Is Dating An "Indie Scream Queen"
They've been together throughout most of his time on the Netflix hit series.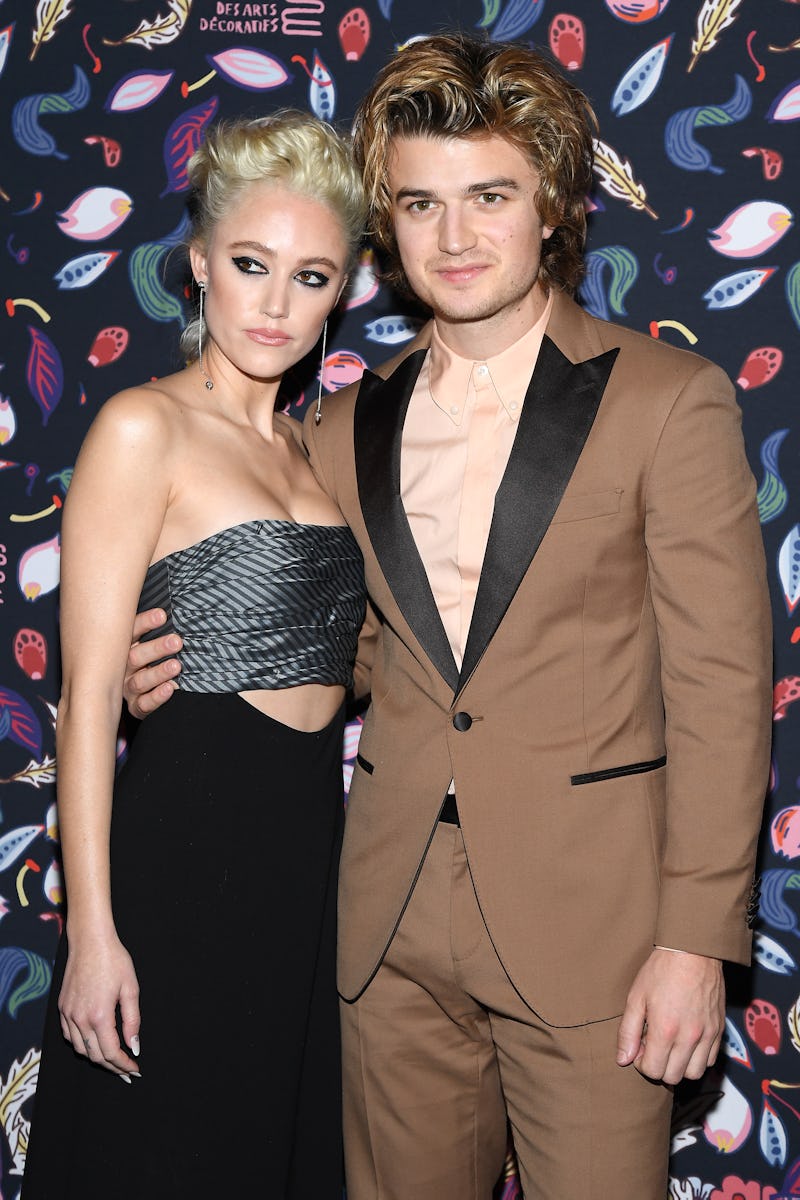 Pascal Le Segretain/Getty Images Entertainment
It's safe to say that Steve Harrington is a favorite character for many a Stranger Things fan — and if you're pretty fond of the actor who plays him, too, you're not alone. Now that Stranger Things Season 4 is upon us, you may be wondering: Who is Joe Keery dating?
As it turns out, the answer's been the same for nearly the entirety of Stranger Things' run. Keery's girlfriend is Maika Monroe, a fellow actor he met at a 2017 party, per GQ. Described by Vogue as an "indie scream queen," Monroe has starred in several horror films, including It Follows and The Guest — so it's only fitting that she found love with another star of the genre. "I grew up loving old classic horror movies, watching Nightmare on Elm Street and The Shining probably way too young, but there was just something about it," she told Collider in January 2022. "Unlike other movies, you always have such a visceral reaction to the genre that was very intriguing to me."
Acting isn't Monroe's only career though. She started pursuing both kiteboarding and acting when she was a teenager, she told Los Angeles Magazine in 2015. She also moved to the Dominican Republic to do kiteboarding professionally, but left once she booked her first film role. "I went from living in the Dominican Republic, every day my mom and I would cook or we'd go hang out with the kids, to flying a private jet to Chicago with Zac Efron and Dennis Quaid," she recalled. "People had champagne and they were going to these amazing restaurants. It was a culture shock."
On her very artsy Instagram, Monroe doesn't generally post photos of her relationship with Keery, who isn't even on the social platform anymore. And that seems to be by design. As Keery told Bustle in 2018, back when he was still posting, fans' online investigations into his life made him very protective of his privacy. "It's so weird, it definitely makes me a little more hesitant to put myself online or anything like that," he said. "It's not like I'm just sharing it with my friend, I'm sharing it with a couple million people now."
Even if they keep things pretty low-key in the public eye, Monroe and Keery definitely appear to be artistic collaborators. During the 2020 lockdown, for example, Monroe photographed Keery for his Interview Magazine profile with Finn Wolfhard.
"Over quarantine, it was like we spent so much time together, which was rare," Keery told GQ in 2021. "I mean, that's one of the disadvantages of dating someone else in the industry. There are advantages as well: somebody who kind of understands what's going on with you in a pretty deep way. But yeah, I think she's like me. She doesn't take it all too seriously."
Given Joe Keery's crush-worthy status among fans, the fact that he has a girlfriend isn't necessarily — wait for it — a strange thing. And if you're eager to catch up on Monroe's career, she has another horror movie, Watcher, coming out in theaters just one week after Stranger Things Season 4 drops on Netflix.
This article was originally published on