Queen Charlotte's Arséma Thomas Knows What Lady Danbury Would Be Doing Today
The Bridgerton prequel star tells Bustle about playing the ton's beloved socialite.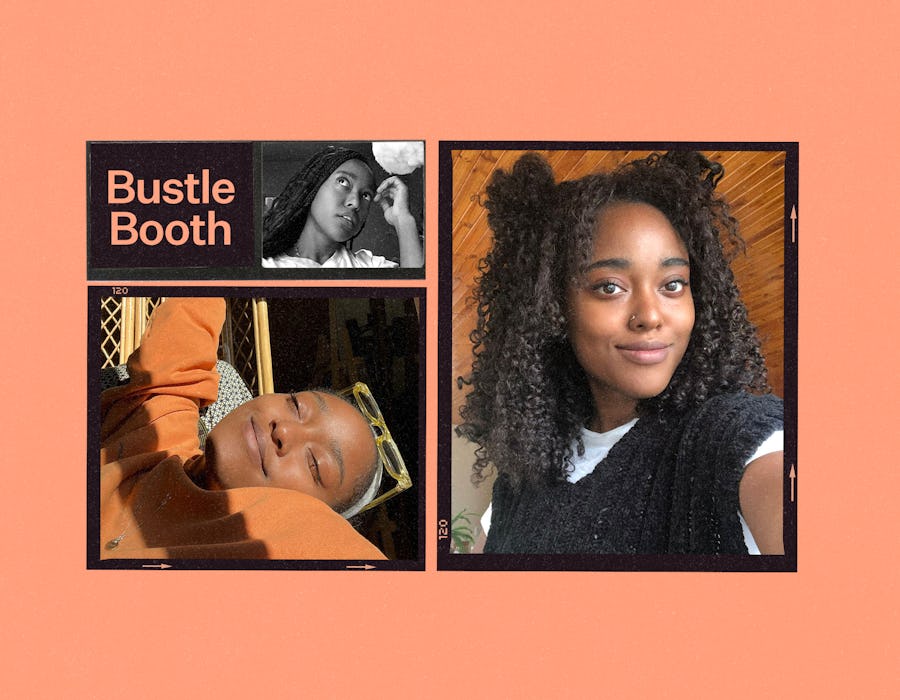 Before landing the role of young Lady Agatha Danbury in Netflix's Bridgerton prequel, Queen Charlotte: A Bridgerton Story, Arséma Thomas had already cultivated quite the resume. The well-traveled child of two diplomats had earned a Master of Public Health from Yale and even took the TEDx stage to talk about foreign aid before enrolling at the London Academy of Music and Dramatic Art. But one thing the American-born actor hadn't done was watch Bridgerton.
Thomas, 28, obviously remedied that after being cast — and quickly realized she'd signed up to portray one of Bridgerton's most iconic characters: Lady Danbury, a senior member of London's high society who uses her influence to guide some of the show's buzziest love matches. "I got very scared and felt the pressure of trying to embody this woman who is unlike anyone I have ever met in my life," Thomas, whose pronouns are she/they, tells Bustle. "You know, this very powerful, magical creature that almost floats above the ground."
But Queen Charlotte, which is set decades before Bridgerton, finds Lady Danbury in a very different place. She's a budding confidant for the young queen but not yet the all-knowing social glue of the ton. "It was like, 'Oh, this at least is accessible for me,'" Thomas says. "As somebody who has yet to find her voice, and then getting a step-by-step plan on how to empower yourself as a woman." It also helped that she had support from the original show's cast — including Lady Danbury herself, Adjoa Andoh, who made it clear that young Agatha was Thomas' to play with.
The more Thomas got to know the character, the more they realized they had in common with her. Like Danbury, Thomas knows how to give advice without being paternalistic — a takeaway from their time in public health. As Thomas explains, "Rather than telling [people] what I want, it's really about leaving this space for them to recognize what's good for them."
And if Danbury were living in the 21st century rather than the 18th, Thomas thinks she'd share their passion for painting — a practice the actor did more than ever while shooting Queen Charlotte. "There's something about Agatha that makes me think she wants to be in a big, high-ceiling studio with massive paintings that she uses to evoke a lot of the emotion she's having about the political system," Thomas suggests. "I can see her in dirty overalls. No shoes, hair back in a bun."
While Danbury might not be a painter, she very much leaves her mark on the world of Bridgerton — as does Thomas.
Get to know more about Thomas in their Bustle Booth questionnaire below.
In The Bustle Booth
What's your coffee order?
Oat latte with an extra shot of espresso and a bit of maple syrup.
What are the saved weather locations on your phone?
Cape Town, Marseille, Modderfontein, Dublin, San Francisco, Johannesburg, New York, Paris.
What's your sign?
Gemini with a Scorpio moon.
Favorite overused movie quote?
"I'm getting too old for this sh*t."
What was your favorite cartoon as a kid?
Codename: Kids Next Door.
What's one movie or TV show you're currently obsessed with?
Wendell & Wild.
Who is your celeb idol?
Erykah Badu.
If you had to be on a reality TV show, what would it be?
The Traitors or RuPaul's Drag Race.
Go-to karaoke song?
"Sk8er Boi" by Avril Lavigne.
What's something that's inspiring you lately?
The optimism of bell hooks.
What is something you would want people to say about you?
I want people to say that I am relatable.