Why Did Teddi Leave Bachelor In Paradise?
There may be more to her exit.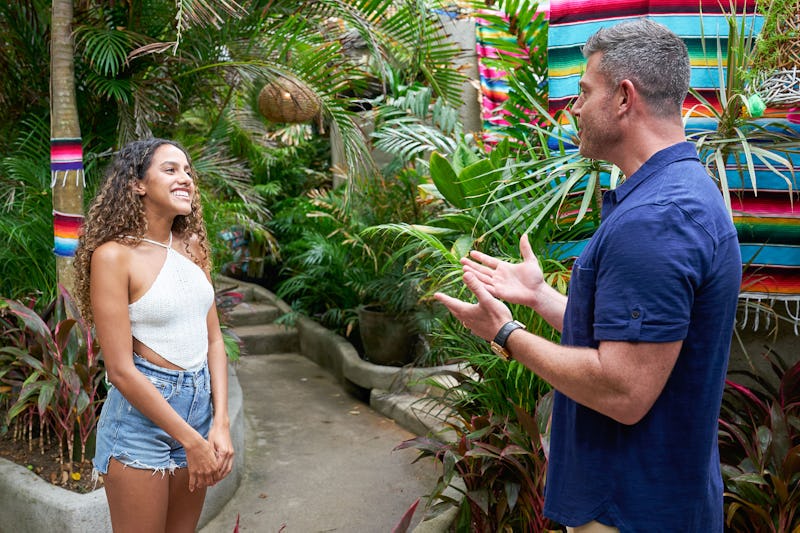 Sometimes expectations fail to live up to reality, which is what happened between Teddi Wright and Andrew Spencer on Bachelor in Paradise Season 8. Despite expecting to fall for one another, Teddi's feelings just weren't what she hoped they'd be, and because of it, Teddi opted to leave the beach. But is there more to Teddi's Bachelor in Paradise departure?
First, to recap: Before the season began, Andrew spoke to Entertainment Tonight about Teddi, stating, "I've heard that she might be in Paradise, and if she is there, then I'd definitely like to talk to her." Teddi also spoke to the outlet and was featured in the same article, saying, "I hope that Andrew's here," and, "His personality is definitely the type that I usually gravitate towards."
The duo started out as one of the stronger pairings in Season 8. Teddi and Andrew even went on the first date of the season, during which they appeared to hit it off. However, Teddi admitted that her feelings for Andrew weren't what she hoped they'd be. She did say that she loved "spending time with him," but also added, "I'm not as all over him as I am with other guys." Matters got even worse when Rodney Mathews arrived on the beach and pulled Teddi for a chat. Nothing came of their conversation, but it did add some turbulence to her and Andrew's shaky relationship.
Teddi then told the cameras that her excitement for Rodney made her doubt her feelings for Andrew. Moved to tears, she began to question her entire presence on the show and self-eliminated shortly thereafter. Even more surprisingly, she left without saying goodbye to her friends and castmates. She told the producers that she didn't want to go through the process of a farewell and instead secretly put her bags in an SUV before disappearing into the night.
While it was unclear, at the time, why Teddi had to depart so quickly, she may have alluded to another reason in her first Instagram post after the show aired — writing on Oct. 5 that she was proud of herself for "leaving environments that are cruel to me [and] the people around me," and "sticking to my boundaries no matter how many times people in authority try to cross them."
Several of her Bachelor Nation castmates commented their support. "Love that you escaped a toxic situation before it became much worse," Kendall Long wrote, adding to a fellow commenter that "[you] just have to go on the show to know fully."
In a recent appearance on Talking It Out, Andrew said that Teddi's Paradise experience "wasn't the … easiest time for her," and said he wanted her to know that she had an "ally" in him — further suggesting some tension between Teddi and the show's production.
This article was originally published on