A Potential Wilderness Season 2 Would Have To Go Beyond The Book
Come for the road trip inspo; stay for the twisty murder investigation.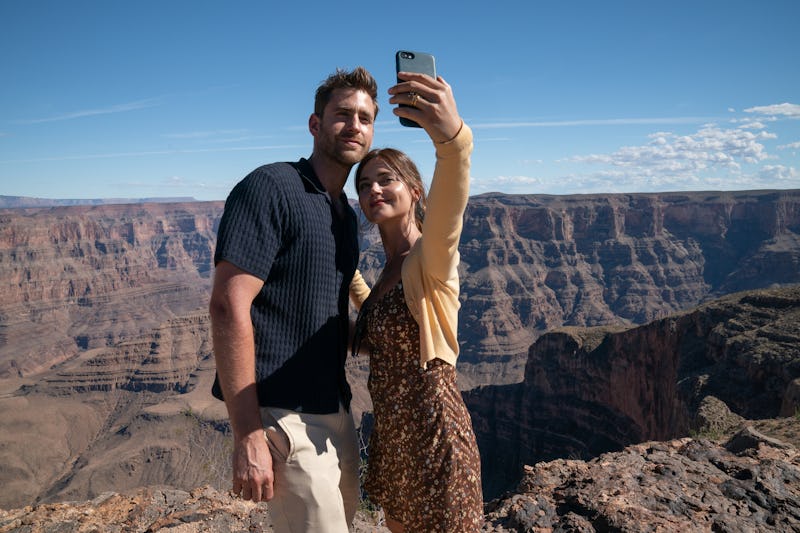 Stefania Rosini/Prime VIdeo
Prime Video's Wilderness follows a young couple, Liv and Will (Jenna Coleman and Oliver Jackson-Cohen), on a road trip through some of America's most iconic national parks. But this is a revenge thriller — so instead of enjoying the view with her husband, Liv is fantasizing about ways to kill him after discovering his affair with a colleague. When that colleague crashes the trip, things start to unravel even faster.
As Coleman told The Italian Rêve, the series (which is based on B. E. Jones' 2019 novel of the same name) is a "primal story of [Liv] reclaiming her voice, and herself, and her boundaries," even though she goes about in some questionable ways. "She needs to go to the darkest depths to be able to get out the other side," Coleman continued. "All of that was really well done in the script, but obviously the challenge, which is absolutely mental about the series, is how you're asking the audience to empathize and side with a character who does things that are very morally wrong."
The fast pace and constant twists make it easy to watch all six episodes in one long sitting. But after you've done that, will there be a Wilderness Season 2 on Prime Video?
If you've already breezed through the new series (and spoilers ahead if you haven't), you know that it ties up Liv and Will's story pretty neatly... for now. Will is in prison for Cara's murder but finally figures out that Liv is the actual culprit. He vows to make that known — but given how Liv has been two steps ahead of Will the entire time, that seems unlikely. Meanwhile, Liv tells Will she's pregnant and writes a seemingly Gone Girl-esque book, aptly titled Wilderness. She also goes on a solo road trip, but she doesn't seem to be over everything that went down. In fact, she delivers an unsettling monologue to a random traveler about how she's reached "the end of [her] tether," comparing herself to a wolf.
So if Prime Video wanted to pick up a Wilderness Season 2, Liv's new, uninhibited mindset could lend itself to some interesting storylines. Plus, there's the lingering threat of the authorities figuring out what really happened to Cara.
For now, though, the streamer hasn't announced a renewal — and indeed, there's no sequel to Jones' book. (There are other crime thrillers in her collection, though!). But there are elements of the novel that didn't make it to screen, such as Liv's violent past, that could certainly play a role in a potential Season 2.