The Wilderness Soundtrack Includes Taylor Swift & Britney Spears Songs
It's the perfect playlist for revenge.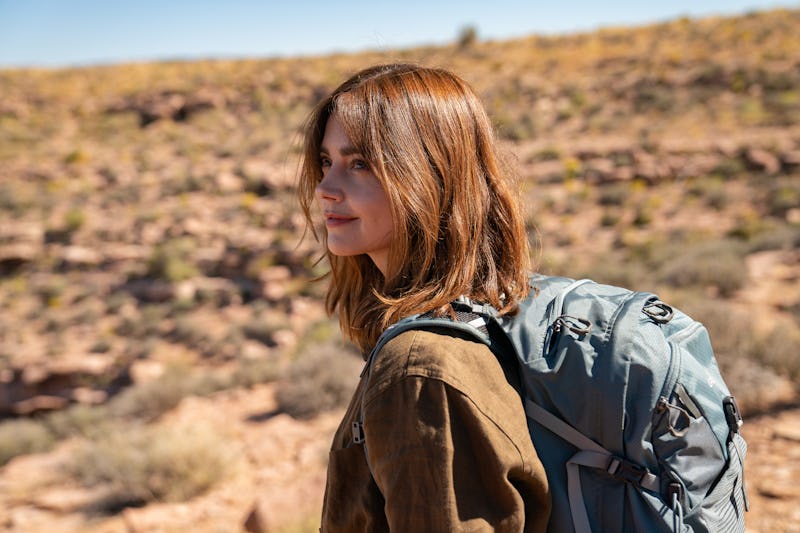 Prime Video
If you were inspired to watch Prime Video's Wilderness after watching its trailer set to "Look What You Made Me Do (Taylor's Version)," you're not alone. The edgy Reputation track set the tone for the twisty revenge thriller, which is based on B. E. Jones' 2019 novel of the same name about a couple, Liv and Will, who are trying to healing their relationship after Will's affair.
"It's kind of incredible that ... she agreed to let us have the song," Oliver Jackson-Cohen, who plays Will, said in a Prime Video featurette. Ashley Benson, who plays Cara (the other half of Will's sneaky affair) said it was one of her favorite songs — from her favorite album. "I could listen to [Reputation] over and over and over and over again," the Pretty Little Liars alum added.
Swift has previously lent her music to Prime Video shows, of course, notably debuting Taylor's Version tracks like "This Love" and "Delicate" in The Summer I Turned Pretty. This new series couldn't be more different from the sunny, YA vibes of Cousins Beach — but Swift's catalog runs the gamut, so it works.
As "Look What You Made Me Do" (which serves as the show's intro track) suggests, Wilderness is very much a "Good for her!" kind of show — i.e., one that's all about a woman finding her power through questionable means. The rest of the Wilderness soundtrack, which emphasizes female artists like Britney Spears, pairs perfectly with that theme.
In addition to the two songs you'll hear every episode — Swift's intro track and Santigold's "The Lasty" when the credits roll — here's a recap of every song in Wilderness, which dropped its entire season on Sept. 15.
The Wilderness Soundtrack
Episode 1, "Happily Ever After"
"Dance, Dance, Dance" by Lykke Li
"Sacrilege" by Yeah Yeah Yeahs
"Ferris Wheel" by Sylvan Esso
Episode 2, "The Other Woman"
"Sun Of A Gun" by Oh Land
"Gold" by Kiiara
Episode 3, "Repent at Leisure"
"How Can I Help You" by Self Esteem
"Radar" by Britney Spears
Episode 4, "Home Sweet Home"
"Can't Do Without You" by Caribou
"Body of Water" by Tierra Whack
"Tantrum" by Ashnikko
"Disparate Youth" by Santigold
Episode 5, "Like Mother, Like Daughter"
"Waiting on a Wave" by St. Vincent
Episode 6, "Where White Knights Go to Die"
"I Don't Really Like It" by Panic Shack
"Where Is My Mind?" by Tkay Maidza
"Don't Go Puttin' Wishes in My Head" by Torres