Japril Is Officially Returning To Grey's Anatomy & Here's When You'll See Them
Jackson and April will appear during Season 18.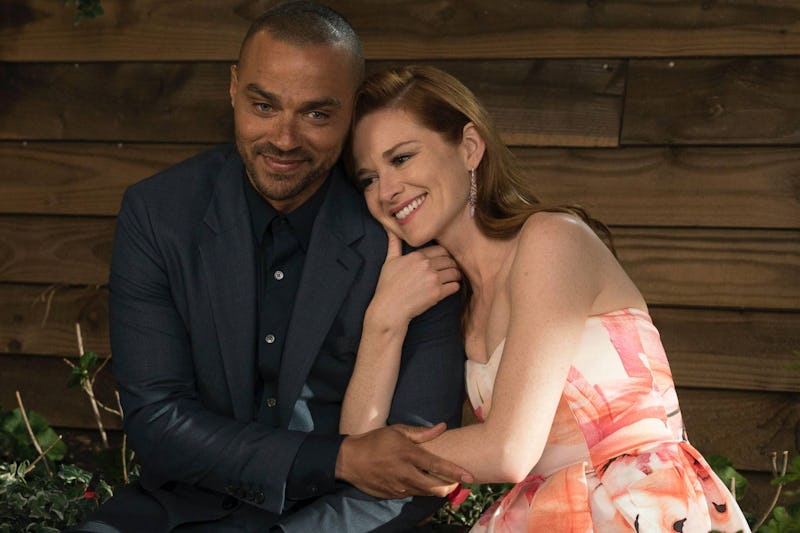 Eric McCandles/ABC
Japril fans, rejoice: Addison isn't the only beloved surgeon who will be returning to Grey's Anatomy Season 18. Jackson (Jesse Williams) and April (Sarah Drew) will also appear during the May 26 season finale, Deadline reported April 22. While there aren't any plot specifics yet, it makes perfect sense for the pair to pay the hospital a visit — whether for personal reasons or Harper Avery Foundation business. ABC hasn't announced whether Tom Koracick, who joined Jackson to work at the organization, will tag along for the ride, though he did appear earlier this season.
The news comes two months after Williams expressed interest in reprising his role as Dr. Jackson Avery before the Shondaland medical drama comes to its much-rumored end (potentially when Season 19 wraps up), telling Entertainment Tonight that a guest spot was "totally a possibility," adding that he'd believe Jackson and April are "definitely seeing each other, for sure." The possibility of a renewed romantic connection was very much implied during the pair's last appearance on the show — so here's hoping they can finally, simply, be happy.
Drew has also been vocal about returning. In March, she told ET that she was "absolutely" open to stepping back into Dr. April Kepner's shoes, despite seemingly leaving the series for good last year. "It was a beautiful experience," she said of their Season 17 reunion. "It felt so warm, welcoming. It felt like a full-circle moment of closing my story in a way that I didn't honestly know I needed. So Grey's Anatomy will always have my heart. They will always be my family, so I never rule that stuff out." She shared the April 22 news with three smiley emojis on Twitter.
With the Season 19 renewal, the door is certainly open for Drew and Williams' upcoming guest appearance to extend into something even more substantial — maybe even that much-hoped-for Japril spinoff. What do Jackson and April's lives look like in Boston? As Williams told Deadline before his return was announced, Jackson's new administrative role is sure to challenge him. "He's always had this bubble wrap around him that has protected him, and being able to do this work, I think, he's going to be thrilled and feeling like blood is coursing through his veins in a whole new way now," he said. "He's going to feel alive in a way that he hasn't before, which is very exciting."
Like every dedicated Japril shipper, Williams also theorized about his character's personal life, and how things might be going with April — and if his own ideas are any indication, the May 26 finale will see a stronger-than-ever era of the couple. "I think it's pretty possible that he rekindles a romantic connection to his ex-wife," he said. "They're damn good together, but most importantly what he needs from that is friendship and kindness, and patience, and understanding, and I think that he will get that with her and be able to share and give and reciprocate it as well."
This article was originally published on