Will There Be A Firefly Lane Season 3?
Kate and Tully's story comes to a close in Season 2.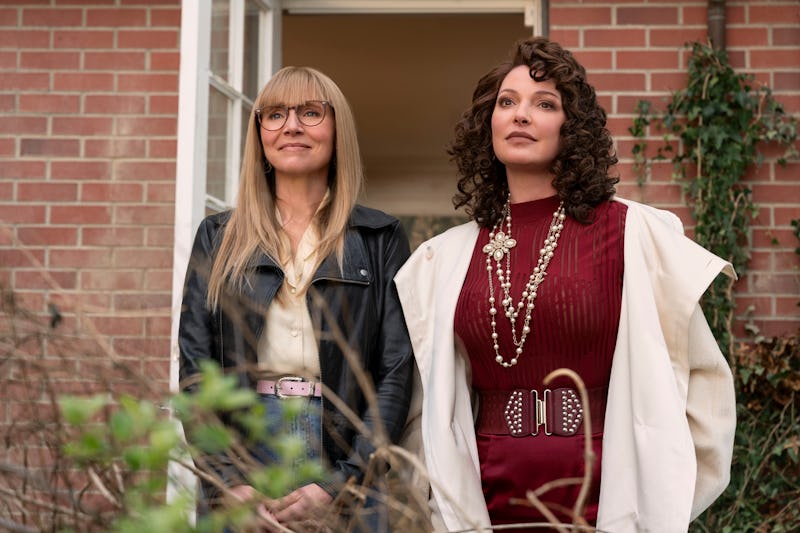 Netflix
Spoilers ahead for Firefly Lane Season 2 Part 2. Firefly Lane is about Kate (Sarah Chalke) and Tully's (Katherine Heigl) unbreakable bond — and how it all comes to an end in the series finale. By the end of Season 2, Kate and Tully have been through a lot together: first heartbreaks, divorce, children, and failed careers. Kate and Tully do stop talking after Tully gets into a drunk driving accident with Kate's daughter, Marah. But they reconnect again after the final heart-wrenching reveal: Kate has breast cancer, and by the final episode, it's spread to her brain. "The doctor says it's weeks, maybe a couple of months if we're lucky," Johnny tells Tully. "It's really just about keeping her comfortable now."
Tully and Kate make up, with Kate telling her, "It's not giving up; it's letting go." They go home and connect with Kate's loved ones. Kate also reveals that she finally finished her book: Firefly Lane, a story of her life that she wrote for Marah.
In the end, Kate dies while looking out at the water, and the series ends at Kate's funeral. Tully is unable to go in, and Johnny reveals that Kate left Tully a letter and the Firefly Lane transcript, knowing Kate would not want to attend the funeral.
"I know that you're thinking that I left you, but it's not true," Kate wrote to Tully. "All you have to do is open this book, and you'll find me." Kate also left her with an iPod with "Dancing Queen" on it, and the final episode pans out on Kate dancing outside the funeral home.
While the show changed some details, this is in pretty line with the Firefly Lane book ending, which Kristin Hannah wrote in 2008. "I think what Firefly Lane does is reinforce this idea that your best friend or your small group of best friends can be every bit as much of a soulmate or your partner or the person you live with," Hannah told Seattle's KOMO 4 TV. "And our friendships, especially in women — they take us through life."
Though Kate dies in both in the book and show, that doesn't mean that a Firefly Lane Season 3 is out of the question, though. There is a Firefly Lane book sequel called Fly Away, which follows Tully, Johnny, Dorothy, and Marah after Kate's death. "I always knew that someday I would return to the world of Firefly Lane," Hannah told Bookreporter.com in 2013. She said she wanted to explore Dorothy's backstory and also "how Tully and Marah would survive without Kate." Hannah lost her own mother to cancer. "I know intimately that one person can sometimes hold an entire family together, and the loss of that person is devastating," she said. "It can take you years to get back on your feet. That's really the theme of Fly Away — how to let go of someone you love and go on."
While there are no official plans to adapt Fly Away, it remains a possibility that the Firefly Lane characters could return to your screens one day.