Winning Time Won't Return For Season 3
Sadly, the show's Sept. 17 season finale turned out to be a series finale.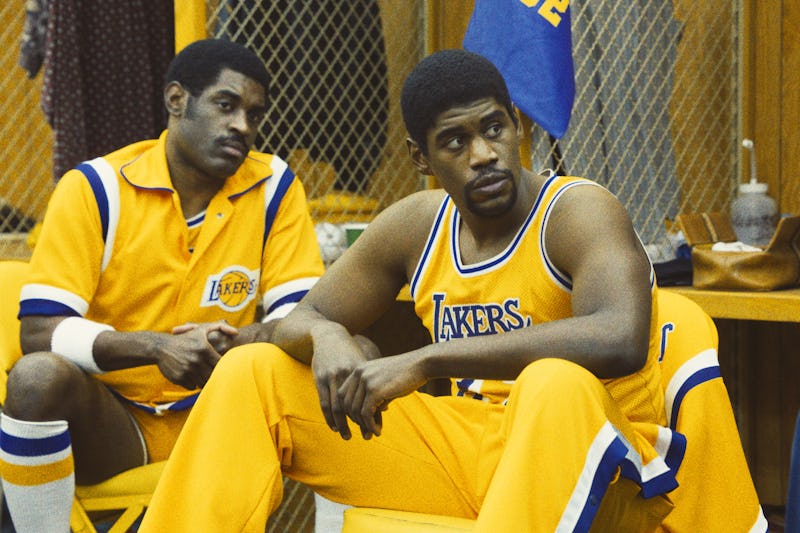 Warrick Page/HBO
Beginning with Magic Johnson's first year on the Lakers, Winning Time: The Rise of the Lakers Dynasty is a stylized look back at the team's "Showtime" heyday. While Johnson himself won't tune in ("There's no way to duplicate [the era]," he told Variety), the HBO series has received generally positive reviews and an Emmy nod for its cinematography.
The dramatized series is based on Jeff Pearlman's nonfiction book Showtime: Magic, Kareem, Riley, and the Los Angeles Lakers Dynasty of the 1980s. Because the book covers an entire decade, and Season 2 only runs through 1984, it seems that there should indeed be a third season (at least). However, after the Sept. 17 Season 2 finale, HBO announced that Winning Time would not continue.
If you've been following the show closely, you may not be too surprised by that news. Pearlman, for example, previously expressed concerns about the series' fate. "I'm telling you — the future of Winning Time hangs in the balance," the author wrote in a series of Aug. 16 tweets. "We need viewers. The strikes are crippling. Please help spread the word. Season 2 is amazing. But... HBO is big on [numbers]."
Pearlman said explicitly that he was concerned the show wouldn't be renewed for Season 3. "And it's not about me. I'm fine. It's about a cast of amazing young actors who live this. So, seriously, tell your friends to support Winning Time and show @hbo you want it to continue," he added.
The author reiterated his worries in a Sept. 6 tweet, writing that the show was "fighting hard to survive."
He noted that viewership was going "up, up, up," but seemingly not enough. "If you want HBO to renew it and keep it going (and not have it f*cking end with Boston winning), we need views. Seriously. It's the best show on TV. But [numbers] matter." Indeed, in August, Deadline reported that the Season 2 premiere had a 30% dip in viewership compared to the Season 1 premiere.
Quincy Isaiah, who played Johnson, previously addressed the series' uncertain future in an interview with Esquire — conducted after the WGA strike had begun but before SAG-AFTRA. "It happens all the time where I'm like, Man, what if this doesn't work out? What if Season 2 comes out and nobody likes it? What if the movie I'm shooting isn't a good movie? All of these things," he said. "But at the end of the day, I usually am like, OK, Q, trust yourself, man. Just bet on yourself. If you didn't think you were going to succeed you wouldn't have put yourself in this situation. And if I don't succeed, I know I gave it my all. And: I pivot."
Isaiah's optimistic outlook emulates the final moments of Winning Time's second and final season. The show never intended to end on the Lakers losing to the Celtics in 1984, executive producer Kevin Messick told Vulture; however, the show filmed an alternative ending in January to be used in case Winning Time was, indeed, canceled prematurely. The hopeful scene with Jerry and Jeanie Buss talking about the future of the franchise was that ending, followed by a montage of the Lakers history we didn't get to see on the show. "It could have run at the end of any season," Messick explained. "But it works no matter how long we got to make the story because the success and the accomplishments of each of our characters are true no matter what year it airs."
This article was originally published on