It Feels Like The British Public Can Finally Be Trusted To Vote With A Bit Of Sense
Jason Okundaye looks back at the Love Island final and what Kai & Sanam's victory really means.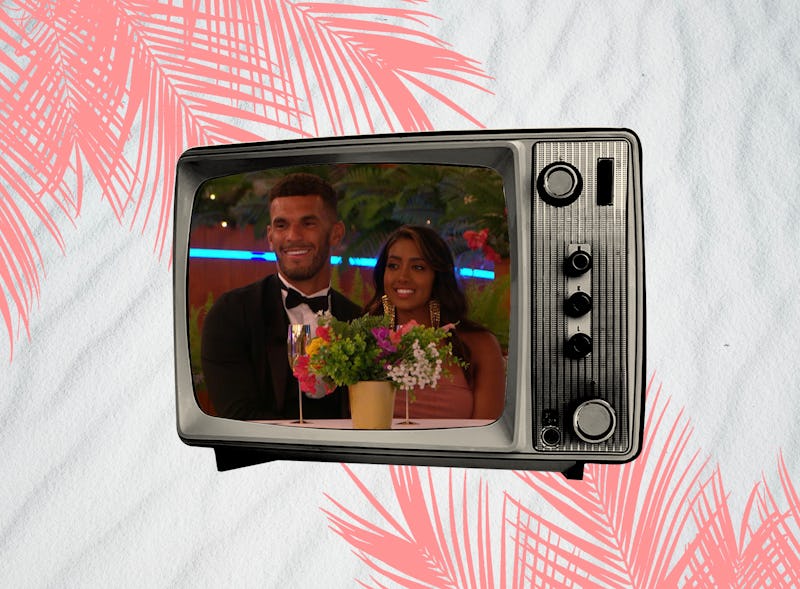 ITV
So here we finally are, another eight weeks of Love Island wrapped up, half of us clocking off our 9 p.m. Twitter shifts with a "see you in summer" out of office, the rest swearing that this is the last season we'll ever endure. I have to say though, seasoned viewers of this show know it's only really the first seven weeks which are worth watching. The final week – with its talent show, "epic" final dates, and baby challenge – are hardly much to tune in for, and haven't been for a while. At best you might keep it on in the background and lightly monitor your timeline to see if any drama worth scrambling for the volume button has kicked off. But none really did in the final week. Shaq's sister gave Tanya a pretty wonderful dressing down, clearly unhappy with the way her brother had been treated, and the annual internal "least compatible" vote led to a few sore egos and accusations of bias and gameplaying. But that was pretty much it. So let's just get on with the winners and losers.
Missing out on the final we had Will and Jessie, who faced off with Ron and Lana, and Kai and Sanam in the "least compatible" vote. Can I first say, as much as I've not always been the biggest fan of their coupling, it was ridiculous for them to be voted for by the other islanders, and to have been eliminated. Even if there can be doubt placed over Jessie's intentions, and the reality of long distance when outside of the villa, at no point over the series can anyone credibly say that it seems either of the two of them had no genuine interest in the other or that there was an absence of chemistry or spark between them. The reasoning given that their incompatibility is due to long distance feels irrelevant to the question and present circumstances, long distance isn't an inherent marker of incompatibility, and in any case Jessie had made clear her plans to move to London. If their incompatibility is put down to Will straying in Casa then Tom and Samie deserved to be up for elimination, considering Tom's own conduct was even worse. So all in all, this dumping felt more like punishment against Jessie, backlash against the producers for flying too close to the sun and introducing a bombshell from an international series who both viewers, and it transpires other islanders, were never going to full trust. I liked Jessie in the end: she seemed to have genuine affection for Will, she's one of the only islanders to have stood up to Olivia and refused to be bullied, but hopefully this is a "twist" they don't bother with again.
And then we get on to our finalists: Ron and Lana, Tom and Samie, Shaq and Tanya, and Sanam and Kai. And I have to tell you, I couldn't be happier with the result – and for the first time since voting for Amber and (who?) in Season 5, I've actually ended up voting for the winning couple. Not only that, but I also think the order from 1st to 4th was exactly right, and it feels like the British public can finally be trusted to vote with a bit of sense. Nature is healing, order is restored, perhaps I'll even get a favourable general election outcome for once next year?
Needless to say, Shaq and Tanya deserved to finish fourth, it's still a shock that they even made it as finalists, and I'll be interested in viewing the voter breakdown to see just how few supporters they had left. The most consistent coupling throughout the series, and the first to say "I love you", on paper Shaq and Tanya should've been a beloved Love Island couple, whose romantic journey you felt genuinely invested in. But their antics in the villa just soured them to audiences who couldn't get on board with them as a couple, and if there are odds on who will break up first I'll be throwing a good £20 on their name. There's no point going in too hard, everything to be said about them has already been said, but as a couple they have perhaps been one of the least pleasant viewing experiences, and I can only hope they both get out of the relationship sooner rather than later.
Thank God Tom and Samie were third, it really did look like they were going to steal the win at one point. The obvious producers favourites (since when did they give out the keys to red Ferraris for the final date?) the two kind of came out of nowhere as a couple, and then seem to have been forced on us ever since. A victory for these two would've felt like the second coming of Liam and Millie which would've truly been a death knell for the show. I've said before that a problem this show's longevity has had is in new contestants stealing recipes from past ones - the safe "Jack and Dani" formula has long died, but the "Liam and Millie" formula of straying and then groveling seemed like it was due for a revival, and I'm grateful that it wasn't. Overall in terms of chemistry, Tom and Samie rank the lowest for me out of all of the couples. I'm sure they like each other enough but it seems to just be said, "I really like you", "you're fit" the connection between them has always felt far more spoken than shown and they've just never really made sense as a couple to me. Sorry. I don't see anything in it and I don't have much more to say on that.
I think Ron and Lana are deserved runner ups. Look, Ron and Lana are dry. I don't think there's much between them, and if I were to see them in public with no context I'd assume they were siblings or good friends rather than lovers. It's not an absence of PDA or showmance which tells me this, it's just that the two of them don't have the kind of spark and electricity that couples are able to bring out of each other on this show, neither of them seems to have really met their match. But they did deserve second place, a position which in the context of this show has often been interesting and occupied by more divisive couples. In the last few weeks, the internal campaign against Ron and isolating of him and Lana indicating some of the more survivalist strategies that Islanders employ once their couples have settled and it's time to eliminate each other one by one.
There's an incredible kind of emotional endurance you'd need to have people you have lived amongst and trusted for the best part of two months suddenly turn against you, whisper about you, and lead their interactions with you with suspicion and I think Ron and Lana's response to it had been fair and dignified. I don't think they were done a raw deal receiving two votes in incompatibility, I actually voted against them in the public vote because I genuinely believe in their love the least, but their targeting was clearly less because the Islanders were concerned about the health of their relationship, and more because they were seen as a threat. And the fact is, the extent of Ron's pre-Casa behaviour is pretty exaggerated. Again, I don't truly believe in him and Lana, I also don't think it's this great sin that he explored other connections and was attracted to other girls before settling down with Lana. In real life, that happens. His only crime is doing it on national television where we all play judge, jury, and executioner. In any case, I wish them the best, and good luck to them.
And then on to our winners. If you had told me even just four weeks ago that I would not only be voting for Kai but grinning ear to ear watching him find a real connection and go on to win the show I would absolutely not believe you. Kai's redemption arc is one for the ages, and what's good about it is it's not been a redemption based on grovelling or some dramatic change of behaviour, it's been one that's been earned by a kind of disciplined consistency, refusal to gameplay, and clear judgement over when it's best to simply mind your business. And the hand that Sanam has played in this has been beautiful. Of her own accord, she is one of the sweetest and most good natured individuals we've had on this show, and her victory feels like a vengeance for the Casa girls not only of this season but seasons past. Where being a Casa Amor bombshell has felt like a raw deal for contestants, going on to be the first Casa contestant to win is a genuine moment. And what Sanam has brought out of Kai has been what the show is about - originally viewed as "boring" we've seen Kai melt away at the sight of Sanam, falling genuinely head over heels for her, locking in his interest, and only focusing on developing and growing their love. Even when being interviewed by Maya Jama on the sofa, no viewer could resist smiling and laughing along with them, as their energy is genuinely infectious.
There was no enemies to lovers, there was no long-suffering contestant finally find love, there was no day one "written in the stars" romance, there was just love, without any tropes or narratives, but just pure, innocent, affection and romance
And their win will have come as a surprise, to them and the other Islanders – Kai in the first half of the show had frequently been in the bottom, they were the last couple to form out of the finalists, and they weren't necessarily the big, dominant personalities of the villa. And they also didn't have the formula of previous winners, but that has been to their credit. There was no enemies to lovers, there was no long-suffering contestant finally find love, there was no day one "written in the stars" romance, there was just love, without any tropes or narratives, but just pure, innocent, affection and romance. They've stolen each other's hearts, and ours too. I said in a previous column that Kai carried Love Island heritage on his back in committing to head turning rather than playing a game and refusing to grovel for the camera, and I have to say that his victory feels like fans sending a clear message to the show about what it is that we want to see and what needs to be left behind.
So that's it for now, see you again in the Summer, probably. But hopefully never the Winter again. It's been fun but I maintain that Love Island twice a year is overkill. As Ron said about Lana, "I want to miss her" (side eye) but right now I just want to never think about this show again.