On XO, Kitty, Anna Cathcart Expands The Jenny Han Cinematic Universe
She FaceTimed her To All the Boys I've Loved Before big sister after booking her own show.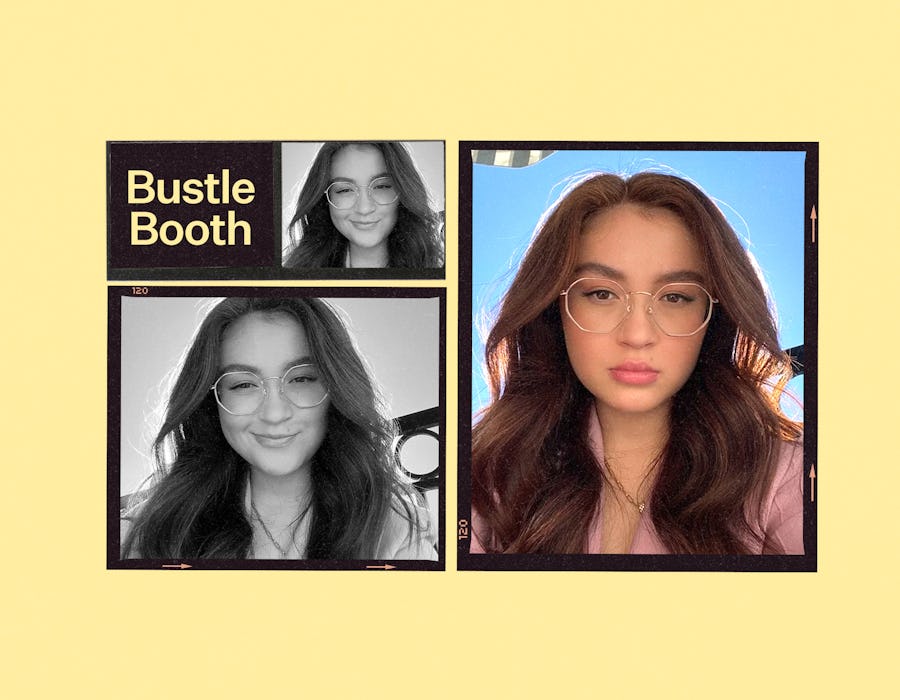 Before starting university, Anna Cathcart took a gap year to make XO, Kitty, the highly anticipated spinoff of Netflix's To All the Boys I've Loved Before trilogy. Fortunately, filming with her co-stars in Korea provided its own kind of dorm-like experience. "We all stayed at the same hotel," Cathcart says over Zoom. "That definitely added to the vibes of, 'Oh, after work, let's all go to someone's room, get fried chicken, and play board games.'"
In XO, Kitty, Cathcart's titular teen is the last daughter in the Song-Covey household when she decides to transfer to KISS — the Korean Independent School of Seoul, a Zoey 101-esque boarding school once attended by her late mom. While her on-screen sisters don't appear in XO, Kitty, the 19-year-old actor says Janel Parrish (Margot) and Lana Condor (Lara Jean) are still like family to this day.
"When I first was told that [the spinoff] was going to happen for real, I FaceTimed Janel," Cathcart says. "Having those people who I can look up to and lean on, who have had those experiences of being in this position before, is so helpful."
Cathcart was 14 years old when she first played Kitty, so she's well-acquainted with the role: a precocious adolescent with a knack for matchmaking and a desire to chart her own course as the baby of the family. But XO, Kitty still marks a few firsts. So far, it's the only title in the ever-expanding Jenny Han Cinematic Universe that doesn't have its own book, even though To All the Boys author Jenny Han is a co-showrunner. Kitty is also unique in that she's the first Song-Covey daughter to not only experience boy problems, but girl problems — nearly confessing her feelings for classmate Yuri (Gia Kim) in the season's final moments.
"I personally love that at the end of the season, it's not like she's back to 'Oh, yeah, I know what's going on. I feel confident about love again,'" Cathcart says of Kitty exploring her sexuality. "It's like, I still don't really know what's happening. And that's OK. That's part of growing up."
Despite the delay enforced by Cathcart's filming schedule, the actor started her first year at the University of British Columbia in Vancouver, where she studies sociology and creative writing — and she beams talking about it, even in the middle of finals. School was always the priority, she says, and her family is full of UBC alums. Now, it's her turn.
"There was one time in [creative writing] class that they used To All the Boys as an example, as a complete fluke," Cathcart recalls. "I was sitting there, and I was like, What is happening? Should I tell my prof? It's so funny. It was such a weird, worlds-colliding moment."
Learn more about Cathcart in her Bustle Booth questionnaire below.
In The Bustle Booth
What's your coffee order?
I don't actually drink coffee. I'm a big smoothie girl.
What are the saved weather locations on your phone?
Vancouver, Toronto, Seoul, LA, London, Broadbeach, New York, Zürich, Montréal, Guam, Portland, Nashville.
What's your sign?
Gemini. And a sheep in the Chinese zodiac!
Favorite overused movie quote?
"We're all in this together" - High School Musical.
What was your favorite cartoon as a kid?
Dora the Explorer. I had Dora stickers on my wall, a Dora play kitchen, Dora pajamas, and pretty much Dora everything.
What's one movie or TV show you're currently obsessed with?
This Is Us. The writing, the cast, the editing, the cinematography — I've never seen a show quite like it and I'm certain I will forever be obsessed with it!
Who is your celeb idol?
Zendaya! I've loved her since her Shake It Up days. Seriously — I had posters of her on my wall when I was in elementary school.
If you had to be on a reality TV show, what would it be?
The Great Canadian Baking Show… not that I can bake very well. Maybe I could be the host?
Go-to karaoke song?
"Baby" by Justin Bieber.
What's something that's inspiring you lately?
Going to university! Not only inspired by what I'm learning in class but also the campus environment and just being surrounded by so many people doing different things and discovering their passions.
What is something you would want people to say about you?
That I'm the type of person who would wait for you to tie your shoes when the rest of the group keeps walking.