Yellowjackets Season 3 Is Delayed Due To The Writers Strike
Here's everything to know about Yellowjackets Season 3.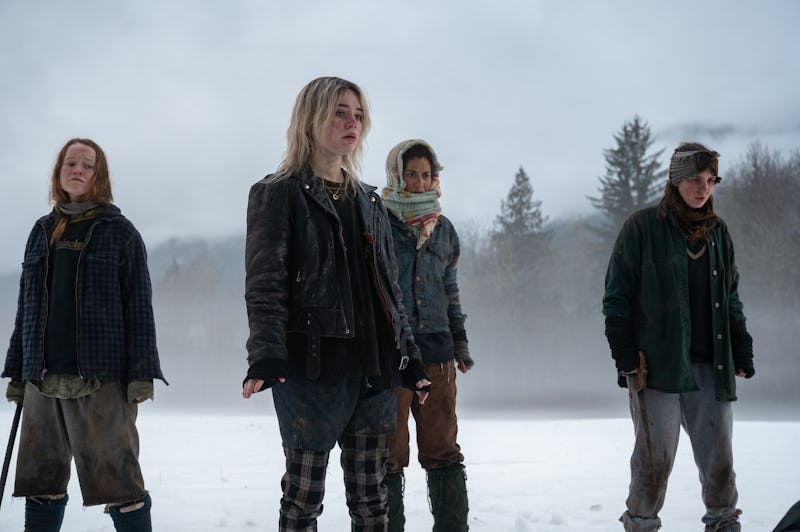 Kailey Schwerman/Showtime
Before Yellowjackets wrapped Season 2, Sophie Thatcher (aka teen Natalie) warned that the finale was going to be a lot. "You can't really prepare. It's going to knock you out," she teased. "I called my mom right after and was freaking out. I think we all were." Because Showtime already renewed Yellowjackets for Season 3 in December 2022, viewers at least know they'll get more answers — eventually.
Though the network said in a statement at the time that it "wanted to maximize the momentum by fast tracking Season 3," fans will now have more time to digest everything that went down. Amid Hollywood's ongoing writers strike on May 2, series co-creator Ashley Lyle tweeted, "Well, we had exactly one day in the [Yellowjackets] S3 writers' room. It was amazing, and creatively invigorating, and so much fun, and I'm very excited to get back to it as soon as the [Writers Guild of America] gets a fair deal."
Regardless, there's something else to look forward to in the meantime. Given that Season 2 consisted of nine episodes, several fans predicted that a surprise tenth one would drop on June 2. "There will be a bonus episode between seasons," Lyle confirmed on June 1, clarifying that there is no air date to announce yet.
As she and the creative team await a resolution, here's everything to know about Yellowjackets Season 3.
The Yellowjackets Season 3 Cast
Showtime has yet to make any new casting announcements, so you can expect that anyone who survived Season 2 will likely return for the next installment. In addition to Thatcher, Season 2's ensemble included: Melanie Lynskey (adult Shauna), Juliette Lewis (adult Natalie), Christina Ricci (adult Misty), Tawny Cypress (adult Taissa), Simone Kessell (adult Lottie), Lauren Ambrose (adult Van), Sophie Nélisse (teen Shauna), Jasmin Savoy Brown (teen Taissa), Samantha Hanratty (teen Misty), Courtney Eaton (teen Lottie), Liv Hewson (teen Van), Kevin Alves (teen Travis), Steven Krueger (Coach Ben), Warren Kole (Jeff), Callie (Sarah Desjardins), and Elijah Wood (Walter).
The Yellowjackets Season 3 Plot
Spoilers ahead for the Yellowjackets Season 2 finale. Given that the writers had just started writing the new season when the WGA strike began, the plot also remains up in the air. However, the Season 2 finale revealed some storylines that will likely be examined. While newly crowned Antler Queen Natalie now has an even bigger challenge ahead after the cabin fire, the adult Yellowjackets now have to mourn her death after Misty accidentally killed her in the Season 2 finale. Also in the present timeline, Shauna seems to be off the hook for murdering Adam, but there's always a chance trouble could resurface.
Now that fan theories about the Queen of Hearts card have been confirmed, the team's cannibalistic survival method will likely play a larger role, too. As adult Lottie teased, the "chosen" victims will either have a chance to either submit or try to run for their lives, so expect some chase scenes. Still, Lyle assured The Hollywood Reporter that the creative team would not cross certain lines. "Tony Soprano is an absolute monster — but, because he's so well drawn, you understand him," she said in March. "That's what we're aiming for. We have conversations about what could be too far, but it's less about likability for the characters and more about the type of story. We never want to be shocking and salacious for the sheer joy of it."
Cypress previously hinted that fans can also look forward to a deeper dive into Taissa and her encounters with the "man with no eyes." "You're going to have to wait at least until Season 3 to get some real answers on what's going on with her," she explained to TVLine in April. "But yeah. The man with no eyes, he's a mystery to all of us at this point."
Yellowjackets Season 3 Theories
As fans await more Yellowjackets episodes, several Redditors have already come up with some Season 3 theories. One suggests that adult Natalie could still be on the show, appearing to have conversations with the characters, similar to what happened to Jackie and Shauna. While another fan predicted that Coach Ben will be blamed for burning down the cabin (and killed in retaliation), others theorized that he actually might make it out of the wilderness and be alive in the future. Either way, the fact Natalie knows the general direction of his tree refuge could mean she'll have no choice but to lead her team there for survival.
The Yellowjackets Season 3 Potential Premiere Date
As of publication, the WGA strike remained ongoing, and so it's unclear when the writers will be able to get back to work. That said, Yellowjackets reportedly takes about six months to film, making a 2024 release still within the realm of possibility, pending a union resolution.
This post will be updated as more Yellowjackets Season 3 details become available.
This article was originally published on