All The Bachelor Spoilers From Zach Shallcross' Season
There's already a lot of info out there.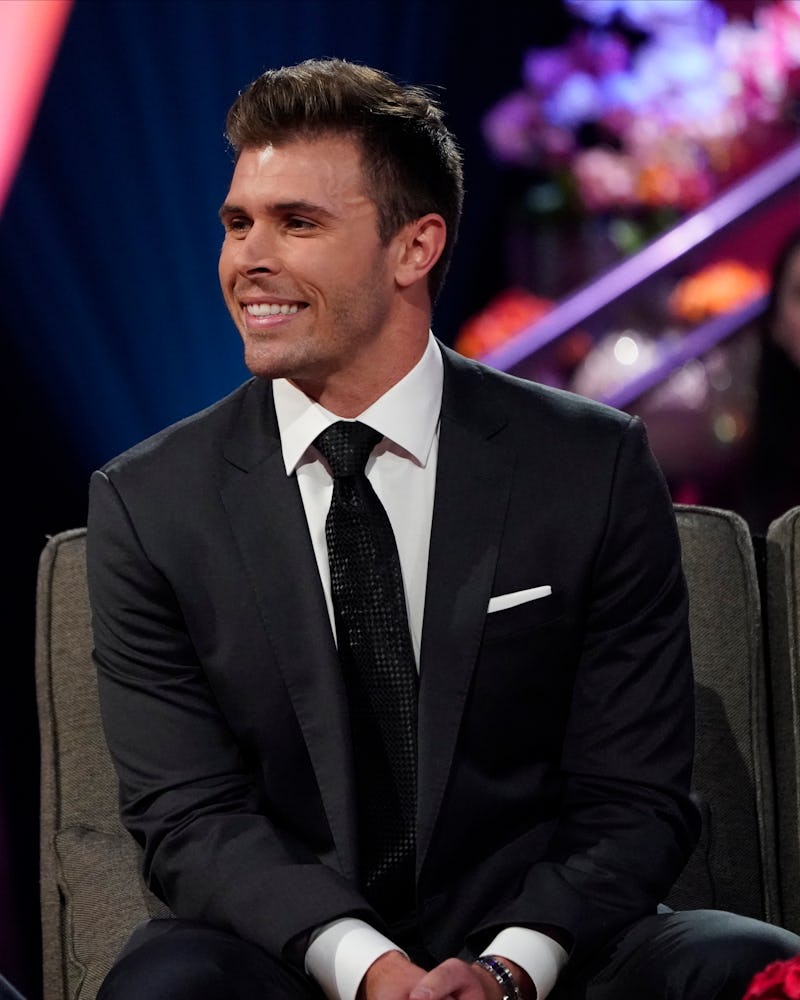 ABC/Craig Sjodin
2022 was a busy year for all things Bachelor. Between those chaotic final weeks of Clayton Echard's Bachelor season, Gabby Windey and Rachel Recchia's debut as the franchise's first co-Bachelorettes, and that alleged Bachelor in Paradise cheating scandal, it's been... a lot!
Now, it's time to start anew. With its Jan. 23 premiere, Zach Shallcross' Bachelor season reset the franchise calendar. The season only just began, but there are already plenty of reports to pore over from Reality Steve, Bachelor Nation's de facto expert and spoiler authority. For reference, he reported the next Bachelor would be Zach before it was made official, and it's safe to say he's been following production closely. He's already reported details about the entire season through Zach's final three women.
If you're reading this far, you probably don't mind getting a peek at the season's rumored surprises, so long as there's plenty of drama in between. But just in case, a warning: spoilers ahead!
There's A Self-Elimination Coming
According to Reality Steve, Brianna Thorbourne sends herself home in the next few episodes — and it reportedly has something to do with Christina Mandrell, who is the "instigator" in reminding Brianna that America (not Zach himself) voted for her first impression rose during The Bachelorette finale.
However, Reality Steve adds that "Zach wasn't too thrilled with her behavior," and he sends her home soon after.
About Those Alums...
Remember when Victoria Fuller and Tahzjuan Hawkins appeared in the teaser for Zach's Bachelor season? According to Reality Steve, the franchise alums — as well as Courtney Robertson — came on the show to serve as judges of a group date, which was hosted by Latto.
In the sneak peek, Tahzjuan is clearly interested in Zach, making the other contestants nervous. "We don't need another girl here," one says. However, based on Reality Steve's spoiler report, Tahzjuan doesn't seem to be a continuing threat on Zach's Bachelor season. In fact, in an Oct. 12 tweet, the franchise spoiler expert says "a former Bachelor & BIP contestant shows up during the first group date ... [but] it didn't go well for her," seemingly referencing Tahzjuan.
Zach's Uncle Returns
Reality Steve reports that Zach's uncle, Patrick Warburton (aka Puddy from Seinfeld) will appear during Zach's Bachelor season — after first making his debut during Rachel's Bachelorette hometown visit.
Zach's Bachelor Filming Locations
The Bachelor/ette is known for whisking contestants away to beautiful, international destinations after getting settled at the mansion — and Zach's season doesn't disappoint. According to Reality Steve, production (which took place in fall 2022) was spotted in the Bahamas, London, Budapest, and Tallinn, Estonia's capital city.
Reality Steve writes there's "something that happens in London that kinda changes the landscape of the show," however he didn't know what — simply that "it wasn't bad," but "had a significant impact on the production of the show."
Overnights happen in Krabi, Thailand, Reality Steve reports. (He also shares who goes there! But more on that later.)
Zach's Bachelor Season Hometowns
In addition to traveling the globe, Zach heads to hometown dates across the United States. So, who makes it to that crucial Bachelor milestone? According to Reality Steve, Zach visits Gabriella Elnicki in Vermont, Ariel Frenkel in New York, New York, Charity Lawson in Columbus, Georgia, and Kaitlyn Biggar in Austin, Texas.
Zach's Bachelor Season Final Three
Reality Steve reports that after hometowns, Charity goes home — making the final three women on Zach's Bachelor season Gabriella, Ariel, and Kaitlyn. There's no information beyond that yet, but it's only a matter of time before additional spoilers surface over the course of the season.
This article was originally published on