Zoë Winters Breaks Down Kerry & Logan's Succession Aftermath
The actor tells Bustle about the Old Hollywood affair that inspired her performance — and why she understands *that* fan theory.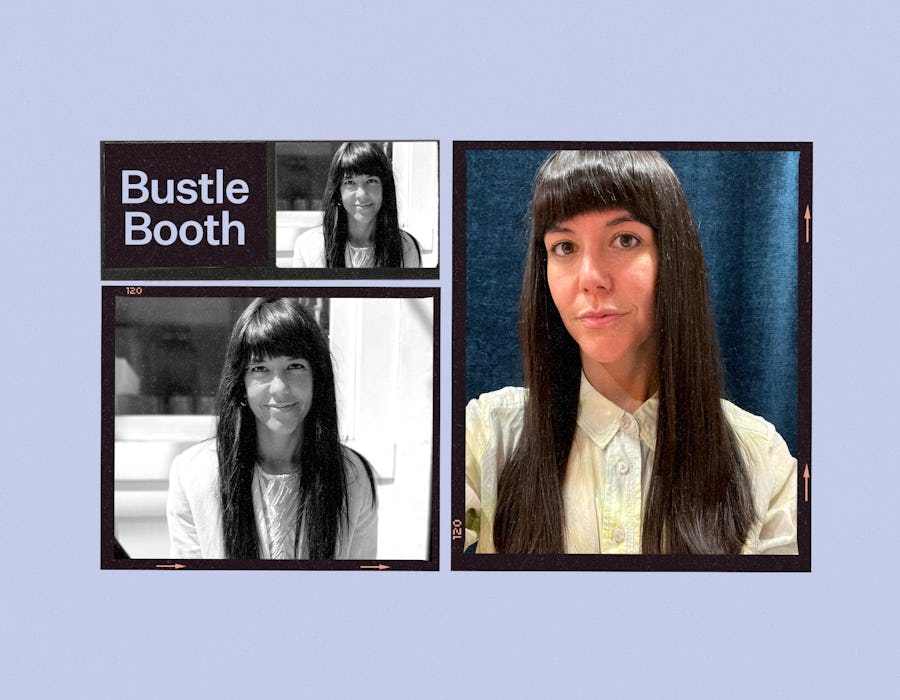 Spoilers ahead for Succession Season 4, Episode 4. During Succession Season 4, Kerry tried to make a career jump from Logan Roy's assistant to ATN anchor — and her audition did not go well. As Greg so articulately put it, her arm movements were "a little un-TV." Fortunately, Zoë Winters' audition to play the character two seasons ago was more successful. "I had watched the show as a fan," Winters tells Bustle. "And I decided early on for the audition that I was going to give her a big point of view."
Fans (and the Roys) are seeing that point of view more than ever during the show's final season, with Kerry's cool exterior crumbling in the wake of Logan's death. During her breakout scene in Episode 4, Kerry tries to scurry into Logan's house to collect her personal things — an attempt ultimately foiled by Logan's ex, Marcia. "We talked some about Marion Davies and her fallout when [William Randolph] Hearst died," Winters says. While researching that Old Hollywood affair, she found inspiration in the starlet's own words. "She'd said something to the effect that what he gave her was the feeling that she was worth something. And I think that this episode, for Kerry, is about worth."
That's only one piece of Winters' hefty 500-page Word file on Kerry. "Some of the stuff I do is completely just obsessive and a result of having OCD and being a workaholic," she says. "But I think that some of it is driven from feeling like when somebody appears, that they have texture to them."
Because Winters spends so much time thinking about Kerry, she understands why fans do, too. There's one popular theory circulating that Kerry is pregnant with Logan's baby. "I think the reason there are theories is because people are listening and paying attention and filling in the blanks for themselves," Winters says. "And it's very human to build story. We all do that."
A self-described "creature of the theater" and BFA grad from SUNY Purchase, Winters has primarily spent the last 15 years on stage in New York and was intimidated by Succession's abundance of theater legends. "I'm the same way with famous people that I am with cats," she says. "I don't want to try too hard, you know? I just want to give them space."
Winters couldn't keep her distance too long, because the cast wouldn't let her. "It couldn't have been a sweeter embrace from this group of people," she says. "J. [Smith-Cameron] added me to all the text chains and brought me in. I've become really, really close friends with so many people: Justine [Lupe], Juliana [Canfield], Natalie [Gold], and just everyone."
While theater will always be part of Winters' life, she credits Succession with helping her fall in love with the screen. (Her next on-screen role will see her alongside Ben Kingsley in the dramedy Jules.) "I'm so sad that this show is coming to an end because it's just the loss of a great job," Winters says. "But I'm trying to stay really present with how grateful I feel to have worked on the most amazing show, and then to have done it with the most amazing group of people."
Learn more about Winters in her Bustle Booth questionnaire below.
In The Bustle Booth
What's your coffee order?
Café au lait with oat or almond milk.
What are the saved weather locations on your phone?
New York, Oakland, Santa Cruz, Portland, Tokyo, Kyoto, Rome, Las Vegas, Los Angeles.
What's your sign?
Pisces. I don't know my rising or my other things. But I heard Pisces are emotional and have problems with their feet, and that tracks.
What was your favorite cartoon as a kid?
I don't think I watched cartoons as a kid. I think it was mainly Seinfeld and Northern Exposure. Maybe I watched cartoons as a kid. Sometimes I feel like I don't remember anything before the age of 13.
What's one movie or TV show you're currently obsessed with?
I recently watched Beau Travail, and I can't get it out of my head.
Who is your celeb idol?
Oh wow. Lesley Manville, Donald Glover, Bill Nighy…
If you had to be on a reality TV show, what would it be?
Naked and Afraid — no, no, no. Not that one. Maybe So You Think You Can Dance.
Go-to karaoke song?
I have a friend that always sings Arlo Guthrie's "Alice's Restaurant," which is an 18-minute song, so that's always the song I think about singing, but then I sing something else, and it's never the same and it's always bad.
What's something that's inspiring you lately?
My brother's art. I also have an Art Share group that meets weekly. We share stuff we are working on.
What is something you would want people to say about you?
My therapist told me that my goal should be to have people suddenly say, "She seems relaxed!" So I guess that. But honestly speaking, I would want people to say that I'm genuine and that I love well.